C Cereals
244 cereals start
with the letter
"C"

CEREALS LISTED ALPHABETICALLY: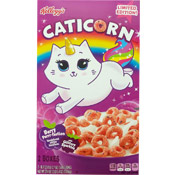 Featured "C" Cereal:
Caticorn
This limited edition cereal was described on the front of the box as "Berry Purrr-fection with Glittery Sparkles." It was introduced in early 2019 and was available exclusively at Sam's Club stores until March of that year. The cereal was available at other retailers in April and began...
Read More
Other Featured "C" Cereals:






More Cereals That Start with "C"