C Cereals
245 cereals start
with the letter
"C"

CEREALS LISTED ALPHABETICALLY: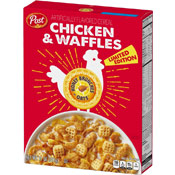 Featured "C" Cereal:
Chicken & Waffles
From
Post
; Introduced in 2019
This limited edition cereal is available exclusively at Walmart, Giant Eagle, Woodman's and Riesbeck's Stores. It's part of Post's Honey Bunches of Oats line of cereals. The cereal pieces are a mix of brown chicken drumstick-shaped pieces and tan waffle-shaped pieces along with some flakes like those found in...
Read More
Other Featured "C" Cereals:






More Cereals That Start with "C"