C Cereals
227 cereals start
with the letter
"C"

CEREALS LISTED ALPHABETICALLY: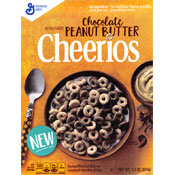 Featured "C" Cereal:
Chocolate Peanut Butter Cheerios
This cereal is described on the front of the box as a "sweetened whole grain oat cereal flavored with peanut butter & cocoa." It's noted that the "1st ingredient (is) whole grain oats" and that the cereal has "no artificial flavors or colors." The image on the front of the box featured a bowl of the cereal next to a bowl of creamy peanut butter and shavings of chocolate. The cereal pieces are...
Read More
Other Featured "C" Cereals:






More Cereals That Start with "C"