Q Cereals
10 cereals start
with the letter
"Q"

CEREALS LISTED ALPHABETICALLY: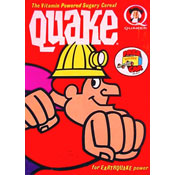 Featured "Q" Cereal:
Quake
From
Quaker
; Introduced in 1965
Quake and it's partner cereal Quisp were introduced by Quaker Oats in 1965.
Quake was described in commercials as "wonderful wheelies of corn and oats... buzzin' with honey and bustin' with earthquake power." The cereal pieces were shaped like small gears with holes in the center...
Read More
Other Featured "Q" Cereals:






More Cereals That Start with "Q"