Q Cereals
10 cereals start
with the letter
"Q"

CEREALS LISTED ALPHABETICALLY: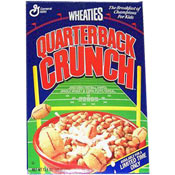 Featured "Q" Cereal:
Quarterback Crunch
The formal complete name of this cereal was Wheaties Quarterback Crunch. It was described on the box as a "sweetened football shaped whole wheat & corn puffs cereal." It was "available for a limited time only." The pieces really did look like footballs... complete with lines etched into...
Read More
Other Featured "Q" Cereals:






More Cereals That Start with "Q"