N Cereals
36 cereals start
with the letter
"N"

CEREALS LISTED ALPHABETICALLY: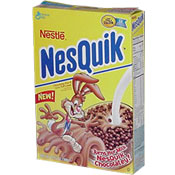 Featured "N" Cereal:
Nestle NesQuik
Chocolate-flavored puffed cereal made from rice and corn based on the popular Nestle Quik chocolate milk mix. The box boldly declared, "Turns your milk Nesquik Chocolatey!" An early TV ad used the tagline, "A chocolatey blast for you and your milk!...
Read More
Other Featured "N" Cereals:






More Cereals That Start with "N"