N Cereals
36 cereals start
with the letter
"N"

CEREALS LISTED ALPHABETICALLY: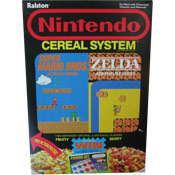 Featured "N" Cereal:
Nintendo Cereal System
This short lived cereal contained both Super Mario Bros. cereal and Zelda Adventure cereal. The cereals were contained in two separate 7.5 ounce bags. Text on the front of the box read, "Fortified with 9 essential vitamins and minerals" and...
Read More
Other Featured "N" Cereals:






More Cereals That Start with "N"