N Cereals
36 cereals start
with the letter
"N"

CEREALS LISTED ALPHABETICALLY: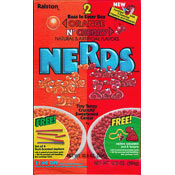 Featured "N" Cereal:
Nerds
In the mid 80's, Nerds Cereal asked us, "Which side are you gonna eat first?" The cereal box was divided into two separate compartments - each containing its own flavor of Nerds Cereal. Two dual varieties were offered: orange/cherry and strawberry/grape...
Read More
Other Featured "N" Cereals:






More Cereals That Start with "N"