Introduced in 1988
This short lived cereal contained both Super Mario Bros. cereal and Zelda Adventure cereal. The cereals were contained in two separate 7.5 ounce bags. Text on the front of the box read, "Fortified with 9 essential vitamins and minerals" and "two different natural and artificial flavors: Fruity & Berry".
A 1989 magazine ad described it this way:
Nintendo is for breakfast now. Nintendo is two cereals in one. Wow! Super Mario Bros. and Zelda too. Mix 'em, match 'em, crunch 'em, you just can't loose.

Fruit-flavored Marios, Mushrooms and Goomas. Berry-flavored Links, Hearts and Shields. Nintendo is breakfast news!

Nintendo Cereal System. If you can't beat 'em, eat 'em.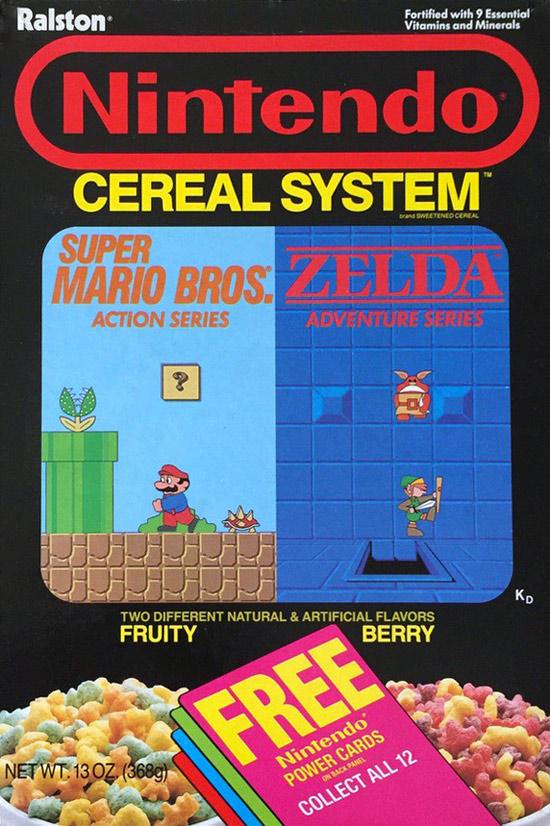 The back of one box read, "Jump on the chance to win a Nintendo Entertainment System Power Set!" Another set of boxes offered four Nintendo Power Cards on the back and encouraged cereal consumers to "collect all 12."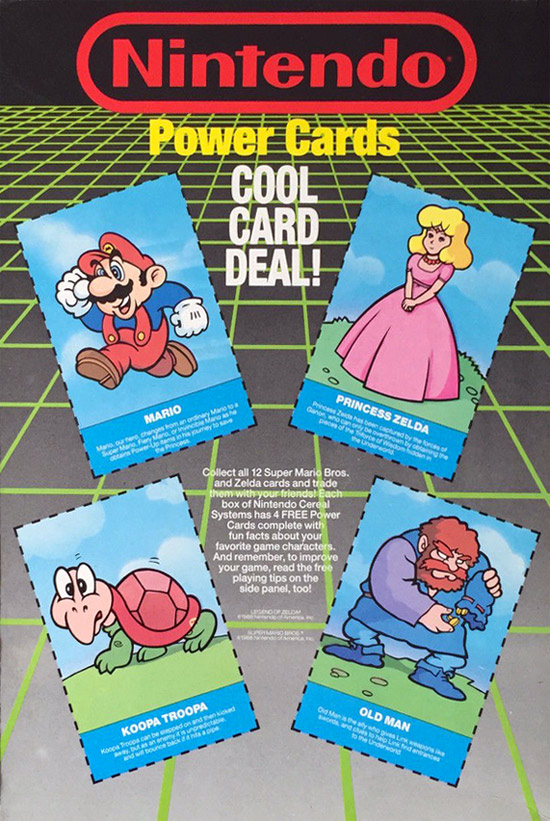 Known Premiums: Free Action Poster; free Nintendo sticker; send-away hologram t-shirt offer.
Click here
to see all cereals from Ralston.
---
Additional Images
These are the most recent images. Click here to see all pictures for Nintendo Cereal System.
There's More Pictures! See all images for Nintendo Cereal System cereal
---

Overall Average Rating = 5 (out of 5)

View all 22 comments for this cereal.


By Stellacore


| | |
| --- | --- |
| Cereal Rating (out of 5): | |

AWESOME. But I have never tried it before, but I hope it returns to my city in mid-2019.

Comment submitted: 12/26/2018 (#23785)





By Venom82 (Team Breakfast Member)


| | |
| --- | --- |
| Cereal Rating (out of 5): | |

I've have an empty box being delivered to me, but does anyone know or have any leads on how I can get my hands on the 2 bags of actual cereal short of having to spend like $400.00 to buy a box with the cereal in it?

Comment submitted: 8/10/2017 (#22125)



By Steve-Os

These sounded great. Wish I tried them when I was a kid. I remember playing Nintendo at my friend's house down the block. He was huge into Nintendo and I remember he had a box of these in his Kitchen cabinet. I remember wanting to try some, but I never did. I love fruity flavored cereal too. I need a time machine.

Comment submitted: 7/10/2016 (#20549)



By Game Freak


| | |
| --- | --- |
| Cereal Rating (out of 5): | |

I'm a huge video game freak mostly on Nintendo with Mario. I made it the subject of my history paper at school and they were amazed. My dad told me about this cereal and I was fascinated. Please bring it back.

Comment submitted: 2/26/2015 (#18613)



By Chubs


| | |
| --- | --- |
| Cereal Rating (out of 5): | |

This was the greatest cereal ever! The only reason I'm searching Nintendo Cereal is because out of nowhere I started singing the jingle to myself.

Comment submitted: 3/29/2014 (#16532)



By Yoshi


| | |
| --- | --- |
| Cereal Rating (out of 5): | |

I like it! Never tried it, but wish it was still around to try. Fun.

Comment submitted: 1/15/2014 (#15745)



By Mister V


| | |
| --- | --- |
| Cereal Rating (out of 5): | |

The Mario cereal was the better of the two. Neither were that great, but the novelty of it all was quite cool.

Comment submitted: 2/26/2013 (#11045)



By grecomic


| | |
| --- | --- |
| Cereal Rating (out of 5): | |

I liked the novelty of the two-fer packaging, but frankly the cereal wasn't all that different from the other fruit-flavored corn-based cereal on the shelves.

Comment submitted: 2/11/2013 (#10750)



By johnny gat 5150


| | |
| --- | --- |
| Cereal Rating (out of 5): | |

I remember getting up for school and eating this cereal. I was 10 years old. I was so happy I got the cereal I started singing... Super Mario jumps... Nintendo... it's for breakfast... wow... Nintendo... lol! In 2013, it will be 25 years. I hope they re-release it. I will buy 2 boxes - eating 1 and saving 1. I'm on yahoo if anyone wants to talk bout this sweet_hearted_male_07.

Comment submitted: 10/23/2012 (#9674)



By Marth


| | |
| --- | --- |
| Cereal Rating (out of 5): | |

I actually won a NES from this cereal!

Comment submitted: 5/31/2012 (#7864)



View all 22 comments for this cereal.