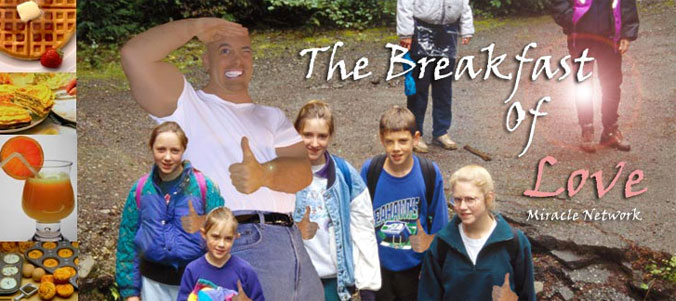 From inner city Washington, D.C. to San Antonio Aguas Calientes, Guatemala, for 27 years,
Children of the Americas
has helped children realize their dreams.
Daily breakfast
for school children in Tijuana, Mexico, scholarships for Indigena kids in Guatemala, school supplies for the U.S.'s poorest kids AND education of citizens and the powerful to make public policy more child-centered.
More Information

The
End Hunger Network
is a nonprofit organization working with the entertainment community to encourage, stimulate and support media projects, programs and events aimed at involving people in ending childhood hunger. Its strategies include: (A) Encouraging celebrity participation in the issue and developing media events aimed at raising awareness and resources to end hunger; (B) Public education and advocacy to ensure the inclusion of nutrition in the formation and implementation of sound public policy; (C) Collaborations with corporations and nonprofit organizations; and (D) Identifying and supporting effective federal programs and private anti-hunger innovations.
More Information
---
Pancake Tuesday
Also known as Fat Tuesday, Mardi Gras and Fetter Dienstag, Pancake Tuesday occurs annualy in February on the day before Lent. It is the Breakfast Of Love Miracle Network's
official day of goodwill
.
In addition to our daily efforts to bolster contributions to food-related charities, the network aims to promote Pancake Tuesday as
a day of universal food charity
. North America is only now begining to embrace this holiday which has been celebrated throughout other parts of the world since 1445.
It is our hope that new traditions - such a
giving muffins to the needy
on Pancake Tuesday morning - will further popularize the holiday in the United States.
To learn more about Pancake Tuesday and its customs,
click here
.


The Meals On Wheels Association of America
represents those who provide congregate and home-delivered meal services to people in need. Their mission: to provide visionary leadership and professional training, and to develop partnerships that will ensure the provision of quality nutrition services.
More Information

Project Angel Food
is a daily meal delivery program for men, women, and children disabled by serious illnesses. Since its inception in 1989, Project Angel Food has prepared and delivered more than 3.4 million meals. Last year, Project Angel Food prepared and delivered 412,446 meals to 1,600 individuals.
More Information


The mission of
America's Second Harvest
is to create a hunger-free America. They distribute food and grocery products through a nationwide network of certified affiliates, increase public awareness of domestic hunger, and advocate for policies that benefit America's hungry.
More Information


Food on Foot
is a nonprofit organization dedicated to providing the poor and homeless of Los Angeles with nutritious meals, clothing, and assistance in the transition to employment and life off the streets.
More Information

May the force of breakfast be with you.
Click here
.