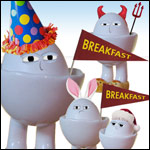 The 16 Breakfast Holidays
By Mr Breakfast
Every day is a great day to celebrate breakfast. It helps keep us energetic, fit and alert... and it's usually delicious. Lest we forget the benefits and beauty of the most important meal of the day, there are some special dates on the calendar to always remind us.
Here's a list of 16 important breakfast food holidays with information regarding their origins and customs.
For information regarding the role of breakfast in Major Holidays, please check here. If you have additional information about these or another breakfast-related holiday, please contact Mr Breakfast.
January
Oatmeal Month

Traditionally, more oatmeal is consumed in January than any other month. To commemorate that fact, the Quaker Oats Company has given the world a month-long holiday. According to one of their press releases, Oatmeal Month is a time to remember that oats are more than a nutritious breakfast cereal; they're also a convenient, versatile and good-for-you cooking and baking ingredient.

Resources: Top Ten Reasons To Eat Oatmeal; Oatmeal Recipe Collection
February
National Hot Breakfast Month

Most accounts indicate that this holiday was created by the Jimmy Dean Foods division of the Sara Lee Corporation. As the story goes... the group which produces heat-and-serve breakfast dishes (most notably with Jimmy Dean Brand Sausage) found that over 60% of Americans eat cold cereal or another non-hot breakfast each day. So they started a month-long holiday to promote interest in hot breakfast options.
February / March
Pancake Day (aka Shrove Tuesday; aka Pancake Tuesday)

The Day Before The Start Of Lent (February or March depending on the date of Easter)

This annual reminder that pancakes are sinfully good and hard to resist has it's origins in religion. According to Biblical lore, Jesus spent 40 days in a desert fasting and resisting temptations offered to Him by Satan. To honor His accomplishment, many Christians observe a corresponding period known as Lent and practice a sort of mock-fasting. Those most adherent to the tradition give up all but the plainest food items. Eggs, milk and sugar are excluded from a stringent Lent diet. To use up these ingredients, it became common for housewives to make pancakes. For much more on Pancake day, please see this article.

The dates for Pancake Tuesday are as follows: March 4, 2014; February 17, 2015; February 9, 2016; February 28, 2017; February 13, 2018, March 5, 2019 and February 25, 2020.

There is also a small movement to establish a National Pancake Day on September 26. But in light of the popularity of Shrove Tuesday, this is mostly ignored by food holiday purists.

Resources: Pancake Recipe Collection; Maple Shwaple! Other Pancake Toppings
March
National School Breakfast Week

First Week In March

In 1991, President George H. W. Bush proclaimed March 4th through March 10th as "National School Breakfast Week". The proclamation (#6258) credited the School Breakfast Program for helping promote health and well-being for America's school children. While the proclamation pertained only to the year it was issued, the first week in March is unofficially observed as a time to honor the contributions of School Breakfast Programs to America's children.



National Cereal Day

March 7

This holiday is intended to commemorate the anniversary of the invention of corn flakes by William and John Kellogg in 1897. While the product they labeled Sanitas Toasted Corn Flakes was introduced at their Battle Creek Sanitarium around this time (most likely in 1898), there is no verification to the significance of March 7.

Resources: Homemade Breakfast Cereals; Breakfast Cereal Reviews



International Waffle Day

March 25

This holiday originated in Sweden where it is called Vaffeldagen. It occurs nine months to the day before Christmas - the day the Archangel Gabriel told the Virgin Mary that she was pregnant. As the holiday progressed, it also began to commemorate the first day of spring. For more on International Waffle day, please see this article.

Resources: 10 Tips To Make Perfect Waffles; Waffle Recipe Collection
April
National Eggs Benedict Day

April 16

An unofficial holiday for the appreciation of Eggs Benedict. A weekend brunch favorite, the dish usually consists of an English muffin, topped with Canadian bacon, a poached egg and hollandaise sauce. The origin of this holiday is mystery. There are conflicting stories regarding the creation of Eggs Benedict, but one thing all accounts have in common is that April 16th plays no significant role. According to The Breakfast Institute (a division of MrBreakfast.com), the closest associations of the date to the dish is the the fact that Pope BENEDICT XVI and Henry Mancini were both born on April 16th. In 1962, Mancini won the Academy Award for his score to the film BREAKFAST At Tiffany's.

Resources: Eggs Benedict Recipe; How to Poach An Egg
May
June
National Doughnut Day

The First Friday In June

This unofficial holiday was established in in Chicago in 1938 to honor the work of Salvation Army who prepared donuts for soldiers during World War I. The commemorative day started as a fundraising event and that tradition continues. Donut outlets, including Krispy Kreme Doughnuts, still occasionally offer customers a free doughnut on National Doughnut Day as part of promotions to raise money for the Salvation Army and other worthy causes.

This holiday is sometimes also known as Doughnut Days (plural) under which it also includes the first Saturday in June.

There are three other donut holidays whose origins are harder to trace. International Jelly-Filled Doughnut Day is widely recognized as June 8 (occasionally as June 9). National Cream-Filled Doughnut Day is celebrated on September 14th. And finally, Buy A Doughnut Day occurs on October 30. If you have information on the origins of these holidays, please contact us immediately.

Resource: Doughnuts - A Definitive History
July
National Blueberry Muffin Day

July 11

The month of July was proclaimed National Blueberry Month by the U.S. Department of Agriculture in 2003 to "promote greater appreciation and use" of blueberries. There is little information to be found on a particular day within the month dedicated to the blueberry muffin from any official sources.

Resources: Blueberry Recipe Collection; Baked Goods Recipe Collection
August
September
All American Breakfast Month (aka Better Breakfast Month)

An unofficial holiday period - recognized by a number of school districts to promote the importance of breakfast. While we have no verifiable information about the origins of this holiday, it should be noted that beakfast has been scientifically proven to improve the academic performance of students... thus, a month dedicated to the morning meal is particularly well-suited to the back-to-school September time frame.
October
November
National French Toast Day

November 28

While this day of French toast recognition is now included on most food holiday calendars, it's origins may have only only a fleeting connection to the breakfast dish. November 28th doesn't seem to hold any historical significance to the creation or popularity of French toast. It is very possible that the holiday stems from an old saying in the Eastern U.S. states. In anticipation of an impending snow storm (which coincides with the late November date), shoppers flocked to grocery stores to by staple items such as bread, milk, sugar and eggs. As these are the exact ingredients to make French toast, such shopping days became know as French toast days.

Resources: French Toast Recipe Collection; Freedom Toast
December
National Maple Syrup Day

December 17

The most commonly recognized date dedicated to appreciation of pure maple syrup. Communities and farms that produce maple syrup have scattered the calendar with their own Maple Syrup Days - some of the more common are December 18, March 3, July 22 and July 23.

Resources: Maple Recipe Collection; Syrup Recipe Collection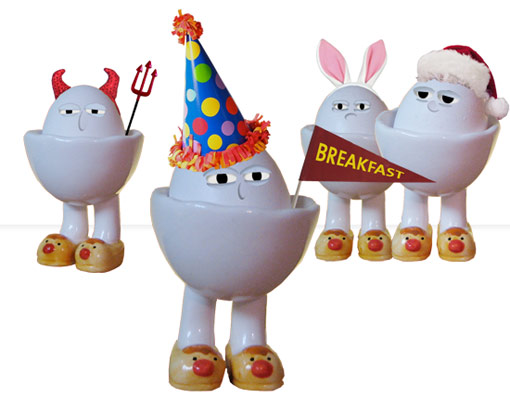 This article was written by Mr Breakfast (aka Eddy Chavey).
The editorial content above may not be reproduced without the written permission of Mr Breakfast.com. Please contact us for reprint requests.