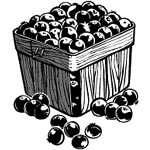 Blueberry
Not to be confused with Boo-Berries, blueberries (scientific name: bilberries) are plants of the genus Vaccinium, which also includes cranberries and other wild shrubs producing edible, round berries. The fruit of the plant is also know as blueberries. Young blueberry fruit begins white, then turns reddish-purple, and finally becomes blue on ripening. The ripened fruit is generally sweet in taste. Blueberries may be used in jellies, jams, syrups, muffins, pancakes, pies, and many other snacks and delicacies.
Articles that reference "Blueberry":
Recipes with "Blueberry" in the title:
Recipes with "Blueberry" in the ingredients:
The editorial content above may not be reproduced without the written permission of Mr Breakfast.com. Please contact us for reprint requests.