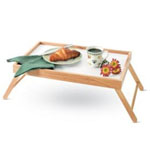 Breakfast Tray
Often called a "bed tray", a breakfast tray is a small laptop table used for dining in bed. A sturdy breakfast tray can also act as desk for the bed or sofa. Some recent models are actually advertised as resting places for laptop computers.
Resources:
Article:
Ultimate Breakfast In Bed Guide
- Includes Recipes and purchase information for breakfast trays
The editorial content above may not be reproduced without the written permission of Mr Breakfast.com. Please contact us for reprint requests.