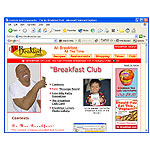 Breakfast Club
The Breakfast Club
is a section of MrBreakfast.com dedicated to recurring visitors of the site. There you will find the Breakfast Lovers Photos Gallery, information about contests and promotions, links to message boards and other areas of interest to hardcore fans of breakfast.
This section of the site is currently being phased out in favor of our more expansive blog which can be accessed via the top navigation of the site.
The editorial content above may not be reproduced without the written permission of Mr Breakfast.com. Please contact us for reprint requests.