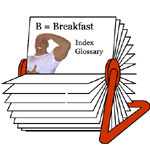 Ask Mr Breakfast
Mr Breakfast will occasionally write a column based on a question recieved from a site user. The collected
Ask Mr Breakfast
columns can be found in
The Breakfast Times
- the section of the website dedicated to breakfast information and news.
For the fastest response from Mr Breakfast, it's recommended that site users post a message on the
Mr Breakfast Facebook Page
which is checked daily.
Articles that reference "Ask Mr Breakfast":
The editorial content above may not be reproduced without the written permission of Mr Breakfast.com. Please contact us for reprint requests.