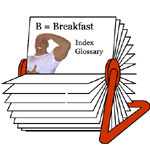 American Breakfast
Recipe Collection:
American Breakfast Recipes
The Mr Breakfast Recipe Database is separated into various conceptual categories:
American
,
Regional
,
International
,
Healthy
,
Fancy
and
Experimental
. It is also separated into different food categories:
Omelettes
,
Pancakes
,
Waffles
,
French Toast
,
Scrambles
,
Baked Goods
,
Breakfast Drinks
,
Quiches
,
Souffles
,
Crepes
,
Oatmeal
,
Homemade Cereals
,
Fruity Dishes
,
Other Egg Dishes
and
Other Non-Egg Dishes
.
The
American Breakfast section
includes dishes that were either created in North America or popularized there. It also serves as a catch-all for recipe submitters who are unsure to which category their recipe belongs.
Articles that reference "American Breakfast":
The editorial content above may not be reproduced without the written permission of Mr Breakfast.com. Please contact us for reprint requests.