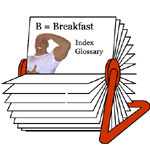 International Breakfast
Recipe Collection:
International Breakfast Recipes
The Mr Breakfast Recipe Database is separated into various conceptual categories:
American
,
Regional
,
International
,
Healthy
,
Fancy
and
Experimental
. It is also separated into different food categories:
Omelettes
,
Pancakes
,
Waffles
,
French Toast
,
Scrambles
,
Baked Goods
,
Breakfast Drinks
,
Quiches
,
Souffles
,
Crepes
,
Oatmeal
,
Homemade Cereals
,
Fruity Dishes
,
Other Egg Dishes
and
Other Non-Egg Dishes
.
The
International Breakfast section
includes 1) breakfast dishes that are more popular outside of the continental United States than within the U.S. or 2) breakfast dishes whose origins have distinct links to countries besides the U.S.
Articles that reference "International Breakfast":
The editorial content above may not be reproduced without the written permission of Mr Breakfast.com. Please contact us for reprint requests.