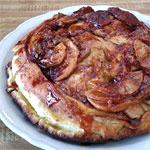 Dutch Apple Pancake
1 cup milk
3 large eggs
3/4 cup all-purpose flour
3 Tablespoons sugar
2 Tablespoons butter
2 medium green apples - peeled and cut into 1/4 inch slices
1/4 teaspoon cinnamon
powdered sugar - for dusting
lemon wedges (optional)
Pre-heat oven to 375 F. In a medium bowl, mix together the milk, eggs, flour and 2 tbs. sugar.
In a heavy ovenproof skillet, melt butter Add apples, cinnamon and the remaining 1 tbs. sugar. Reduce heat to medium and cook, stirring occasionally for 2-3 minutes, or until the apples are softened slightly. Remove pan from heat. Pour batter over the apples in pan. Place the pan in the oven and bake for 30-35 minutes, until the pancake is lightly browned and puffy.
For presentation, you could either: 1) Serve directly from the skillet and slice into wedges; or 2) Carefully, invert the pancake onto a plate so the apple pieces are on top.
Dust with powdered sugar and serve with lemon wedges (if desired).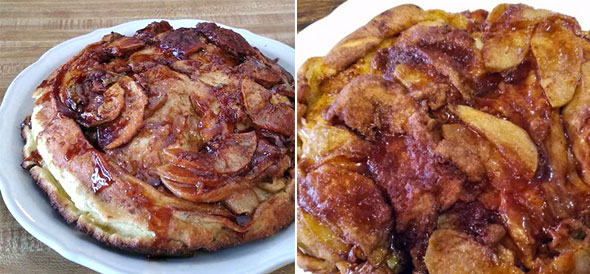 A classic puffy pancake from the Netherlands. It's best with a simple topping of lemon and powdered sugar. You loose the magic if you drown it in syrup.
Mr Breakfast would like to thank
muffin
for this recipe.
Comments About This Recipe
What do you think of Dutch Apple Pancake?
Overall Average Rating =

(out of 5)

From NaNaTheSnook
Easy and good. Like the caramelization of the apples with cinnamon and sugar. This is different from other versions I have made in the past. I did add a little more cinnamon. Overall it is not overly sweet.

Comment submitted: 3/8/2015 (#19315)



From kitchendiva
This is an all time favorite and I always come back to this one! Simple, easy and so good.

Comment submitted: 3/24/2013 (#15465)





From ShaynaEvil (Team Breakfast Member)
Very good, although I increased the oven to 425F and baked for 15 minutes. Delish!

Comment submitted: 3/6/2012 (#13628)



From garrison

I'd recommend increasing the cinnamon to a full teaspoon at least and adding at least one more tablespoon of sugar.

Comment submitted: 6/1/2011 (#12741)



From peec
| | |
| --- | --- |
| Rating (out of 5): | |

Bland, no taste, pancake was still raw after 30 minutes of baking.

Comment submitted: 2/7/2011 (#12080)



From Jenny

Yummy! It was so good!!

Comment submitted: 12/25/2009 (#9291)





From Majesty (Team Breakfast Member)

I'm surprised (being Dutch, and eating regularly Dutch pancakes) that there isn't any buckwheat in it, which is a very normal adding to Dutch pancakes (or: pannenkoeken in Dutch).

My mother has a great variation on Dutch pancakes: she uses partly orange juice instead of milk. Also she grates the apple through the batter.

Also popular is (leaving the fruit all aside): melt bacon in a pan - when it's getting good put batter over it and finish frying it. Great with syrup, if you like syrup.

Also popular is the cheese variation. Fry the pancake (without the extras) in a pan, then turn it around when it's brownish, and then make the gas smaller, and add Gouda cheese on top (the older the better, so Belegen, Extra Belegen will do best). You can just put the cheese in one line over the middle, cause you will roll the pancake.

Also I'm not a big believer in powdered sugar. I use table sugar, which I think is much better. Powdered sugar can get a big wet from the pancake, and the table sugar has a great structure together with the pancake.

Really people, one should eat Dutch pancakes much more often!

Comment submitted: 12/30/2008 (#7221)



From Kristi7717

My recipe is:
Mix together and whisk:2 organic eggs (try to use a medium size if using large and the yolks are very large remove 1 TBSP after you whisk them)
1/2 cup milk with enough half and half or cream added to make it equal 2/3 cup total (you may use all half and half)
1 tsp vanilla extract OR some pure vanilla bean

Mix in a small bowl:
1/2 cup flour (sift it don't pack the 1/2 cup)
1/2 tsp salt
2 Tbsp. sugar

Add the dry to the liquid and whisk til you have a smooth batter.

Meanwhile you should have preheated the oven to 425 and cooked 6 sliced Granny Smith or Golden Delicious apples in 2 Tbsp butter and 1/2 tsp cinnamon and 1/4 to 1/3 cup golden brown sugar. Cook the apples in a non stick pan til they are tender enough that they will be edible after bakign for 15 more minutes.

Leave the apples in the pan, pour the batter over the top and put in the hot oven. It will puff up but deflate when you remove it from the oven. Bake about 15 min. Remember you are going to flip it onto a plate when it's done so don't worry what the top looks like.
Take a plate upside down and put it on top of the ..skillet...and use potholders, it's hot..puta plate over the pan. Then flip the pan upside down onto the plate. The pancake may stick a little, just leave it upside down about 2 min then removed it. If any apples stick just remove them and put them back in place. The apples on the bottom of the pan will now be on top and it looks delicious sprinkled with powdered sugar. Great for breakfast or dessert with vanilla frozen yogurt. You can do it with fresh pears too.


Comment submitted: 10/18/2008 (#6627)



From Kristi7717
If your batter tastes eggy it is because you either used too many eggs/too much flour) I have a recipe similar to this one that I have made numerous times & if I don't follow it exactly it has those problems.

Comment submitted: 10/18/2008 (#6626)



From lil' mo butter
I added an extra 1 Tablespoon butter and increased the cinnamon to 1/2 teaspoon to cook the apples. I also added 1/2 teaspoon salt to the batter. They turned out great.

Comment submitted: 9/14/2008 (#6455)



From Tom O.
This recipe didn't live up to expectations in my household. It was bland and needed more flavor. We didn't put powdered sugar on top, so maybe that was the problem. A local restaurant makes a gourmet "apple pancake" that has a LOT more caramelized sugar (and no powdered sugar) - so maybe our expectations were off. Plus, the batter tasted "eggy."

Comment submitted: 4/5/2008 (#4957)



From Hornet
I used three apples - 1/2 tsp cinnamon if you like that. Also can be served with warm maple syrup.

Comment submitted: 9/4/2007 (#3501)



From I. Lovett
One of my favorite special breakfasts.

Comment submitted: 7/3/2007 (#3151)



From mamajosh
This recipe is very easy and good. I added a 1/2 t of cinnamon instead of 1/4. This is not very sweet so if you like it sweet you might want a bit more.

Comment submitted: 10/22/2006 (#540)




---
Connect With Mr Breakfast: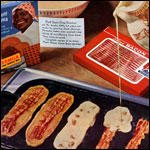 Bacon Strip Pancakes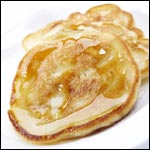 Reliable Homemade Pancakes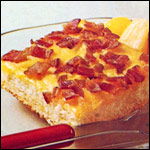 Maple-Bacon Oven Pancake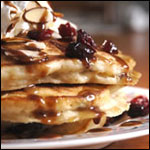 Cranberry Almond Caramel Pancakes

All you need to know. The basics and beyond!
Click here
.