Dutch Apple Pancake

(6 servings)

1 cup milk
3 large eggs
3/4 cup all-purpose flour
3 Tablespoons sugar
2 Tablespoons butter
2 medium green apples - peeled and cut into 1/4 inch slices
1/4 teaspoon cinnamon
powdered sugar - for dusting
lemon wedges (optional)
Pre-heat oven to 375 F. In a medium bowl, mix together the milk, eggs, flour and 2 tbs. sugar.

In a heavy ovenproof skillet, melt butter Add apples, cinnamon and the remaining 1 tbs. sugar. Reduce heat to medium and cook, stirring occasionally for 2-3 minutes, or until the apples are softened slightly. Remove pan from heat. Pour batter over the apples in pan. Place the pan in the oven and bake for 30-35 minutes, until the pancake is lightly browned and puffy.

For presentation, you could either: 1) Serve directly from the skillet and slice into wedges; or 2) Carefully, invert the pancake onto a plate so the apple pieces are on top.

Dust with powdered sugar and serve with lemon wedges (if desired).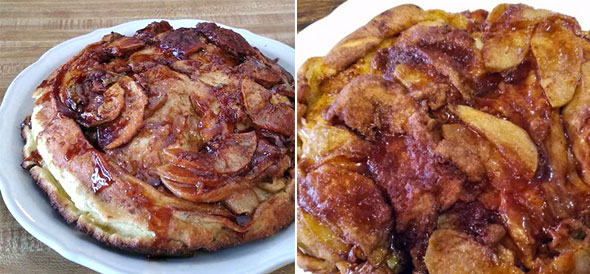 A classic puffy pancake from the Netherlands. It's best with a simple topping of lemon and powdered sugar. You loose the magic if you drown it in syrup.




Mr Breakfast would like to thank muffin for this recipe.

Recipe number 214. Submitted 5/5/2002.