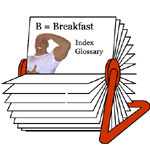 Breakfast Polls
Part of The Breakfast Lovers Message Board, breakfast polls are created by Mr Breakfast to determine the habits and tastes of breakfast lovers around the world.
A featured poll is closed when the respondents exceed 1,000 and a new featured poll is established.
Polls are temporarily offline as we revamp our message board platform.
To be part of the Mr Breakfast Community and express your opinion about breakfast, please visit:
Mr Breakfast on Facebook
.
The editorial content above may not be reproduced without the written permission of Mr Breakfast.com. Please contact us for reprint requests.