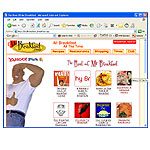 Best Of Mr Breakfast
The
Best Of Mr Breakfast
was a collection of articles and features that were most popular with site visitors in the early days of MrBreakfast.com.
As of 2012, featured content and shout-outs to popular recipes and articles can be found in the
official blog of MrBreakfast.com
.
Another great way to follow the latest and greatest happenings on the site is to join us on
Facebook
or
Twitter
.
Also see a part of the site called
The Breakfast Times
to see our most popular articles.
The editorial content above may not be reproduced without the written permission of Mr Breakfast.com. Please contact us for reprint requests.