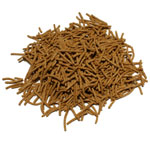 Bran
The coarse, dry outer layer (just below the hull) of cereal grains such as wheat, rye, and oats. Bran is produced during the milling process as layers are removed from the grain kernel. Bran is considered a good source of fiber, carbohydrates, calcium and phosphorus. It is often used to add texture and nutritional richness to breads and cereals. The taste of bran could be described as sweet and nutty.


Bran the Blessed (also known as Bendigeidfran) was a character in Welsh mythology, a son of Llyr and Penarddun, who appears in the Mabinogion. He was king of Britain and a giant. If that's the definition you're looking for, you're at the wrong website... nerd.
Interesting Bran Fact:
White flour contains no bran. Whole wheat flour contains all or part of the bran.
Articles that reference "Bran":
Columns that reference "Bran":
Recipes with "Bran" in the title:
Recipes with "Bran" in the ingredients:
The editorial content above may not be reproduced without the written permission of Mr Breakfast.com. Please contact us for reprint requests.