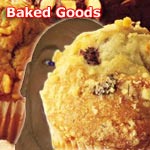 Samoon (Iraq)
3 Tablespoons dry yeast
1 Tablespoon sugar
1/2 cup warm water
8 cups white bread flour
1 cup wheat bran
1 Tablespoon salt
2 cups milk or buttermilk mixed with 1 cup water
1/4 cup oil


For The Glaze:
1 egg whisked with 1 Tablespoon water
Dissolve yeast and sugar in 1/2 cup warm water and set aside 5 min
In a big bowl mix flour, bran and salt. Make a well in the middle.
Pour yeast mixture, water and oil into the well. with a wooden spoon stir it and then with oily hands knead it for 6-7 min. Oil it on both sides and set it aside covered in a warm place, until doubled in size
Preheat oven to 450 degrees F. Punch down dough, divide it into 10 portions, let it rest for 10 min.
Quickly roll one piece between the palms until it becomes 7-8 inches long. Lay it flat on baking sheet, flatten to broaden the middle part and make it look diamond shaped with nippled ends. Repeat with rest of the portions.
Take a very sharp knife or razor blade and make 2 diagonal or one long slash in the middle. Allow it to rise in a warm place covered with a linen towel for about 30 min.
When done rising, glaze it and put it in oven. Take a spray bottle with warm water and spray the breads, inside the oven and the oven door and quickly shut to avoid the moisture going out. Do the spraying twice during the first 5 min of baking. Bake 15-18 min, when done put it in big paper bag lined with linen towel, if you want it very crisp, let it cool on a rack.

This is a traditional Iraqi Flat Bread recipes (sometimes called Arabic Flat Bread). It's usual had for breakfast with jam or cheese, but I like it with scrambled eggs here.
Mr Breakfast would like to thank
mikorz
for this recipe.
Comments About This Recipe
What do you think of Samoon (Iraq)?
Overall Average Rating =

(out of 5)

From Gym

Thanks for the recipe. However, I must admit that this is not the Iraqi Samoon. In case of the traditional Samoon, you don't add neither sugar nor milk. It is actually made of wheat flour, yeast, water and salt. This old-existing bread, I believe, as old as the Mesopotamia existed in what's now Iraq. It was transferred to Andalusia in medieval years and you can find it in Spanish restaurants. It is called in Spain: Pan de Sal (salt bread). Spanish took to Philippines and became there their national bread. The wheat was first cultivated in prehistoric times in Mesopotamia and from there spread to rest of the world.

Comment submitted: 9/10/2017 (#20400)



From ChefAnt
This recipe rocked... add the milks into the well. I am a chef so I know.

Comment submitted: 3/7/2015 (#19313)



From dodo
Where did you use the milk? Do you use milk? Because in the instructions it says add water but you don't have water in the ingredients. Is the milk a typo or the water a typo?

Comment submitted: 8/15/2012 (#14292)



From KEB

Pleased to find this samoon recipe. I use samoon as a breakfast item in a novel I'm writing; also name a horse "Samoon". Thanks for the recipe.

Comment submitted: 4/24/2012 (#13839)





From A Cook Cooks (Team Breakfast Member)
I found this recipe this morning... made it and ate some... and that was before 1:00pm! Fun to make! I didn't have a spray bottle... so I just used my fingers and sprinkled it on the bread and the door. It worked for me! Enjoy... a Cook Cooks.

Comment submitted: 11/21/2009 (#9068)



From Nahnitti

To Mr. Breakfast: This is a traditional Iraqi breakfast loaf. Please change title to: Iraqi Samoon Bread. I have been searching for this recipe for my daughter in law. She grew up in Iraq and her family always bought it, so her mother didn't have a recipe for it. Will let you know how it compares to her very fond memories. My son also ate it as often as he could get it while serving military duty in Baghdad. I want their children to experience this part of their heritage.

Love your editorial at the end of breakfasts in Iraq.

I am now blessed with a daughter and two grandsons as a result of that terrible war, so all is not bad, and I have learned so much about their culture. Maybe some day we will study war no more....

Peace to all around the world.

Thank you for your site.
Nahnitti

Comment submitted: 11/1/2009 (#8942)




---
Connect With Mr Breakfast: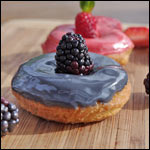 Berry Delicious Cake Donuts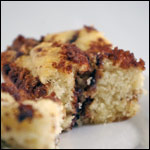 Cinnamon Flop (Coffee Cake)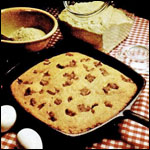 Bacon Spider Bread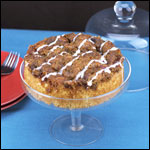 Strawberry Jam Coffee Cake

Check out our favorite vintage recipes from old magazine ads and recipe cards.
Click here
.