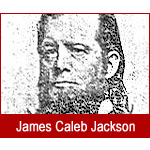 Jackson, Dr. James Caleb
b. 1811 d. 1895
Inventor of Granula (with a "u"), the first dry, whole grain cereal. The cereal was comprised of dense bran nuggets that had to be soaked overnight in order to be chewable.
Article:
The Early Days Of Breakfast Cereal
The editorial content above may not be reproduced without the written permission of Mr Breakfast.com. Please contact us for reprint requests.