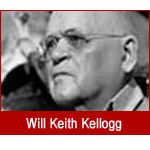 Kellogg, Will Keith
b. 1860 d. 1951
Cereal industry giant and founder of the W.K. Kellogg Company. Brother and one-time partner of corn flake inventor John Harvey Kellogg.
Quote: "In conversation with people, forget the word 'I.' Keep your feet on the earth and your head up, but not too high in the sky. Be humble." (An ironic quote from a man who shamelesly took complete credit for the invention of corn flakes.)
From the "Our Founder" page of the
W.K. Kellogg Foundation
website: "In 1894, Will Kellogg accidentally left a pot of boiled wheat to stand and become tempered. When it was put through the usual rolling process, each grain of wheat emerged as a large, thin flake. Will persuaded his brother to serve the food in flake form, and it was an immediate favorite among the patients."
At the time, Will Kellogg was the newly-hired bookkeeper of the Battle Creek Sanitarium where his brother John had been dedicated for years to creating new vegitarian food products.
Article:
The Early Days Of Breakfast Cereal
The editorial content above may not be reproduced without the written permission of Mr Breakfast.com. Please contact us for reprint requests.