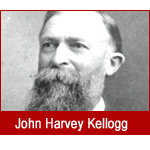 Kellogg, John Harvey
b. 1852 d. 1943
Inventor of the corn flake and the wheat flake. Major advocate of health reform through a strict vegetarian diet. His brother, William K. Kellogg founded the W.K. Kellogg Company.
Quote: "The power in which we must have faith if we would be well, is the creative and curative power which exists in every living thing."
Article:
The Early Days Of Breakfast Cereal
The editorial content above may not be reproduced without the written permission of Mr Breakfast.com. Please contact us for reprint requests.