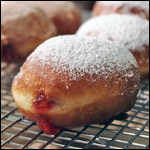 Paczki (Polish Donuts)
1 package active dry yeast (1/4 ounce)
2 Tablespoons warm water
3 Tablespoons brandy
1/2 cup heavy cream
1/2 teaspoon vanilla
4 large eggs and 2 egg yolks
2 and 3/4 cups all-purpose flour
1/2 teaspoon salt
3 Tablespoons butter - softened
1/4 cup sugar
canola oil - for frying
3/4 cup fruit jam or other filling
Makes 14 or 15 donuts using a 2 and 1/2-inch biscuit cutter.
In a small bowl or cup, combine the yeast and warm (110 degree) water. Let set 5 minutes or until frothy.
In a medium sauce pan over medium-high heat, bring the brandy to a boil and allow it to boil for 2 minutes or until until the boozy smell of alcohol dissipates from the fumes. Turn off the heat and stir in the cream and vanilla. Add the eggs and beat just until the yolks are broken.
Combine the flour and the salt.
In a stand mixer fitted with a paddle attachment, beat the butter and sugar together on low until fluffy. Add the yeast mixture and beat a few seconds to combine. Add half of the flour and half of the egg and cream mixture and beat slowly until just combined. Add the remaining flour and remaining liquid mixture and beat on low until the dough starts to pull away from the edges of the bowl. Change to a dough hook attachment and kneed for about 5 minutes. The dough will be quite sticky.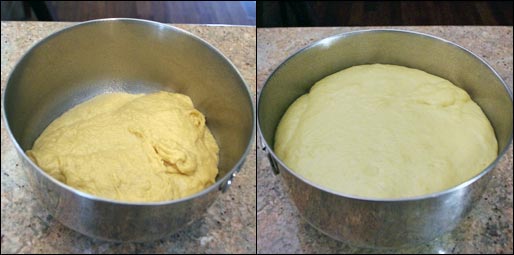 Transfer dough to a bowl that's been greased with cooking spray. Cover loosely and set in a warm, dark place (like the inside of an unheated oven) until the dough doubles in size - about 2 hours and 15 minutes.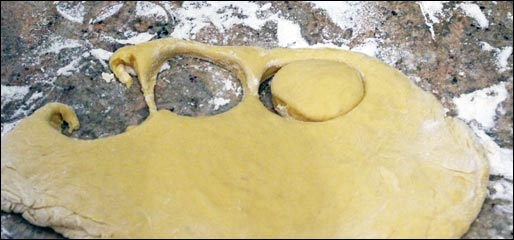 Turn the dough out onto a floured surface. Dust the top with flour and fold dough in half. Continue to fold the dough - dusting with flour - until it feels just barely stiff enough to cut and keep its shape. Gently pat (finger message) the dough down to 1/2-inch thickness. Cut out 2 and 1/2-inch to 3-inch rounds using a biscuit cutter or the mouth of a glass. Ball and pat down dough remnants to get more donuts.

Transfer rounds to parchment-lined and lightly floured baking sheets - leaving an inch of space around each piece of dough. Let rise in a warm, dark place until almost double in size... about an 1 hour and 20 minutes.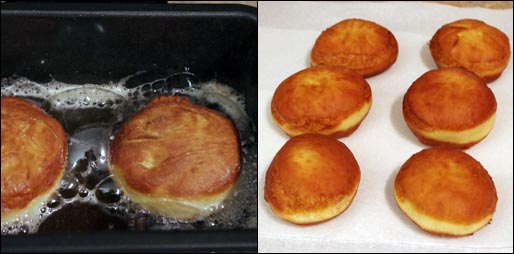 In a fryer, heavy pot or dutch oven, heat 3 inches of oil to 360 degrees. Fry donuts - a couple at a time - until golden brown on each side, about 50 seconds per side. Transfer fried donuts to stacked paper towels to drain excess grease.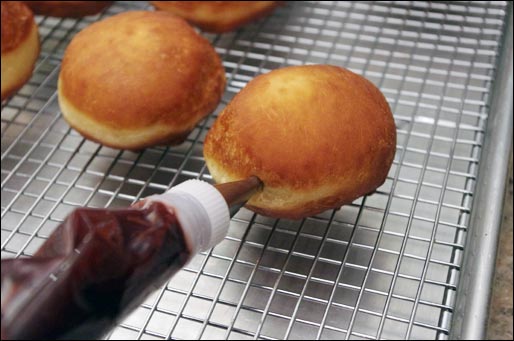 If coating in cinnamon and sugar... roll the donuts in shallow bowl in a mix of 3 Tablespoons sugar and 2 teaspoon cinnamon - while the donuts are still warm. If dusting with powdered sugar, fill the donuts and then dust.
Using a piping bag with a long tip, fill each Paczki with your choice of filling (suggestions below). Alternatively, you can cut a small slit in the side of each Paczki and spoon in your favorite filling.
Enjoy!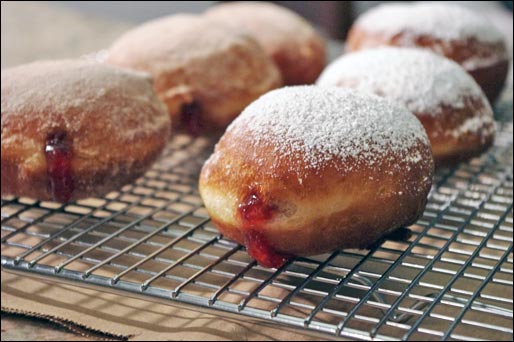 Cooking Notes:

To activate the yeast, the water temperature should ideally be between 110 and 115 degrees.

When frying, only do a couple donuts at a time. Overloading your fryer will cause the oil temperature to drop and give you inconsistent results. Always let your oil come back to 360 degrees between each batch of frying.

You can mix the dough by hand or with a hand mixer, just mix slowly and switch to a sturdy spatula when the dough starts to pull away from the edges of the bowl.

For filling, you can use any fruit jam, jelly or pie filling. If you're dealing with a jam that seems too watery for a filling, try boiling it for 4 minutes to evaporate the excess water. It'll usually thicken up quite nicely. If filling with a piping bag, avoid chunky jams where larger pieces of fruit might get stuck in the tip.

Paczki is pronounced "ponch" + "key".

These traditional Polish donuts are popular for Fat Tuesday, the day before Ash Wednesday. The recipe requires time (for letting the dough rise) but the result is delicious. You can easily alter the recipe to use your favorite toppings and fillings.
Mr Breakfast would like to thank
Mr Breakfast
for this recipe.
Comments About This Recipe
What do you think of Paczki (Polish Donuts)?
There are no comments yet for this recipe. Be the first! Was it good? Was it bad? Did you make it better somehow? Let the world know!



---
Connect With Mr Breakfast: