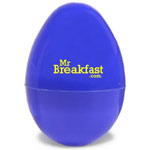 Silly Putty
Mr Breakfast Silly Putty Promotion
As supplies allow, this promotion offers free silly putty eggs to site users who submit a certain number of recipes or restaurant reviews. It is important to note that the product actually offered is Crazy Putty, a product remarkably similar to the more famous Silly Putty.
Click here
to see if the promotion is currently active.
The editorial content above may not be reproduced without the written permission of Mr Breakfast.com. Please contact us for reprint requests.