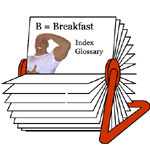 Souffle
Prounounced: "Sue-Flay"
A light fluffy dish of egg yolks and stiffly beaten egg whites mixed with any variety of other ingedients. A primary ingredient in baked souffles - though it is seldom mentioned in the ingedient list - is air. The word
souffle
literally means "puffed-up". Air trapped in the body of the souffle causes the dish to look inflated. Conversely, when too much air escapes from the baked dish, a souffle will look deflated. That is why most baked souffles are served immediatly from the oven.
Chilled and frozen souffles are primily served as desert items.
Recipe Collection:
Souffle Recipes
Buy Ramekins & Souffle Dishes
Articles that reference "Souffle":
Columns that reference "Souffle":
Recipes with "Souffle" in the title:
The editorial content above may not be reproduced without the written permission of Mr Breakfast.com. Please contact us for reprint requests.