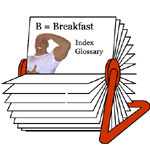 Shrove Tuesday
Also known as Pancake Day, Fat Tuesday, Mardi Gras, Carnival and Fetter Dienstag. A unique holiday that occurs annually the day before Ash Wednesday - the beginning of Lent.
Articles that reference "Shrove Tuesday":
Recipes with "Shrove Tuesday" in the title:
The editorial content above may not be reproduced without the written permission of Mr Breakfast.com. Please contact us for reprint requests.