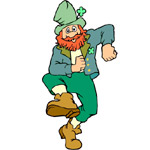 St. Patricks Day
A holiday occurring annually on March 17th. It's the Roman Catholic feast day which celebrates St. Patrick (387-461), the patron saint of Ireland. Once celebrated only by the Irish, it is now celebrated by anyone who likes a good holiday. Today, we celebrate by wearing green and attempting to drink as much alcohol as the Irish are known to drink.

If you're of a mind to eat like a real Irishman on St. Patrick's Day, bring a big appetite. A traditional breakfast (often referred to as a "Fry") in Ireland can be huge, often consisting of eggs, bacon and/or sausage, grilled tomatoes, baked beans, black and/or white pudding (see recipes below) and brown bread with sweet butter and preserves.
Interestingly, do you know why there are there so few Irish lawyers? The majority of them can't pass the bar!
Green Breakfast Recipes:
Green Eggs And Ham
Green Egg Scramble
Green Egg Casserole
Pistachio Pudding Muffins
Green Kale Smoothie
Irish Breakfast Recipes:
Black Pudding
White Pudding
Ulster Fry
Curach (Irish Honey Cream Oatmeal)
Irish Oatmeal With Seasonal Berries
Irish Omelette
Irish Breakfast Scones
Irish Cream Breakfast Bananas
Irish Breakfast Smoothie
Corned Beef Hash
Corned Beef Hash Cakes
Crockpot Corned Beef Hash
Red Flannel Hash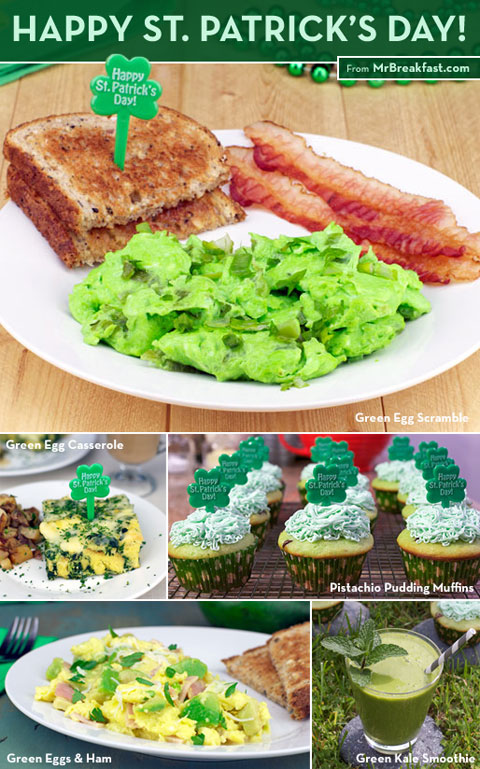 The editorial content above may not be reproduced without the written permission of Mr Breakfast.com. Please contact us for reprint requests.