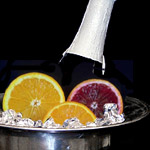 Mimosa
A cocktail usually made from six parts champagne to four parts orange juice. Usually served in a champagne flute, the Mimosa has become associated with fancy breakfasts and brunches, including romantic breakfasts in bed. The orange juice is usually poured first and topped with the champagne. It is uncommon to stir or shake a Mimosa.
According to Colin Peter Field's
The Cocktails of the Ritz Paris
, the Mimosa was first created at the Ritz Hotel in Paris, in or around 1925.
Another name for a Mimosa is a Buck Fizz. The addition of Grand Marnier turns a Mimosa into a "Grand Mimosa". Some recipes call for a dash of Orange Curacao.
A slice of orange attached top the rim of the champagne flute makes a fine garnish.
Special Feature:
Mr Breakfast's Guide To Breakfast In Bed
Related Recipe:
Peach Bellini
Recipes with "Mimosa" in the title:
The editorial content above may not be reproduced without the written permission of Mr Breakfast.com. Please contact us for reprint requests.