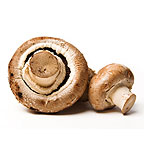 Mushroom
The fleshy above-ground body of an edible fungus. In fact, the mushroom is the reproductive structure (think seed) produced by the fungi. Mushrooms consist of a shaft and an umbrella-shaped cap. The underside of the cap is covered with radiating blade-like structures called gills.
Mushrooms grow quickly in dark, damp places. There are thousands of varieties of this fleshy fungus. The cultivated mushroom is commonly available, but other wild varieties include cepe, chanterelle, enokitake, morel, puffball, and shiitake. Many wild mushrooms are poisonous. The term "toadstool" is used typically to designate a mushroom that is poisonous to eat.
Articles that reference "Mushroom":
Recipes with "Mushroom" in the title:
Recipes with "Mushroom" in the ingredients:
The editorial content above may not be reproduced without the written permission of Mr Breakfast.com. Please contact us for reprint requests.