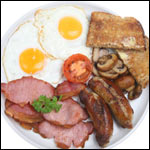 Full English Breakfast
2 Cumberland sausages
2 rashers of smoked bacon
2 eggs
mushrooms
1 tomato
tin of baked beans
2 rounds of bread
black pudding
2 hash browns
cooking oil
salt - to taste
brown sauce (look for HP brown sauce) - to taste
Slice the mushrooms thinly. Then slice the black pudding into rounds of about 1.5cm. Cut the tomatoes into half. Empty the tin of beans into a saucepan.
Don't use a microwave as this takes a lot of the liquid and taste away
.
Grill the sausages, bacon and halved tomato to suit your taste. In England, there are many schools of thought on what is the best way for bacon to be cooked, but I prefer it to be lightly grilled.
Add a little oil into a frying pan and fry off the black pudding and mushrooms together. They are ready when the mushrooms turn a golden brown. Move these into a heat proof dish and place in the bottom of your oven to keep warm.
Start to gently simmer the pan of baked beans -
Don't over cook them as they will go hard
.
Add more oil into the pan (around 2 table spoons) and place a round of bread in and fry until golden brown - repeat for the second slice and then keep warm.
Next, fry 2 eggs to suit your taste. In England, we only fry one side and love them to be runny.
Finally, serve everything on the plate together, make a nice cup of
English Breakfast Tea
(yes, its a tea bag, and yes we add milk), shake a dash of salt over your place, and a squirt of brown sauce.
Special Note From Recipe Submitter:
I was hungry this morning and found this website. I thought I'd share what is know throughout England as THE breakfast of choice. Traditionally the breakfast of lorry drivers (truckers) and tradesmen / builders but it is now served in most hotels, restaurants, cafes and even PUBS! The ingredients are optional, but these are my preferences.

This recipe presents one of many ways that people enjoy a Full English Breakfast. Leave a comment on this page to say how you like yours prepared.
Mr Breakfast would like to thank
haley
for this recipe.
Comments About This Recipe
What do you think of Full English Breakfast?
Overall Average Rating =

(out of 5)




From russ
Near perfect, but to fry the eggs use lots of oil in the pan so you con flick it or spoon it on top of the egg to stop the white from becoming snotty, foreign hash browns have become incorporated over the years.

Comment submitted: 8/14/2020 (#20998)



From Canadian
Hp sauce finishes off this English Breakfast. Oh my mouth is watering just thinking about it. :) Canada

Comment submitted: 2/6/2018 (#20519)



From Anthony E.

Everything should be fried. Bacon should be back bacon. HP sauce is essential.

Comment submitted: 5/20/2017 (#20301)



From k.p.
Each year, I spend three months in UK and have this breakfast almost every day. Unbeatable!!

Comment submitted: 3/15/2015 (#19324)



From Reu Dhine
This is wonderful for kiddos party! I love to include this in menu on my food catering service company (Food Catering San Antonio). People in San Antonio will love it!

Comment submitted: 9/2/2013 (#16361)



From Nick
Amazing Stuff. Brown sauce can be the only sauce, after all this recipe is traditionally English.

Comment submitted: 3/6/2013 (#15313)



From lacyanne
Great way to start a very long day!

Comment submitted: 7/5/2012 (#14118)



From G. Chef

Hash browns and baked beans are for an Americanized version. Where are the kidneys?

Comment submitted: 6/26/2012 (#14081)



From Muddancer
Use the grill juices to fry the bread. It has all the flavor.

Comment submitted: 6/11/2012 (#14047)



From Jack
I really miss full English breakfast. Enjoyed it every day each time I was fortunate enough to visit Great Britain. The best was at a bread and breakfast I stayed at near Birmingham. This recipe sounds delicious!

Comment submitted: 6/5/2012 (#14038)



From Warfield

Ouch. That's way too much food for me for breakfast. I prefer something lighter like oats or toast. Maybe in my younger days, I could get away with it. Looks tasty though.

Comment submitted: 5/29/2012 (#13971)



From Jen Iver

I'm cooking this for my mum for Mothers Day as a surprise!

Comment submitted: 3/12/2012 (#13666)



From Emma
OMD (oh my days) this is the best breakfast you can ever have. Just reading the recipe makes my mouth water and it's even better when it gets on to your taste buds. It just explodes and when you're finished, you'll keep on asking for more. God bless English breakfast :')

Comment submitted: 10/10/2011 (#13004)



From cetta
Yes! I like it! I cook it for my boys.

Comment submitted: 4/30/2011 (#12630)



From King G.G.
Full English can be so many things to so many people but either way it is a great start to the day. Breakfast like a king, lunch like a prince and dinner like a pauper!

Comment submitted: 4/27/2011 (#12577)



From fozzy
This is the English mans best friend.

Comment submitted: 4/8/2011 (#12405)



From sean
I agree... this is the only way to start the day. Fried bread is a necessity.

Comment submitted: 4/1/2011 (#12378)





From david painter (Team Breakfast Member)
I suggest you pan fry bacon. Black pudding cut to 1.5cm is a little small, use sea salt and black pepper. H.P. sauce is not the only one - try others.

Comment submitted: 2/22/2011 (#12187)



From wicket

Black pudding is the greatest. Skip the foreign hash browns. Add fried bread.

Comment submitted: 12/2/2010 (#11652)



From Dutch girlie
What's with the 'hash browns'? Isn't that something very American?

Comment submitted: 9/26/2010 (#11291)



View all 64 comments for this recipe.



---
Connect With Mr Breakfast: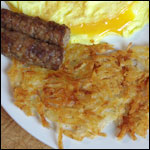 Crispy Hash Browns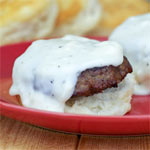 Country-Style Pepper Gravy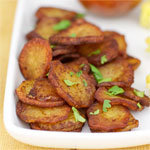 Cinnamon Potatoes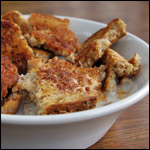 Milk Toast

All you need to know. The basics and beyond!
Click here
.