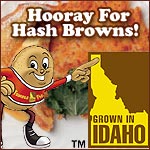 Hooray For Hashbrowns!
By Mr Breakfast
According the Merriam-Webster dictionary, "hash browns" are "boiled potatoes that have been diced, mixed with chopped onions and shortening, and fried usually until they form a browned cake." To the mind of a true breakfast lover, that's like defining luxury car as "four wheels under a sitting area".
In the dictionary company's defense, hash browns have the ability to defy definition. When well prepared, entire books could not describe the happy reaction of our taste receptor cells to these "boiled potatoes".
Hash browns have the ability to make or break a breakfast. Some mornings, no matter how good the eggs might be -- the portions seem too small without a solid side dish. Burnt or underdone potatoes can leave a bad impression that lasts the entire day. But on the other hand, the taste of great hash browns can travel right from the mouth to the soul. Browns with the edges crisped to perfection are the stuff of legends.
Here are 18 recipes that might redefine what hash browns mean to you:
Carrot Hash Browns
A colorful twist on an old favorite.
Mashed Potato Hash Browns
Served in some of LA's finest diners, this recipe's crispy outside contrasted with a smooth inner-texture may change the way you make hash browns forever.
Hash Browns and Garlic Mushrooms
Anyone that's ever said garlic and breakfast don't mix will swallow their words when they taste this sophisticated version of hash browns.
Sweet Potato Hash Browns
A favorite in the south for decades, you'll enjoy this tasty dish no matter where you live.
Easy Cheesy Baked Hash Browns
This recipe transforms a bag of frozen hash browns into casserole-style treat straight from heaven.
Crock Pot Hash Browns Casserole
The hardest 4 to 6 hours you'll ever spend. The hearty aroma of this recipe will tempt you to try it before it's done.
Low Carb Radish Hash Browns
A secret of Atkins' Diet followers, it's now time for everyone to see radishes have a place at the breakfast table. Also try these three low-carb hash brown recipes:
Cabbage Hash Browns
,
Cauliflower Hash Browns
and
Zucchini Hash Browns
.
Hash Browns With Beets
Red hash browns? You bet you your life!
Camping Hash Browns In Foil
Make room beside the tent. This easy-to-prepare fun recipe is a must for you next camping trip.
Hash Brown Pie
Grease you pie tin and prepare to be dazzled! When a recipe doubles as an excuse to host a brunch, you know you've got a winner.
Roasted Hash Browns
A healthier hash brown -- this is the final step before you walk into the world of home fries. It's a step worth taking!
Quick Hash Browns
In my hands you see two potatoes. Ala-kazam! Now you see a delicious plate of golden hash browns.
Hash Brown Omelette
Inside the omelette or beside it, hash browns make omelettes better.
Hash Brown Frittata
Inside the frittata or beside it, hash browns make frittatas better.
Quick Hash Brown Quiche
In my hands you see five cups of frozen hash browns. Ala-kazam! Now you see a delicious Quiche. Just another reason why hash browns are magic!
This article was written by Mr Breakfast (aka Eddy Chavey).
The editorial content above may not be reproduced without the written permission of Mr Breakfast.com. Please contact us for reprint requests.