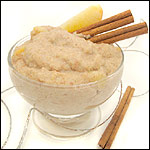 Top 10 Reasons To Eat Oatmeal
By Mr Breakfast
Bonus List: 10 Ways To Make Instant Oatmeal
Instantly More Exciting

In my capacity as the self-pronounced #1 leading authority on breakfast in the whole entire world, it's very important to me to impart certain breakfast knowledge to my readers. I want you to be able to make perfect scrambled eggs. I want you to know what they eat for breakfast in Iraq. I need you to know which death row inmates choose breakfast for their last meal. But of all the lessons I could teach, one stands supreme... if you eat more oatmeal you can drastically improve the quality of your life.

Hopefully you've already discovered how delicious oatmeal can be by exploring the Mr Breakfast Oatmeal Collection. Now see the benefits you can derive from eating a delicious bowl of oatmeal.

Over 40 studies show that eating oatmeal may help lower cholesterol and reduce the risk of heart disease. According to Quaker, all it takes is 3/4 cup of oatmeal each day to help lower cholesterol. The soluble fiber in oats helps remove LDL or "bad" cholesterol, while maintaining the good cholesterol that your body needs. In January 1997, the Food and Drug Administration announced that oatmeal could carry a label claiming it may reduce the risk of heart disease when combined with a low-fat diet.


The soluble fiber in oatmeal absorbs a considerable amount of water which significantly slows down your digestive process. This result is that you'll feel full longer, i.e. oatmeal can help you control your weight.


You probably already have oats in your kitchen. It's estimated that eighty percent of U.S. households currently have oats in their cupboards.


New research suggests that eating oatmeal may reduce the risk for type 2 diabetes. In fact, the American Diabetes Association already recommends that people with diabetes eat grains like oats. The soluble fiber in these foods help to control blood glucose levels.


With the exception of certain flavored varieties, the oats found in your grocery store are 100% natural. If you look at the ingredients on a canister of rolled oats, you will usually see only one ingredient... rolled oats.


According to recent studies, a diet that includes oatmeal may help reduce high blood pressure. The reduction is linked to the increase in soluble fiber provided by oatmeal. Oats contain more soluble fiber than whole wheat, rice or corn.


Oatmeal contains a wide array of vitamins, minerals and antioxidants and is a good source of protein, complex carbohydrates and iron.


The fiber and other nutrients found in oatmeal may actually reduce the risk for certain cancers.


Oatmeal is quick and convenient. Every type of oatmeal can be prepared in a microwave oven. Even when cooked on the stovetop, both old-fashioned and quick oats can usually be made in less than 10 minutes. And what about instant oatmeal… a hot breakfast in under a minute... incredible!


Oatmeal can be absolutely delicious! Whether instant, cooked on the stove or baked in the oven, the combination of flavors you can fit into a serving of oatmeal is limited only by the imagination. Visit Mr Breakfast's Oatmeal Collection to see just 60 of the ways you can start to enjoy oatmeal today!

Spread the word about the goodness of oatmeal! Wear a limited edition t-shirt that lists the reasons to eat oatmeal!



Bonus List...






10 WAYS TO MAKE INSTANT OATMEAL INSTANTLY MORE EXCITING
Add fresh or frozen fruit. Sliced bananas are particularly good. A little fistful of frozen blueberries not only add flavor to instant oatmeal, but your mouth will marvel over the inviting temperature / texture differential when you bite into each little berry.


Add dried fruit such as raisins, dried cranberries, dried cherries, dates or sweetened shredded coconut.


Add chopped nuts like walnuts or almonds. Finely chopped nuts can create a tasty crumbled topping.


Add a tablespoon or two of your favorite granola. Mushy boring oatmeal is yesterday's business. Today you can easily add a delightful crunch to any bowl of oatmeal.


Add a dribble of pure delicious maple syrup.


Sprinkle with cinnamon and sugar. Never be afraid of more flavor.


Add a little dollop of yogurt. Flavored yogurts add taste and all yogurts add a smooth creamy texture.


Crush a little handful of your favorite dry breakfast cereal onto your oatmeal. Cap'n Crunch oatmeal anyone?


Stir in a couple teaspoons of your jam or fruit preserves and turn your oatmeal into a fruity fiesta bowl.


Add a single tablespoon of ice cream to your oatmeal. Your mouth will go crazy with pleasure as the cool ice cream mingles with the warm oats.

Honorable mention goes to these oatmeal additions, most of which should only be enjoyed by really skinny people: whipped cream, chocolate chips, mini-marshmallows, butter and brown sugar, crumbled candy bars (seriously) and eggnog.

Try combining the ideas above to make a breakfast you'll be proud to call (You're Name Here)'s Deluxe Oatmeal Supreme.



For even more information about oatmeal, click here.
This article was written by Mr Breakfast (aka Eddy Chavey).
The editorial content above may not be reproduced without the written permission of Mr Breakfast.com. Please contact us for reprint requests.