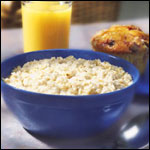 Oatmeal
A form of flour made from oats. The common oat was first cultivated in Europe and is now grown in the U.S. in cool temperate regions.
Oatmeal is the only whole grain food recognized by the FDA to lower cholesterol and reduce the risk of heart disease.
Oats contain a variety of vitamins, minerals and unique antioxidants. Oatmeal can aid in maintaining a healthy weight as part of a diet rich in fiber.

All mass-market American oatmeal cereals are made from rolled oats. Rolled oats are cleaned, graded and pearled - a process that removes the husk from the oat grain, steam-softens it, and then rolls it flat between heavy metal rollers spinning at super speed. This process causes the oats to lose some protein, bran and B vitamins. In turn, they have a longer shelf-life than natural oatmeal because enzymes in the grain are destroyed by the heat of steaming and rolling. This is why unprocessed oatmeal is sold in air-tight, vacuum-packed tins and rolled oat products are sold in cardboard and paper packaging.

Unprocessed oatmeal is sold as Irish or Scottish oatmeal. The grain is still in its original form. When cooked, the oats soften, but they retain a firmer texture than that associated with quicker-cooking rolled oats. Unprocessed oatmeal retains more cholesterol-fighting oat bran than rolled oats.
In Scotland, oatmeal is often served in two bowls - one containing the hot cereal, the other holding the milk. Diners then dip each spoonful of porridge in the cold milk, thus keeping the temperature differential at its peak.
January has been declared National Oatmeal Month by The Quaker Oats Company. Traditionally, more oatmeal is consumed in January than any other month of the year.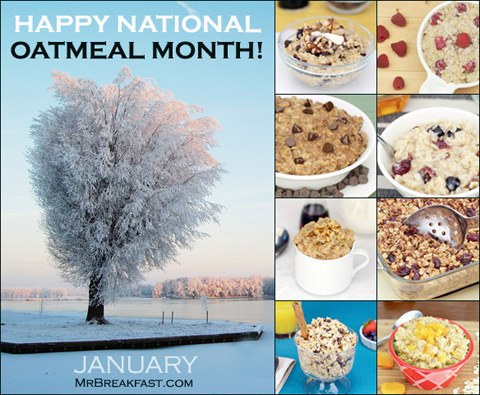 Want to bake with oats? Quick or old fashioned oats can be substituted for up to one-third of the flour called for in recipes for muffins, biscuits, pancakes, coffee cakes and cookies.

Dreaming that you are eating oatmeal means that you are well-grounded. Dreaming that you are cooking or serving oatmeal means that you have control over the fate of someone close to you.
Recipe Collection:
Oatmeal Recipes
Interesting Oatmeal Facts
A 2005 study at Brigham Young University found that quick-cooking rolled oats that had been stored 28 years in sealed containers were rated "acceptable in an emergency" in taste and quality by three-fourths of the respondents in a taste test.
What's the difference between Old Fashioned and Quick Oats? According to Quaker Consumer Relations, "The only difference between Old-Fashioned Oats and Quick is that the Quick Oats are cut into smaller pieces to shorten the cooking time."
The ancient Greeks were the first people known to have made an oatmeal-like porridge from oats.
An 18-ounce package of Old Fashioned Quaker Oats contains about 26,000 rolled oats.
Articles that reference "Oatmeal":
Columns that reference "Oatmeal":
Recipes with "Oatmeal" in the title:
Recipes with "Oatmeal" in the ingredients:
The editorial content above may not be reproduced without the written permission of Mr Breakfast.com. Please contact us for reprint requests.