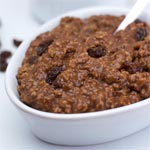 Oatmeal With Chocolate And Coffee
1/2 cup quick cooking oatmeal
2 or 3 squares Dove chocolate (or similar)
1 cup water
a drizzle of coffee
raisins (or other dried fruit)
This recipe was submitted to our Experimental Oatmeal section back in 2009. I tried it this morning and I liked it. I did find that it needed an extra 2 teaspoons of sugar to give it just the right amount of sweetness. This recipe is a good example of how easy, fast and versatile oatmeal can be. It should be noted that a small handful of chocolate chips could replace the chocolate squares if thatís what you have available. I used about 1/4 cup of raisins and 2 Tablespoons of coffee. Those ingredient amounts arenít specified in the original submission. (This recipe was tested and photographed in July 2014.)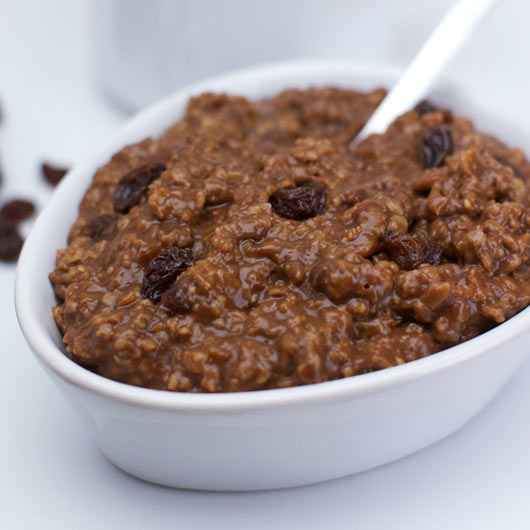 How To Make Oatmeal With Chocolate And Coffee
On the bottom of a microwave safe bowl, I put two squares of Dove dark chocolate. Covered by "good" half cup of old-fashioned oatmeal. Cover with water. Microwaved for two minutes - stirring every 45 seconds.
I cover the microwaved oatmeal with hot coffee, add some golden raisins and sometimes some chocolate covered blueberries or pomegranate. Mix everything together; eat it, drinking some of the black coffee with it.
I love the oat meal prepared this way. Much better than oatmeal prepared the "usual" way.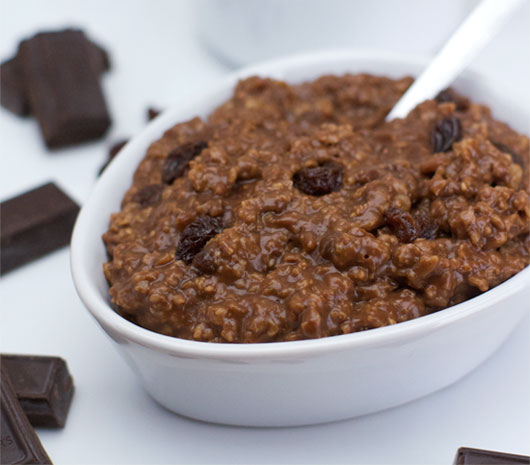 Additional Notes From The Recipe Submitter:

I make coffee;using freshly ground coffee, from the beans I roasted less than a week ago (but more than a day ago, as "too freshly roasted" coffee is not so good.) Coffee should be used when it is more than 24 hours but less than ten days ago. There is a window for best coffee: 3 to 7 days after roasting.

I make about 1 and a half cups, sometimes two cups of coffee.

(The right ratio of coffee to water, the right grind suited to the method and the coffee's physical characteristics, the proper water temperature and contact time, a good preparation of the coffee "bed" or "cake" are all fundamentals that must be satisfied to produce a very good cup of coffee.) PS
Many people drink their coffee so weak you can see through it. They don't like strong coffee because to them, they equate stronger coffee to increased bitterness. To make up for lack of flavor, they add powdered creamer and lots of sugar.

That's very sad. They have no idea what the real taste of coffee is like.

Coffee flavor, taste and aroma changes radically with strength. Make it weak, you get a feeble coffee flavor and little bitterness. Make it somewhat strong, and you get more flavor but much more bitterness. Keep adding coffee, and then the flavor starts catching up to the bitterness until at some point it actually passes it, and the bitterness is just a little note mixed in with all that wonderful coffee flavor.

So if you think it's too strong because it's too bitter, you have to add MORE coffee. Many people use too big cups for good coffee.

I follow the SCAA (Specialty Coffee Association of America) recommendation:

A standard "cup" of coffee uses six ounces (177 ml) of water. The SCAA's standard measure of ground coffee for this quantity of water is 10 grams (+/- 1 gram) or slightly over a third of an ounce (or, simply, two tablespoons). Since the ground coffee will absorb water, you will be left with approximately five and one-third ounces of coffee. . A "cup" means 6 fluid ounces of water, which results in a 5 1/3 fluid ounce serving of beverage.

A microwave oatmeal dish made with chocolate squares (or chocolate chips), coffee and raisins.
Mr Breakfast would like to thank
Lubos
for this recipe.
Comments About This Recipe
What do you think of Oatmeal With Chocolate And Coffee?
Overall Average Rating =

(out of 5)

From BJ Chimes
I love the chocolate oatmeal without a doubt. A friend said it was more like dessert and we both like it. Yum!

Comment submitted: 5/18/2020 (#20956)



From chip
Great new taste. I loved it!!!!

Comment submitted: 6/9/2011 (#12778)




---
Connect With Mr Breakfast: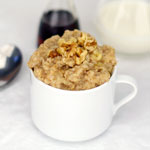 Pancake Oatmeal


Chocolate Chip Oatmeal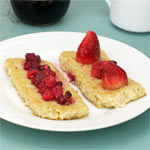 Fried Oatmeal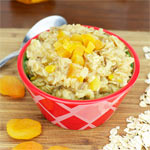 Apricot Honey Oatmeal

All you need to know. The basics and beyond!
Click here
.