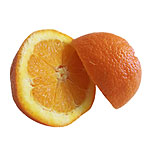 Orange
The fruit of the orange citrus tree. Oranges originated in southeast Asia, most likely India, Vietnam or southern China. There are three major types of oranges: Sweet (Valencia, Mediterranean and Navel), Loose-skinned (Mandarin and King), and Bitter (Seville and Bergamot). Bitter oranges are usually used for marmalades. The fruit itself is round with a skin, or peel, that reveals segments of sweet and juicy flesh ranging in color from orange to red.
Oranges can be eaten fresh, cooked in sweet or savory dishes, juiced or used as a flavoring or aromatic. They are high in Vitamin C and potassium.
In the dreams of women, oranges represent the reproductive system, fertility or general health. To slip on an orange peel in a dream, foretells the death of a relative.
Articles that reference "Orange":
Columns that reference "Orange":
Recipes with "Orange" in the title:
Recipes with "Orange" in the ingredients:
The editorial content above may not be reproduced without the written permission of Mr Breakfast.com. Please contact us for reprint requests.