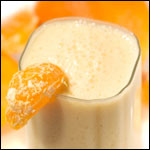 Orange Julius
1 cup water
1/2 cup frozen concentrated orange juice
2 cups milk
3/4 teaspoon vanilla extract
3/4 teaspoon salt (see notes below)
2 eggs
5 or 6 ice cubes
Mix everything in a blender and enjoy.

They are so darn good!! (Note From Mr. Breakfast: Be sure to read user notes about salt and consider adjusting that ingredient.)
Mr Breakfast would like to thank
joblow5$
for this recipe.
Comments About This Recipe
What do you think of Orange Julius?
Overall Average Rating =

(out of 5)




From Yankdownunder
I agree with CherokeeAngle13 that they used Malt Powder in it. First time I had one was in the early 70's. YUMM!!!

Comment submitted: 4/9/2017 (#20245)





From xtiml (Team Breakfast Member)
The concern about raw eggs is unwarranted. If you have emphysema, I suggest you go on a diet of raw eggs and that is all, except pure water, for a week or two. Egg producers do not want to have their eggery come down or be contaminated with salmonella... just as getting sick from raw milk was over-exaggerated and caused everything to be pasteurized including your orange juice and other juices which destroys the best part of the nutrients in them. Pastuer was a charlatan.

Comment submitted: 11/26/2015 (#19668)



From Orange Habit
It tastes better with egg. For me, it goes to the taster preference. Not everyone has the same taste or remembers how it used to taste but this is the best I ever tasted. I miss those hotdogs too!

Comment submitted: 5/6/2014 (#18862)



From Matt
| | |
| --- | --- |
| Rating (out of 5): | |

Bland. Omitted salt, still did not pop like a Julius should. Not recommended.

Comment submitted: 4/4/2014 (#17388)





From riannotti (Team Breakfast Member)
I omitted the salt and replaced with sugar. I only used one egg. Delicious. Next time I will try 2 eggs. Stop worrying about the raw egg. You don't consume them every day, do you? And I bet you let your kids lick the brownie batter off the spoon... that's got raw eggs, doesn't it?

Comment submitted: 8/16/2012 (#14295)



From Funkerman
The egg adds to the thickness. Delicious.

Comment submitted: 2/2/2011 (#12053)



From dorita
Needs sugar, like the egg. It adds protein. Mmmmmmm

Comment submitted: 12/30/2010 (#11810)



From MJ5
I skipped the egg and it was still delicious. Why would I need egg? What does it add?

Comment submitted: 9/25/2010 (#11281)



From 3litlpgs
This is soooo good! I would say it is more than 2 servings though!

Comment submitted: 9/23/2010 (#11275)



From blend everything
Okay so the salt is wrong and can be omitted completely, but other than that this is delicious and very close to the old original recipe. At least that's what I think.

Comment submitted: 3/30/2010 (#10202)



From JuliusLover18
| | |
| --- | --- |
| Rating (out of 5): | |

Ewhww. Most digustigg Julius recipe ever. Very Ugh-Tastic.

Comment submitted: 3/22/2010 (#10124)



From MomUv5

Recipe says 21 servings?? I don't think so. Maybe 1-2 instead?? It makes me wonder if the submitter had a food service (i.e. LARGE) version of the recipe and didn't reduce the salt appropriately.

Note From Mr Breakfast:
Thanks MomUv5. I just changed the serving size to 2. I appreciate your note.

Comment submitted: 4/18/2009 (#7985)



From Flash - Master Of The Universe
Really good. Pretty close to the real thing. I agree about the salt being too much. An entire teaspoon seems like way too much. I used just a couple dashes. Definitely reduce the salt. Otherwise, great.

Comment submitted: 1/8/2009 (#7309)





From Giddymoon (Team Breakfast Member)

OMG people. People have been eating raw eggs / soft cooked eggs for centuries WITHOUT refrigeration and MANY bodybuilders still do it every single day of their lives. The chance of getting sick by a raw egg is lower than winning the lottery. It is all about the lawsuits, period. I just tried another Orange Julius recipe and I knew something was missing..yup, the raw egg. Next time I will know better and will be using the raw eggs!

Comment submitted: 8/11/2008 (#6107)



From OldJuliusFan

Orange Julius hasn't used raw eggs in years precisely because they're worried about lawsuits.

Comment submitted: 7/26/2008 (#5970)



From jtaylor
You should use egg whites only not yolks to reduce chance of illness wash egges before cracking and make sure it is survered cold. and btw if u read the sing it says that products have eggs :)

Comment submitted: 6/27/2008 (#5622)



From Raw Me No Like

I didn't know that you had to add raw eggs, you could get samonella poisoning, if thats what they use at Orange Julius they should really let you know!!!!!

Comment submitted: 3/25/2008 (#4889)



From boo

No orange juice or anything
add 3 eggs and 2 teaspoons of salt

Comment submitted: 3/14/2008 (#4820)



From skip the egg

I would take out the eggs and vanilla and add in a few tablespoons of vanilla pudding powder. You'll get the thickness without the raw egg.

Comment submitted: 2/7/2008 (#4578)



From CherokeeAngel13

Well I have to tell you mom use to work at Orange Julius in Riverside, California and they used a malt mixed in with their freshly squeezed oranges and ice along with the egg whites. MMMMMMM good! Too bad they aren't made that way too. Not to Mention those Awesome Hot dogs they use to have.

Comment submitted: 10/25/2007 (#3847)



View all 29 comments for this recipe.



---
Connect With Mr Breakfast: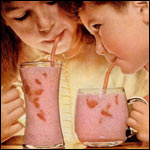 Breakfast In A Glass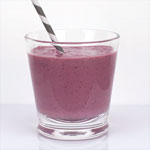 Antioxidant Smoothie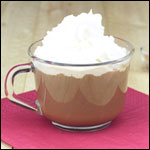 Mocha Coffee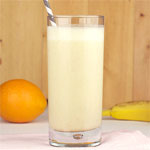 Banana Oatmeal Smoothie

When's the last time you had breakfast in a cup made of bacon?
Click here
.