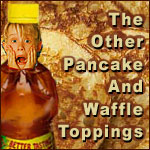 Maple Shwaple! Other Pancake Toppings
By Mr Breakfast
Collectively, we pancake and waffle lovers are in a rut. Granted - if you have to be in a rut - the habitual use of maple syrup as a topping isn't too bad of a rut to be in.
The 18th century suicidal English poet William Cowper once wrote, "
Variety's the very spice of life, that gives it all its flavor.
" Perhaps, if he had applied his theory to pancakes and waffles, he wouldn't have been depressed all the time. Talk about a rut. That guy takes the (pan) cake.
Next time you run out of maple syrup, don't fret. There's a whole world of new toppings to try. The Shakespearian poet Nicholas Rowe may have said it more eloquently, "
When our old Pleasures (maple syrup) die (runs out), Some new One (topping) still is nigh; Oh! fair Variety (pancakes and waffles)!
"
So now, as Prince Rogers Nelson (you may know him simply as Prince) said in 1984: "
Let's go crazy! Let's get nuts!
"
Apple Cider Syrup

Apple Cinnamon Syrup

Apple Ginger Syrup

Berry-Cardamon Topping

Blintzes With Fruit Topping

Blueberry Syrup

Brown Sugar Pancake Syrup

Buttermilk Syrup

Cherry Pancake Sauce

Chocolate Chip Pancakes with Honey Syrup

Chocolate Peanut Butter

Cinnamon Honey Butter

Cinnamon Maple Butter

Coconut Syrup

Fluffy Rum Sauce (For Pancakes)

Fruit Preserve Pancake Syrup

Geer Griddlecakes w/ Pilgrim Syrup

Homemade Maple Butter

Honey Butter

Jell-o Pancake Syrup

Maple Flavored Syrup

Maple-Yogurt Pancake Topping

Orange-Honey Syrup

Orange Pancakes with Orange Sauce

Pineapple Syrup

Rum Maple Syrup

Strawberry Butter
What do you like on your pancakes and waffles?
Here's some ideas sent in by some great breakfast lovers. Help us keep the list growing. Send us your ideas.
Sugar And Lemon Juice


Applesauce


Smuckers Jelly


Just Butter


Yogurt


Cottage Cheese And Prune Baby Food


Cream Cheese


Sour Cream


Whipped Cream And Fresh Fruit


Just Powdered Sugar


"I almost always use smooth peanut butter on my pancakes topped with maple syrup. Great combination." - Breakfast Lover David


This article was written by Mr Breakfast (aka Eddy Chavey).
The editorial content above may not be reproduced without the written permission of Mr Breakfast.com. Please contact us for reprint requests.