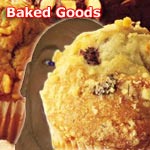 Orange Honey Muffins
1 cup all-purpose flour
1 cup rolled oats
1 cup orange juice
1/2 cup honey
1 large egg
3 Tablespoon vegetable or canola oil
3 teaspoons baking powder
1/2 teaspoon baking soda
1/2 teaspoon salt
1/4 teaspoon vanilla extract
Prepare 12 regular muffin cups with muffin papers or a light coating of cooking spray.
Preheat oven to 400 degrees.
In a large mixing bowl, sift together the flour, oats, baking powder, baking soda and salt.
In a small bowl, beat the egg slightly. Add juice, honey, oil and vanilla. Mix well.
Add wet ingredients to the dry ingredients and mix until just combined and moistened.
Spoon batter into prepared muffin cups, filling each about 2/3 full.
Bake for 20 minutes or until golden brown. If a toothpick inserted into the center of a muffin comes out dry (no batter), the muffins are done.

These muffins are sugar-fee. They get their sweetness from honey and their flavor from orange juice.
Mr Breakfast would like to thank
Stephanie
for this recipe.
Comments About This Recipe
What do you think of Orange Honey Muffins?
Overall Average Rating =
(out of 5)

From mabragg (Team Breakfast Member)
I made these muffins once before and plan on making them again today. I'm not sure why the recipe received some bad reviews, but my wife and I love them. They're plenty sweet and have great flavor. I may add some walnuts, but they really stand on their own.

Comment submitted: 10/5/2013 (#16717)





From foojoy (Team Breakfast Member)
These were just OK. I thought it was moist but VERY crumbly. I like the fact that it was half oat and half flour and it used honey and OJ for sweetness, but something was off about it to me. Would not make it again. Okay but not for me. Sorry.

Comment submitted: 3/3/2011 (#12230)



From Becky
These are wonderful muffins. Surprisingly sweet for sugar free. We will make them again and again. My whole family liked them, even my junk food junkie. I added more vanilla than the recipe called for and was out of oatmeal, so I added another cup of flour instead.


Comment submitted: 1/20/2010 (#9500)



From Chef Teacher
These muffins were the best! I made them in jumbo muffin cups; made 6 beautiful muffins. Very good... I teach American Cooking in China. Can't wait to share this recipe! The secret don't over stir.

Comment submitted: 3/6/2009 (#7713)



From PillowTalk
These muffins were the best!

Comment submitted: 3/6/2009 (#7711)



From BellaM
It's not very sweet, but there's no rule that everything has to be. There's a very nice flavor to them reminiscent of orange marmalade. I had no problems with mine rising. Checking the age/effectiveness of your leavening agents is always a good idea.

They are not going to be to everyone's taste, but my kids are actually eating their breakfast for once, which is a rarity in this house. I almost didn't make them because of the first comment left, but I am glad I did.

Comment submitted: 10/14/2006 (#491)





From Allenby (Team Breakfast Member)
I rated these "okay" only because there is noting to indicate that they are less than OK and a hair above Pretty bad. They are just moderately bad. First of all, the recipie yielded 15 muffins. Not 12. This kept me in the kitchen an additional 3 so-so muffins baked. Forget about filling the cups to 2/3 level. They don't rise anyway and if you do this you'll probably end up with 20 muffins. Just fill the muffin cups to the top.

After carefully measuing out the ingredients and baking these, you'll find a relatively dull product. They are not sweet enough for me. There barely taste of orange, and they are reminiscent of something that came out of an easy bake oven.

They scream for some sort of adornment. Maybe some nuts or dried fruit. They are just sort of "blah".

In the recipies defense, I'd like to say that they did result in edible muffins that still had that home baked feel and if you don't mind muffins that beckon to be slathered in butter AND jelly so that they have some flavor, these might be for you.

... 20 minutes later. Go figure... the last three did rise a bit leaving them with I nice little muffin-hump on top. -AB

Comment submitted: 9/10/2006 (#299)




---
Connect With Mr Breakfast: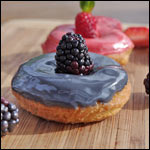 Berry Delicious Cake Donuts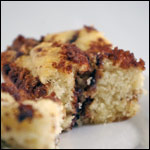 Cinnamon Flop (Coffee Cake)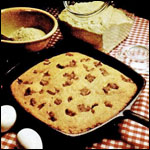 Bacon Spider Bread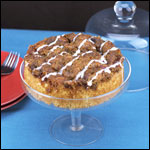 Strawberry Jam Coffee Cake

Our list of the best cereal premiums of all time.
Click here
.