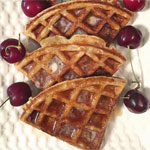 Banana Oatmeal Buttermilk Waffles
1 cup old fashioned oats
1 cup all-purpose flour
3 Tablespoons brown sugar
1 Tablespoon baking powder
1/2 teaspoon baking soda
1/2 teaspoon cinnamon
1/4 teaspoon salt
1/8 teaspoon nutmeg
1 and 1/2 cup buttermilk
2 large eggs
1 large ripe banana - mashed
1/4 cup butter - melted and cooled
2 teaspoons vanilla
These waffles turned out very good. There was a lot of banana flavor even though there's just one lone banana in the batter. The oats (that weren't ground into flour) added a hearty texture. The waffles rose up very well. They're not as crisp and light as waffles made with beaten egg whites folded into the batter, but they were quite good and I wouldn't hesitate to make them again. I got 6 (nearly 7) waffles from the amount of batter produced. (This recipe was submitted in 2007. It was tested and photographed in July 2017.)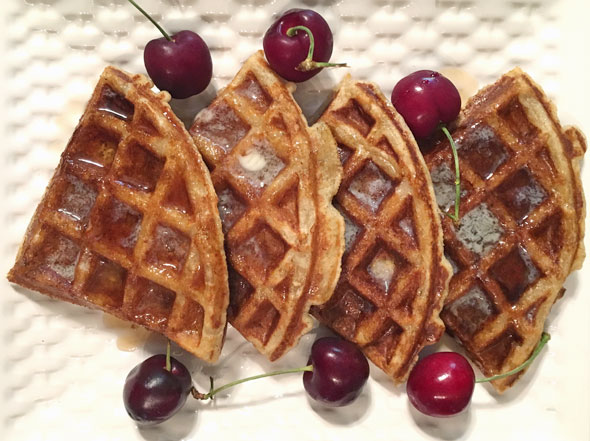 How To Make Banana Oatmeal Buttermilk Waffles
This recipe makes about 10 regular-sized waffles.
Pre-heat waffle iron.
In a blender or food processor, pulse 1/2 of the oats. Pour into a large bowl with the remaining oats. Add the flour, brown sugar, baking powder, baking soda, cinnamon, salt and nutmeg. Mix well.
In a separate bowl (or in the blender), mix the buttermilk, eggs, banana, butter and vanilla until well-blended.
Add the wet ingredients to the dry ingredients and mix until just moistened.
Cook according to waffle maker's instructions.
Serve with butter and maple syrup for breakfast. Or serve with sliced bananas and ice cream or whipped cream for dessert.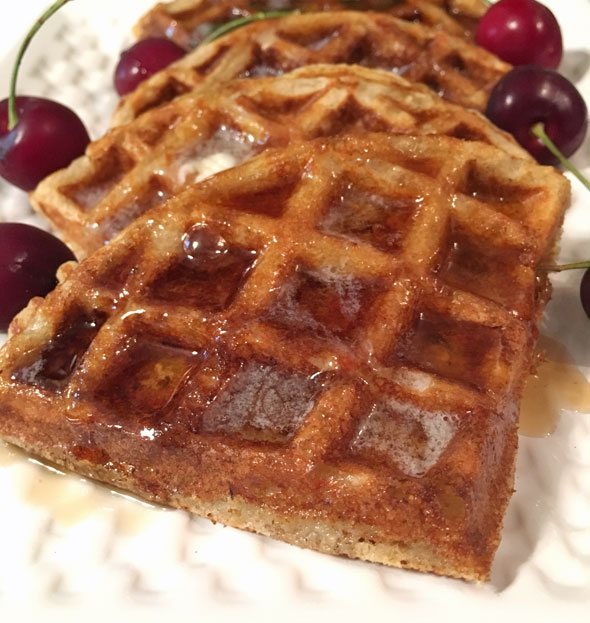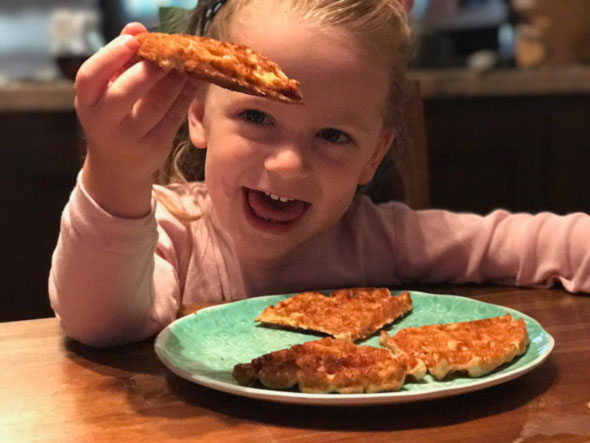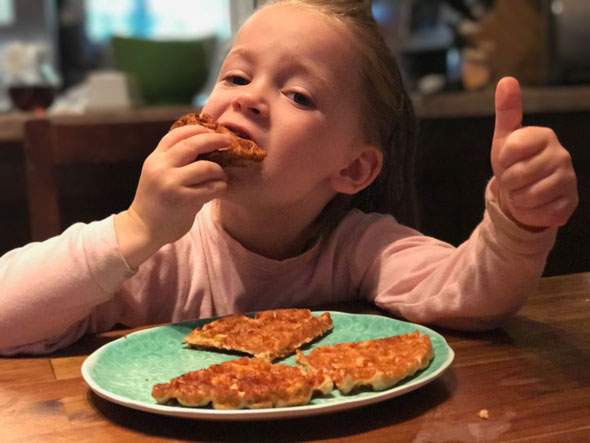 I have a heart-shaped waffle maker and this recipe makes 8 waffles. I would expect a standard round waffle maker to yield 10. Hope you like it. Enjoy!
Mr Breakfast would like to thank
Bennett
for this recipe.
Comments About This Recipe
What do you think of Banana Oatmeal Buttermilk Waffles?
Overall Average Rating =

(out of 5)

From La Tuque
I agree with the other comments... totally excellent. The only change I made was to add 1 tablespoon of canola oil, but that's because my waffle maker is old and needs more oil in the recipes so the waffles don't stick. Over time, I've realized that a little bit more oil also helps the waffles be more crisp on the outside.

Comment submitted: 10/6/2013 (#16731)



From drewboy
These were the best waffles I've made! I didn't have a banana handy the first time but they still tasted great.

Comment submitted: 4/5/2011 (#12398)



From smalla
We loved these waffles. Great alternative to traditional waffles. Didn't change a thing.

Comment submitted: 3/11/2011 (#12277)





From Martulka (Team Breakfast Member)
One of the best waffles we have had. I mixed half quick and half rolled oats with all other dry ingredients in a bowl and then added to blender to the wet part. Easy clean up. Topped with strawberries and banana, whipped cream with blueberry yogurt and maple or chocolate syrup. Very, very tasty.

Comment submitted: 2/25/2010 (#9908)



From treelover
This waffle is awesome!! Didn't have a banana on hand, but added 1/3 c raisins and chopped pecans. I packaged them up and took them to my 8 yr old Granddaughter, who can use some healthy snacks. I omitted 1 tsp of brn sugar, but drizzled just a tad of honey to the warm wonderful wholesome waffle. Mmmmmmm ! Wonderful

Comment submitted: 1/2/2010 (#9355)



From Blind Chef
This is very similar to one I made up years ago -- so for this recipe, just omit the spices & sub toasted coconut for oatmeal. You can even add chocolate chips, it's crazy good as well. ;-)

Comment submitted: 2/16/2009 (#7593)



From Nadine
Just a nice blend of flavors that made you feel that you were getting a "tufer". Not only did it make an excellent waffle, I also felt as though I was eating hot oatmeal with bananas on top.

Comment submitted: 2/15/2009 (#7584)





From S2KS2K (Team Breakfast Member)
There were great! I used yoghurt instead of buttermilk and made it all in the blender. I used 1/2 cup quick cook and 1/2 cup old fashioned oats. These waffles came out crispy but didn't really stay that way.

Comment submitted: 1/16/2009 (#7373)





From catwhispers (Team Breakfast Member)
Not often do you find something that tastes wonderful and is also somewhat good for you too. I do agree with idara's review in that these waffles were not very crispy at all, but they were still quite good. I did not have buttermilk, so instead used some soured milk I had been saving to use with my overripe bananas, and these waffles put them to perfect use. I also mixed a little powdered sugar with some cinnamon and sprinkled that on the waffles before serving. I'd make them again, even for company, perhaps trying to crisp them up a bit first either in the oven or my toaster.

Comment submitted: 11/6/2008 (#6755)



From Waffalino
The buttermilk and bananas together are brilliant.

Easy recipe, too.

Comment submitted: 8/17/2008 (#6156)





From idara (Team Breakfast Member)
They weren't as crispy on the outside as I liked but they had a very good flavor otherwise.

Comment submitted: 1/20/2008 (#4423)




---
Connect With Mr Breakfast: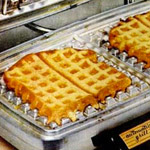 Bread-N-Butter Waffles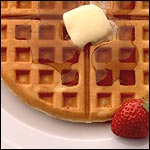 Reliable Basic Waffles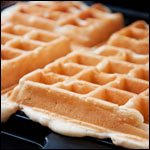 Cinnamon Waffles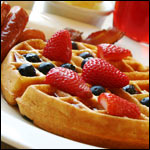 Whole Wheat Waffles

When's the last time you had breakfast in a cup made of bacon?
Click here
.