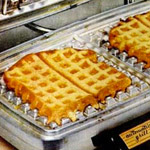 Bread-N-Butter Waffles
butter
2 eggs
1 cup milk
1 teaspoon sugar
1 dash salt
6 to 8 slices of bread
Spread bread on both sides with butter. Beat eggs slightly. Add milk, sugar and salt. Blend well. Dip bread in egg-milk mixture. Place on moderately hot waffle iron; bake until browned. Delicious with lots of Log Cabin Syrup.
This vintage recipe is from a 1955 Log Cabin Syrup magazine advertisement.
According to the ad, this is...
"A magic new (in 1955) Log Cabin Syrup recipe that turns bread and butter into waffles! Wonderful, crispy waffles the folks will love for breakfast - the kids will want for lunch - and you'll use often for hurry-up suppers."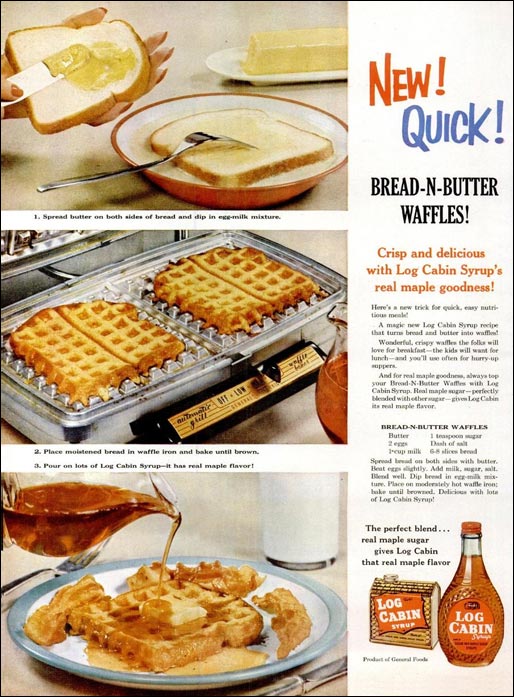 Is it a waffle? Is it French toast? It's both! Two breakfast favorites join forces in this classic recipe.
Mr Breakfast would like to thank
Mr Breakfast
for this recipe.
Comments About This Recipe
What do you think of Bread-N-Butter Waffles?
Overall Average Rating =

(out of 5)

From Stacey
I recently purchased this exact waffle baker. While researching it, I happened upon this recipe. These are so good! We make them every weekend and top them with a homemade blueberry sauce.

Comment submitted: 6/30/2019 (#20798)



From LetsTalkFood
I make these a lot. Quick and easy and that's what I'm all about. Easy Peasy!!

Comment submitted: 8/20/2016 (#20028)



From k. stark
Just made them. They were fabulous and easy! Thank you for posting this.

Comment submitted: 3/6/2016 (#19818)



From dawn-3
Awesome!!

Comment submitted: 10/5/2015 (#19584)





From Sammi (Team Breakfast Member)
I like these better than any of the waffle recipes I tried. I can fit 4 slices of bread in my Cuisinart Belgian waffle maker, so breakfast for 4 of us took about 10 minutes. This recipe/idea is a great discovery. Thanks!

Comment submitted: 6/16/2013 (#16045)



From Tanner
Love it. Wish I had a bigger waffle iron. Can only do one slice of bread at a time in mine.

Comment submitted: 4/23/2013 (#15752)



From ErinBell
Very, very awesome idea! Tastes GREAT with whole grain toast. The outside of the bread gets just a tiny bit crisp - which I LOVE! My new favorite breakfast!

Comment submitted: 3/13/2013 (#15365)



From mapleleef

Mind blowing! Genius! Why have I never thought of this?!

Comment submitted: 2/21/2013 (#15205)



From luckysammy1967
I love the French Toast Waffles! They were brilliant. - Sam Davies

Comment submitted: 2/12/2013 (#15179)



From rosebud
It works! And it's AWESOME! We'll be doing this again 4 sure!

Comment submitted: 1/7/2013 (#15062)



From alicemay
Just made it. I like it better than French toast or waffles. And it was easier than making either of those. I thought this was gonna be too good to be true but it works and it's amazing! Bravo guys for sharing this one.

Comment submitted: 12/12/2012 (#14956)



From NrseKim

WOW! I cannot wait to try this!

Comment submitted: 10/21/2012 (#14694)



From Tour De Fan
Cool recipe! It was fun and I think I like it better than regular French toast. Thanks!

Comment submitted: 7/20/2012 (#14171)



From tick-tok

What a cool idea!

Comment submitted: 5/9/2012 (#13894)



From Kate R.
Great idea Mr Breakfast! We made it as directed except we added a teaspoon of vanilla and a half teaspoon of orange zest to to the milk mixture. Loved everything about it, except I wished I had a bigger waffle iron... had to make one serving at a time. Delicious though.

Comment submitted: 2/15/2012 (#13542)





From Beana (Team Breakfast Member)
I think I love you, Mr. Breakfast!

Comment submitted: 1/5/2012 (#13392)



From BigBang
Love it! I have a circle-shaped waffle maker so I can on;y make one of these at a time, but it works great and I'm going to recommend it to everybody. Super fun idea. Keep them (the ideas) coming!

Comment submitted: 1/4/2012 (#13386)



From R. John
I made them this morning in my large square Belgium waffle maker. Totally great! Only advice I have is to set waffle maker to medium. First ones I did were just slightly overdone. Also a dash of cinnamon and vanilla in the batter improved the flavor. This was easier then making French toast. Less clean up. Thankfully, nothing stuck to the waffle maker. Thanks for sharing this one. It's my favorite new breakfast!

Comment submitted: 11/18/2011 (#13207)



From NecessaryForce

This sounds like french toast in a waffle iron!

Comment submitted: 10/20/2011 (#13053)




---
Connect With Mr Breakfast: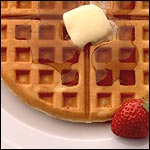 Reliable Basic Waffles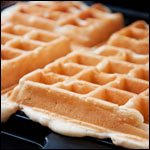 Cinnamon Waffles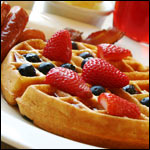 Whole Wheat Waffles