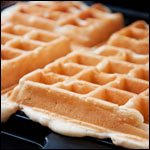 Cinnamon Waffles
2 eggs
3/4 cup milk
2 Tablespoons vegetable oil
1 cup flour
1 and 1/2 teaspoon baking powder
1 and 1/2 teaspoon sugar
1/2 teaspoon salt
1 teaspoon cinnamon
In medium bowl, beat eggs until thick, add milk and oil. Add dry ingredients, mix until smooth.
Make waffles in a hot waffle iron according to the manufacturer's instructions.
Makes 6 waffles.

Great with butter and maple syrup. Better yet, top with sliced fresh fruit and enjoy!
Mr Breakfast would like to thank
super_kitty
for this recipe.
Comments About This Recipe
What do you think of Cinnamon Waffles?
Overall Average Rating =

(out of 5)




From BestEver
This recipe worked very well! I am so happy with how the waffles turned out. I added extra sugar and vanilla essence to the recipe. It was heavenly! Also, this will be great around Christmas time!

Comment submitted: 7/8/2016 (#19986)



From kenzie dawson
These are really good! I loved them. I added half a cup of sugar and it made it much better.

Comment submitted: 8/29/2015 (#19523)



From Mini
Not bad. I looked at the suggestions and added a tablespoon of vanilla and extra cinnamon but I found that I couldn't taste the cinnamon as much as I would have liked.

Comment submitted: 7/29/2015 (#19495)



From c.m.
I added a bit more sugar cinnamon, a sprinkling of brown sugar and some vanilla. This made it spectacular!

Comment submitted: 4/22/2015 (#19378)



From Best So Far
We tried a different recipe before but this one is the best one yet.

Comment submitted: 1/18/2015 (#19214)



From SweetLee
Nice. I mixed icing sugar with water and poured it over the top. Was beautiful.

Comment submitted: 1/5/2015 (#19189)



From darson
The recipe was great but I had to make a topping because the he cinnamon and sugar didn't make it flavorful enough for me.

Comment submitted: 12/6/2014 (#19136)



From laine

Mine didn't turn out like they should have. First, they were to salty and it got worse from there. I don't know if it was something I did, but I followed the recipe exactly.

Comment submitted: 8/16/2014 (#18957)



From jankie
Worked great for us. Will make again.

Comment submitted: 7/4/2014 (#18921)



From Gino

Just looking at the pic makes my mouth water. :)

Comment submitted: 2/9/2014 (#17307)



From KayraRose

Can someone please tell us how much sugar and cinnamon you added after the 1 teaspoon for each? I did 1 Tablespoon sugar then 1 Tablespoon cinnamon and they were still plain :(

Comment submitted: 7/22/2012 (#14176)



From Yanni
Pretty good with maple syrup. I've had better, but I'd still rank this recipe fairly high.

Comment submitted: 3/21/2012 (#13700)



From Carol W
| | |
| --- | --- |
| Rating (out of 5): | |

I thought it tasted like too much baking powder. I actually double checked the print out to make sure I put the right amounts in. I was not thrilled about them.

Comment submitted: 1/12/2012 (#13424)



From valandwill

Needed more sugar and more cinnamon.

Comment submitted: 9/17/2011 (#12916)



From manfro
No complaints. They were pretty good. I was surprised that just a teaspoon was enough for cinnamon flavor... it was.

Comment submitted: 6/14/2011 (#12794)



From maryjay
I used two egg whites only and whip them until peaks form. It makes the pancakes lighter and you don't get the cholesterol from the yolks.

Comment submitted: 4/29/2011 (#12629)





From idara (Team Breakfast Member)
Good recipe! I used half white and half whole-wheat flour and egg substitute instead of eggs. Also added some chopped walnuts to the waffles before I closed the lid. Very easy and didn't make a huge amount so there weren't a lot of leftovers.

Comment submitted: 1/23/2011 (#11974)



From shoobz
Edited the recipe ever-so slightly, and used a pan as my waffle-iron is slightly out of service. Result was delicious, melt-in-your-mouth pan-waffles, the best I've ever had. Will definitely make them again.

Comment submitted: 6/30/2010 (#10799)



From I. M. Brad
Awesome. Good standard waffle batter. Easy to make. Tasty.

Comment submitted: 6/4/2010 (#10609)



From GreatWaffles
Yes I agree. You should add another tablespoon of sugar and a bit more cinnamon. But otherwise, the recipe is great.

Comment submitted: 5/7/2010 (#10456)



View all 48 comments for this recipe.



---
Connect With Mr Breakfast: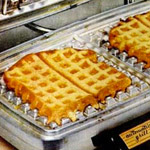 Bread-N-Butter Waffles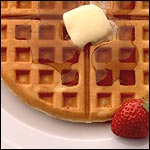 Reliable Basic Waffles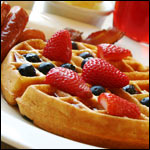 Whole Wheat Waffles

Just because it looks fancy and tastes great doesn't mean it's hard.
Click here
.