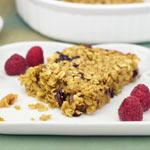 Amish Baked Oatmeal
2 cups quick-cooking oats
1 cup milk
1/2 cup sugar
1 large egg
1/4 cup butter
2 teaspoons vanilla
1 teaspoon salt
1 teaspoon baking soda
1/2 cup dried fruit (optional)
This recipe was sent to us by David C. who says this is an old family recipe and a favorite of his. I gave it try this morning (June 2013). I used equal parts raisins and cranberries to make up the 1/2 cup of dried fruit. I enjoyed this dish. The butter transforms the way the oats taste and it was fun to have a slice of oatmeal instead of the usual bowl. The only adjustment I'd make next time is to reduce the salt to 1/2 teaspoon.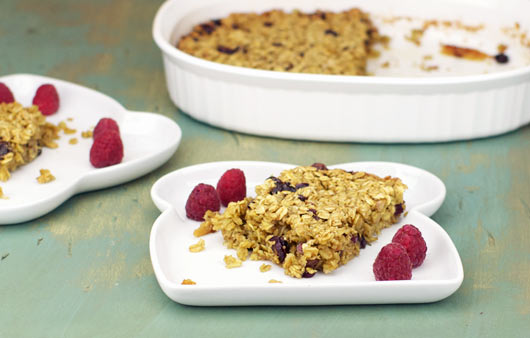 How To Make Amish Baked Oatmeal
These instructions will seem ridiculously easy, but that's because this oatmeal is super easy.
1. Mix all ingredients together in a bowl. Transfer to a lightly greased baking dish.
2. Bake in a preheated 350 degree oven for 30 minutes.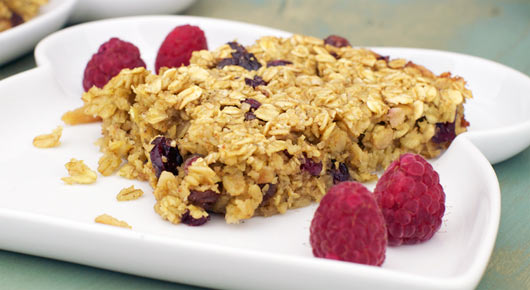 It's called Amish Oatmeal because that what the card says in my mom's recipe file. She doesn't remember why she called it Amish. By any name, this is a great breakfast.
Mr Breakfast would like to thank
davidchicks
for this recipe.
Comments About This Recipe
What do you think of Amish Baked Oatmeal?
Overall Average Rating =

(out of 5)

From Kevin N.
Made it in an 8x8 baking dish. Turned out great. Topped it with banana slices and a drizzle of maple syrup. Terrific.

Comment submitted: 1/30/2018 (#20516)



From katlynne
Made it over the weekend. Real good with fresh blueberries instead of dried fruit. I used a 9x9 pan and that seemed about right.

Comment submitted: 6/5/2013 (#16007)



From Vermont Q.
Forget dry fruit... serve it with any fresh fruit on top and it's delicious. Try bananas, blueberries or strawberries. Great!

Comment submitted: 3/1/2010 (#9948)



From Pan Size?

I second that - what size pan should this be in??

Comment submitted: 1/23/2010 (#9517)



From Grammy
This is so good. My grandchildren go in at night and eat it before breakfast.

Comment submitted: 1/12/2010 (#9445)



From kttt

This didn't turn out for me. It smelt terrible and tasted even worse. I'm sorry but I wont try this again.

Comment submitted: 12/6/2009 (#9179)



From beth#4

What size pan should I use?

Comment submitted: 10/24/2009 (#8894)



From Lady Arwen
I substituted anise extract for the vanilla extract and added anise seed on top. I served it with fresh garden cantaloupe and that was a WINNER.

Comment submitted: 7/27/2009 (#8466)



From Julie
We will have this again! I tossed in 1/2 cup of raisins and told my children it was oatmeal cookie bake. They loved it.

Comment submitted: 5/14/2008 (#5264)



From Try Strawberries
This is so easy and delicious. I topped with fresh strawberries to serve, and everyone enjoyed it at a leisurely breakfast.

Comment submitted: 11/21/2007 (#4039)



From mafa

We recently had baked oatmeal for the first time, but it does not seem to match any recipe I am finding. It was not solid like a bar or cookie, but loose grains and excellent, served as a dinner side dish in the PA Dutch country. Any help on a recipe like that?

Comment submitted: 9/18/2007 (#3597)





From cablegirl (Team Breakfast Member)
I thought it was great just the way it is presented. I added sweetened dried cranberries and it was delicious. I am not for really sweet things, so I didn't think that this was too sweet at all. Thanks for the recipe.

Comment submitted: 7/8/2007 (#3174)



From tengooz
Added a tablespoon of honey instead of the sugar. Then, topped it with sweet applesauce after removing from oven. A heavenly combination!

Comment submitted: 12/26/2006 (#1047)



From NoahSumner857
I thought it was a little sweet, so I'd cut down the sugar just a bit, but delicious!

Comment submitted: 12/13/2006 (#945)




---
Connect With Mr Breakfast: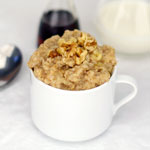 Pancake Oatmeal


Chocolate Chip Oatmeal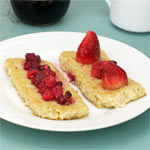 Fried Oatmeal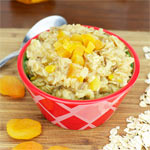 Apricot Honey Oatmeal

All you need to know. The basics and beyond!
Click here
.