Easy Eggs Benedict: Step-By-Step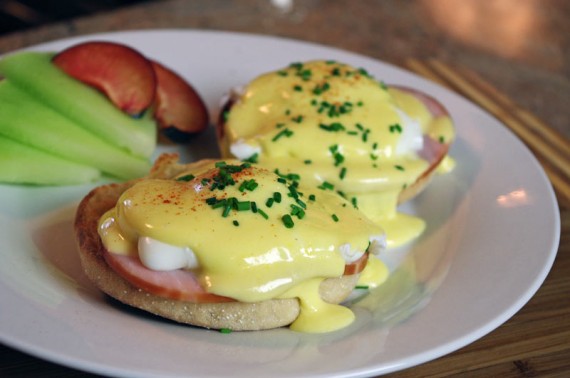 Gently poached eggs over toasted English muffins and grilled Canadian bacon, all topped with creamy, buttery Hollandaise sauce.  Eggs Benedict might sound like a daunting dish to make, but it's actually quite easy.  This step-by-step picture guide should give you everything you need to know, including directions for making a delicious Hollandaise sauce right in your blender.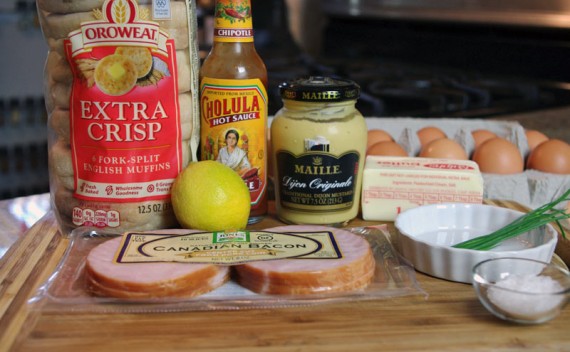 These are the ingredients you'll need.
For the Hollandaise sauce:
3 egg yolks
1/4 teaspoon Dijon mustard
1 Tablespoon lemon juice
1/8 teaspoon salt
1/2 cup butter
1 dash hot sauce (optional)
To assemble:
8 large eggs
8 pieces of Canadian bacon
4 English muffins – split
finely chopped chives – for garnish
sprinkle of cayenne pepper

Melt 1/2 cup butter in the microwave for about 30 seconds.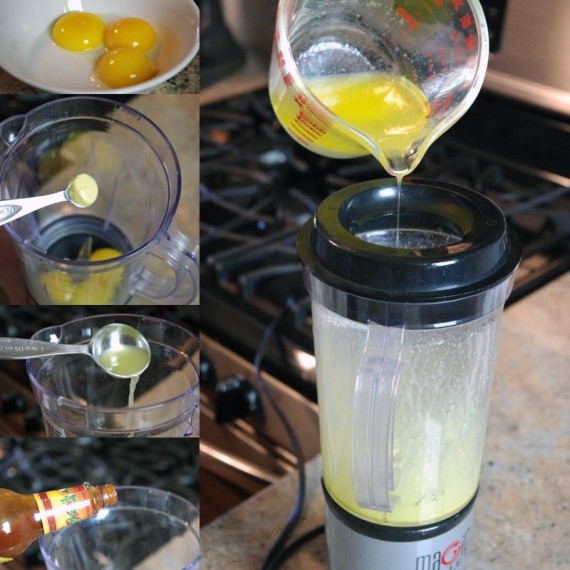 To make the Hollandaise sauce, place the egg yolks, mustard, lemon juice, salt and hot sauce in a blender.  Pulse for 5 seconds.  Slowly stream in the melted butter, pulsing until completely blended.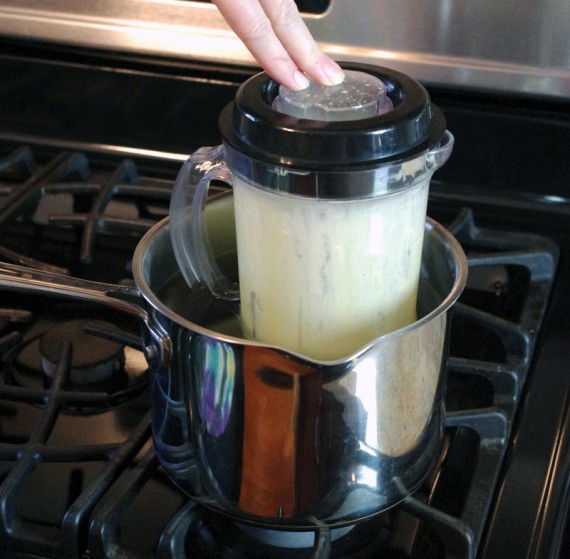 Keep the Hollandaise sauce warm by placing the blender jar in a pan of hot water.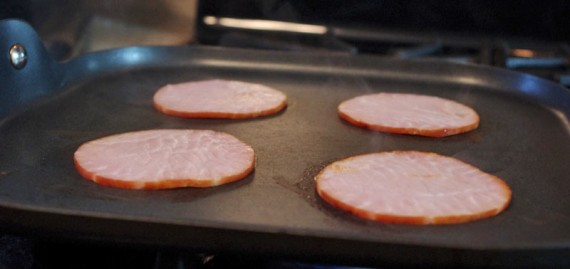 Heat up and brown the Canadian bacon slices.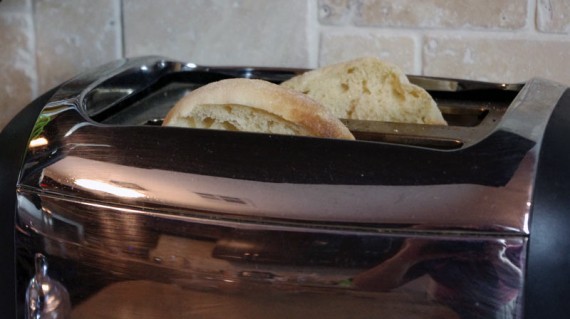 Toast the English Muffins.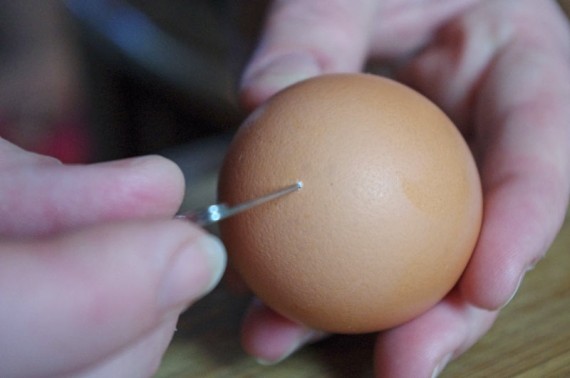 Using a safety pin, carefully prick a single small hole in each egg. This is a trick I learned from Julia Child.  It will help the poached egg hold it's shape in water without having to use vinegar as so many other recipes suggest.

Fill a medium pan about 2/3 full of water.  Bring to a rolling boil. Place the eggs in boiling water for only 10 seconds.  Remove from water.  Reduce the heat to a gentle simmer.

Carefully crack the eggs into simmering water.

Allow eggs to poach for 2 1/2 to 3 minutes and remove with a slotted spoon.  Transfer to paper towel to remove excess water and any hanging strands of egg white.

Assemble the Eggs Benedict by layering Canadian bacon and poached egg over each half of English muffin.  (Note:  Some people like to butter their English muffins first.  I usually skip that step since the Hollandaise sauce is primarily made of butter.)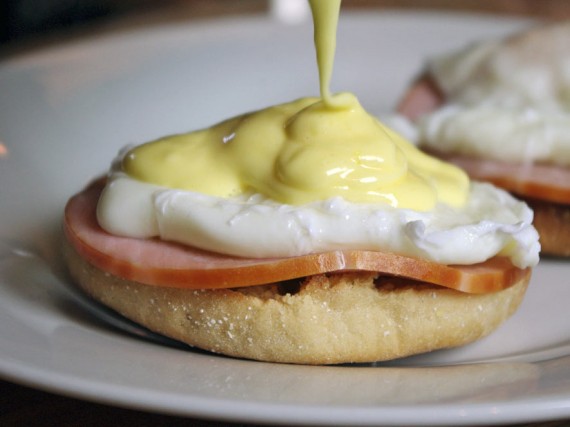 Pour a generous amount of Hollandaise Sauce over each poached egg.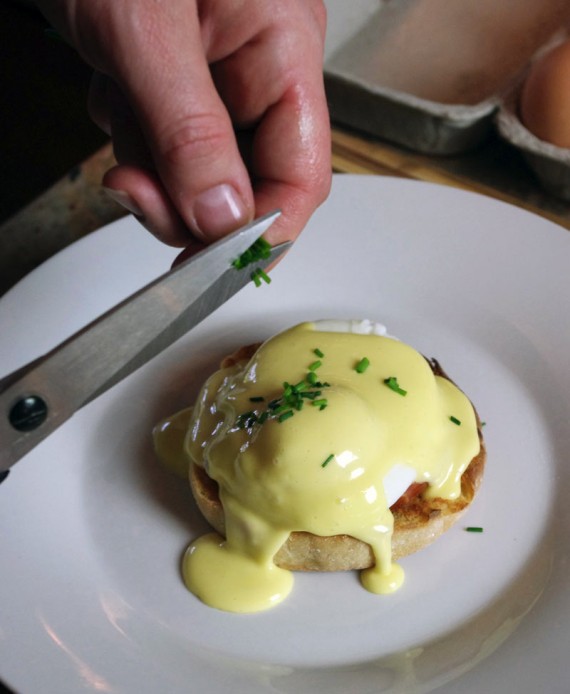 Garnish with freshly chopped chives and a sprinkle of cayenne pepper.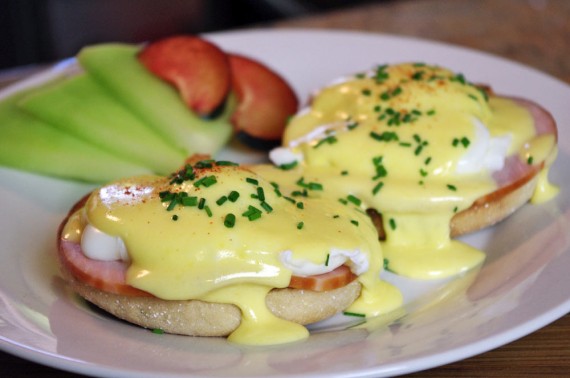 Serve and enjoy!
This post is based on a popular recipe at MrBreakfast.com.  Check it out: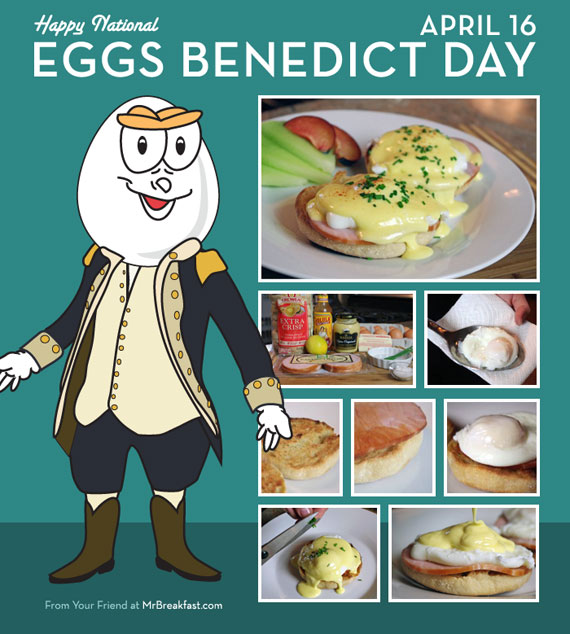 Celebrate National Eggs Benedict Day on April 16th every year!
You Might Also Like: