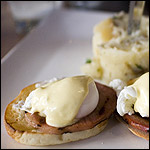 Eggs Benedict
8 large eggs
1 teaspoon distilled white vinegar or fresh lemon juice
8 pieces of Canadian-style bacon
4 English muffins - split
2 Tablespoons butter - softened
3 Tablespoons finely chopped chives (optional)


For The Hollandaise Sauce:
3 egg yolks
1/4 teaspoon Dijon mustard
1 Tablespoon lemon juice
1/8 teaspoon salt
1/2 cup butter
1 dash hot sauce or cayenne pepper (optional)
First, prepare the Hollandaise Sauce:
In a blender, pulse the egg yolks, mustard, lemon juice, salt and and optional hot sauce together for about 5 seconds.
Melt the butter over medium-low heat on the stove top. Or for a quicker method that works just as well, melt the butter in glass measuring cup in the microwave - about 1 minute.
Set the blender to it's highest speed and slowly stream the melted butter through the removable-stopper hole in the blender's lid.
Keep the sauce warm while you prepare the rest of the dish by placing the the blender jar in a large pan of warm tap water.
Preheat the oven to broil.
To poach the eggs:
Fill a large saucepan 3 or 4 inches deep with water. Bring the water to a boil and immediately reduce heat to a gentle simmer. Add the vinegar or lemon juice (these acidic ingredients should not effect the taste - they are meant to help the egg white congeal so the egg doesn't spread out in the pan).
Crack each egg into a shallow bowl and slide each egg from the bowl into the sauce pan. This step will prevent the breakage that could occur if you cracked the egg directly into the water.
Cook for 2 1/2 minutes to 3 minutes until the whites are no longer opaque and the yolks are still soft in the center. Remove the eggs with a slotted spoon and transfer to stacked paper towels to drain.
As the eggs are poaching:
A) Brown the Canadian bacon in a large skillet over medium-high heat.
B) Toast the split English muffins in the oven, by laying them next to each other on a large baking sheet. This usually takes only three minutes. When toasted to your satisfaction, remove from oven and spread a little butter over each half.
To construct each portion of Eggs Benedict:
Place two muffin halves on each serving plate. Top each half with with a slice of Canadian bacon and a poached egg. Drizzle each portion evenly with Hollandaise Sauce. If desired, sprinkle each serving with chopped chives.
Serve immediately.
Photo by Paul Goyette.

English muffins, Canadian bacon, poached eggs and hollandaise sauce. It sounds pretty easy, but it may take some practice to coordinate the preparation of each layer so everything is ready at the same time.
Mr Breakfast would like to thank
Mr Breakfast
for this recipe.
Comments About This Recipe
What do you think of Eggs Benedict?
Overall Average Rating =

(out of 5)




From fatty
Great recipe!

Comment submitted: 1/31/2014 (#17288)



From Red Pepper
I made it for Sunday brunch with old friends and everyone like it. Thanks guys!

Comment submitted: 12/8/2013 (#17198)



From redbeard
Perhaps use a little less lemon juice, and add lots of cayenne pepper and some paprika. Easier than I thought it would be. Now, what to do with these egg whites...

Comment submitted: 4/21/2013 (#15736)



From Pinetop LK
Made an an amateur cook feel like a pro. Easy to follow and much easier to make than I previously thought. Good work. Thanks.

Comment submitted: 6/22/2012 (#14070)



From Randi Anne
I'll make it again for sure and not change anything. The 3 ladies I had over for brunch raved. Made me look very good.

Comment submitted: 3/26/2012 (#13721)



From enviro
Just made it for me and my fiance and we were both happy with the results. I've maybe had better in restaurants, but it's nice to know I can make it at home fairly easily. Good sauce especially.

Comment submitted: 2/23/2012 (#13565)



From jingle
I used regular crispy bacon instead of Canadian bacon. It was very good. Thank you!

Comment submitted: 1/31/2012 (#13499)



From touche
Wanted to try making it for years. Finally did. Pretty happy. Much like what I had a restaurant that made me want to make them at home. Very good.

Comment submitted: 1/25/2012 (#13467)



From carebear
Would have been perfect except for just a little too much lemon in the hollandaise sauce. Next time, I'll do 2 teaspoons. But otherwise, very good recipe.

Comment submitted: 1/7/2012 (#13400)



From shawn o.
I made as instructed except used just 2 teaspoons lemon juice. Turned out perfect. Thanks for the recipe.

Comment submitted: 12/4/2011 (#13274)



From minsky
The hollandaise was really nice. Thanks.

Comment submitted: 11/29/2011 (#13254)



From dakota
Just made it for four people with regular crispy bacon instead of Canadian bacon. Everybody liked it. Thanks.

Comment submitted: 11/6/2011 (#13116)



From L.T.D.
I took advice of comment by Electra and added steamed asparagus tips to each serving. It felt like we were eating breakfast in a Beverly Hills hotel. It tastes and looks fancy but it's secretly pretty easy. In other words, I LIKED IT.

Comment submitted: 9/15/2011 (#12906)



From sanctum
Loved it!

Comment submitted: 9/11/2011 (#12896)



From mindi
This is a great recipe. It was a lot easier than I thought it would be and everyone loved it. Good job Mr. Breakfast!

Comment submitted: 9/10/2011 (#12893)



From electra45

This is my wife's favorite breakfast. Recently I made it more special by adding 3 asparagus spears on top I call it eggs vivien after her. It is great. - John Evans

Comment submitted: 5/4/2011 (#12643)



From EllenRaf
Super-duper good. We made it for 4 friends. They had fun watching us make it and everyone raved. Best Saturday Brunch Club yet. - Ellen & Raf

Comment submitted: 3/26/2011 (#12349)



From TrulyJenny
I've always loved Eggs Benny and now I'm able to make it. My friends loved it. Call me Chef Jenny! Next up... I'm gonna try your chocolate chip muffins. Wish me luck!

Comment submitted: 3/10/2011 (#12274)



From anglerfish
This recipe is wonderful, eggs benedict is my favorite breakfast food... My first time trying it, I didn't have any Canadian bacon, so I substituted... bologna. Having never eaten it before, I assumed it was similar to ham, plus, same circular shape! It didn't turn out too well, to say the least! I did learn that bologna is essentially round flat hot dog.

The hollandaise turned out beautifully though. 5 stars for sure, when I don't screw it up :)

Comment submitted: 1/13/2011 (#11905)



From sparky rip
For the sauce, add between 1/4 and 1/2 teaspoon of cayenne pepper instead of a dash and it gives it a nice, spicy kick.

Comment submitted: 11/3/2010 (#11497)



View all 56 comments for this recipe.



---
Connect With Mr Breakfast: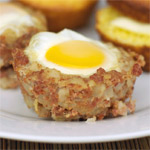 Meal In A Muffin Pan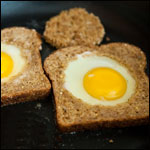 Egg In The Hole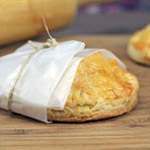 Breakfast Hand Pies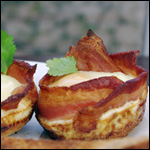 Bacon Breakfast Cups

All you need to know. The basics and beyond!
Click here
.