Homemade Frozen Breakfast Burrito Assembly Line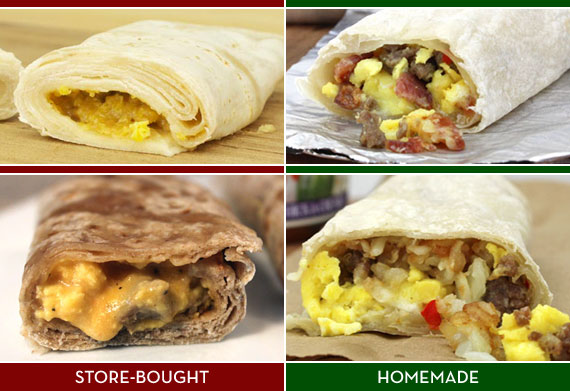 Store-bought frozen breakfast burritos are disgusting. Often times, you wouldn't know what you were putting in your mouth if the package didn't tell you.  If I asked you to describe most store-bought burritos, you would probably say, "Oh… it's some vaguely breakfast-flavored amalgamous gloop plopped into too much tortilla."  Your words.  Not mine.
This phenomenon baffles me.  The majority of non-supermarket breakfast burritos are excellent.  To recreate the store-bought experience, you'd need a blender and some kind of solvent that removes color.
Luckily, fantastic homemade breakfast burritos are exceptionally easy to make and they freeze amazingly well.  They taste and look 1,000 times better than their store-bought equivalent.  In this post, I'll show you how I make 10 days worth of frozen breakfast burritos in less than 2 hours.  You may never buy a frozen breakfast burrito again.
When making a bunch of frozen burritos, most of the ingredients can be prepared hours before assembly.  The exception is the eggs.  If you let them set out too long, they get dry and lose their tenderness.  For my burritos, I fried up 2/3 pound of sausage, 10 strips of bacon and two big handfuls of tater tots.  Then, I grated 1 cup of Cheddar cheese and 3/4 cup Pepper Jack cheese and a diced one red bell pepper.  I used 14 eggs to make 10 burritos.  I like to mix my eggs and meats so the main ingredients are uniformly distributed in the burritos.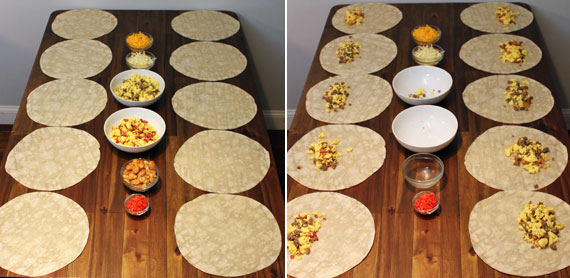 Lay out as many tortillas as you can on a table or on the counter and fill the burritos as you please.  I use large or burrito-size flour tortillas.  If you offset the mound of fillings to one side, you'll find it easier to fold the burritos.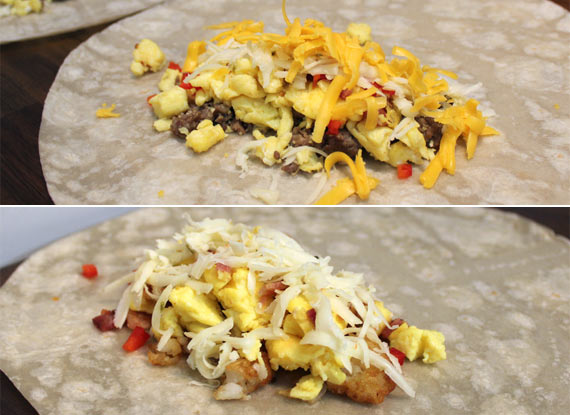 I filled some with bacon, some with sausage and some with both meats.  Same with the cheeses.  Anything goes.  It's a free-for-all of variety!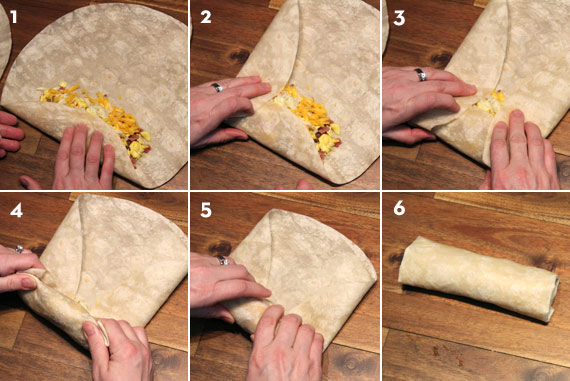 Once filled, just fold, fold, fold and roll.  Wrapping a burrito is much like wrapping a present.  The image above shows the technique that I use.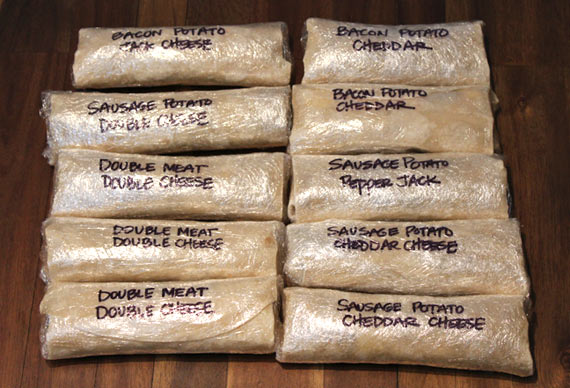 To prevent freezer burn, I double wrap each burrito in plastic wrap.  If you create a wide variety, it's a good idea to label each one.
How To Microwave Homemade Frozen Breakfast Burritos:
Do you remember 2012 presidential candidate Herman Cain?  He had a 9-9-9 plan to reform the U.S. tax code.  I have a 2-2-2 plan for heating frozen breakfast burritos.
Defrost for two minutes at 40% microwave power.
Flip the burrito and microwave on high for two minutes.
Let set two minutes.  2-2-2!
Here's a sampling of how the burritos turned out.  Each one was heated days after they were frozen.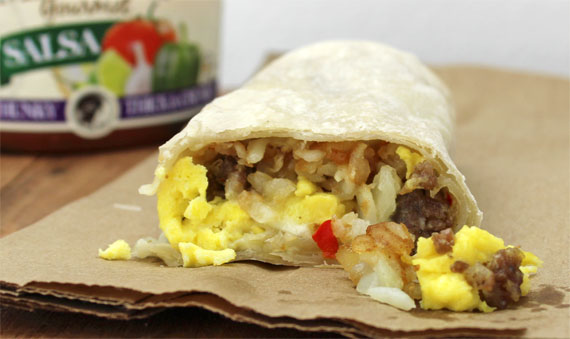 Sausage Potato Pepper Jack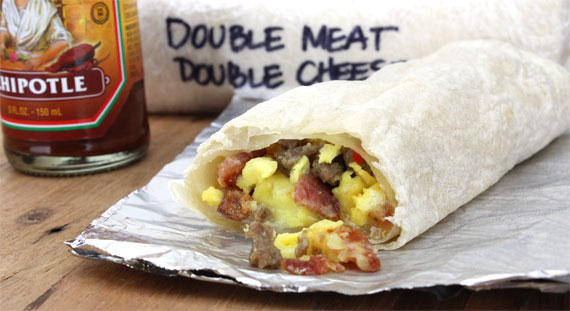 Double Meat & Double Cheese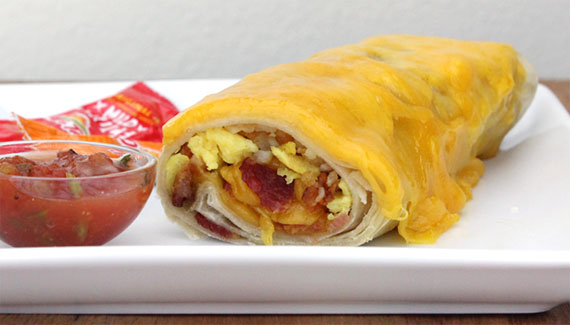 Bacon Potato Cheddar – For this one, I defrosted for 2 minutes, microwaved on high for 90 seconds and then topped with cheese and threw it under the broiler for 2 minutes.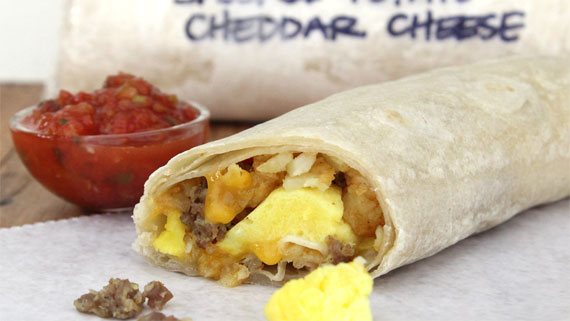 Sausage Potato Cheddar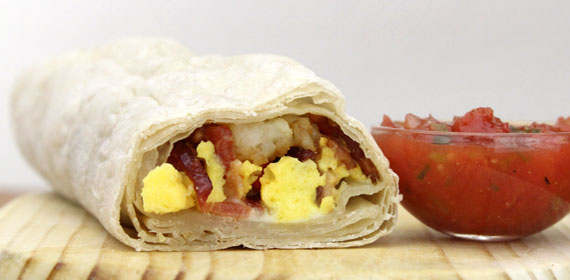 Bacon Potato Pepper Jack
More Homemade Frozen Breakfast Burrito Tips:
When preparing a lot of bacon at once, consider using the oven.  Just lay the strips out on a baking pan and bake at 425 degrees for 12 to 15 minutes until well-browned.  Place cooked bacon on stacked paper towels to remove excess grease.
I find that frozen tater tots work better than shredded hash browns.  Strangely, the tots taste more like hash browns that the hash browns do when everything is reheated. I think it's because the tots have such a defined fried exterior. Each piece is like a wee-small serving of hash browns – crisp and tender in each bite.
I recommend NOT putting salsa in the burritos before freezing.  I find that it can make parts of the tortilla soggy after heating. However, I do keep a lot of salsa handy for serving.
Check out these recipes for breakfast burritos:
Basic Sausage Breakfast Burritos
You Might Also Like: