Top 10 Halloween Breakfast Cereals
As voted by visitors to MrBreakfast.com, these are the 10 most popular Halloween-themed breakfast cereals of all time. Click any of the cereal boxes pictured to see a special page dedicated to that particular cereal. You can vote for your favorite Halloween cereal, or any of your favorite cereals, by visiting The Cereal Project at MrBreakfast.com.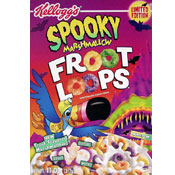 #10 – Spooky Marshmallow Froot Loops
From Kellogg's in 2002, this limited edition version of Froot Loops featured marshmallows in the shapes of ghosts, skeleton masks and bones. The cereal's mascot, Toucan Sam, must love Halloween. He also appeared on Spooky Froot Loops (without marshmallows in 1996), Frightening Froot Loops (2000), Freaky Froot Loops (2003) and Haunted Froot Loops Manor (2004).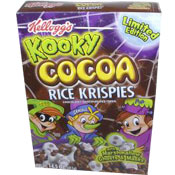 #9 – Kooky Cocoa Rice Krispies
During the Halloween season of 2003, Cocoa Rice Krispies were infused with marshmallow ghosts and skulls to become Kooky Cocoa Rice Krispies. The prior year, Kellogg's gave us a similar cereal in the form of Creepy Coco Rice Krispies. These two cereals were followed up with Haunted Cocoa Rice Krispies Manor in 2004.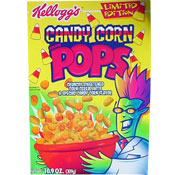 #8 – Candy Corn Pops
From 2001, this limited edition cereal from Kellogg's was described as a "crunchy sweetened corn cereal with a special candy corn flavor." The character on the front of the box was presumably a mad scientist.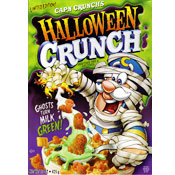 #7 – Halloween Crunch
Cap'n Crunch has gotten into the Halloween spirit every year since 2007 with Quaker's Halloween Crunch. Boxes have featured the Cap'n dressed as a mummy and a werewolf. The most recent box for 2012, shows Crunch's face etched into a Jack O'lantern.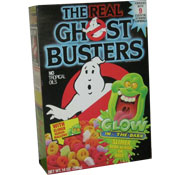 #6 – Ghostbusters Cereal
This Ralston brand cereal from 1985 is probably best described using its TV commercial jingle… to the theme from the movie Ghostbusters… everybody sing….
"There's a new cereal in the neighborhood
with O's and ghosts
(Tastes real good… Ghostbusters!)
Marshmallow ghosts… fruit flavored O's
Ghostbusters taste great with milk and juice and toast
(a nutritious breakfast with the ghost… Ghostbusters!)
What you gonna crunch? (Ghostbusters!)"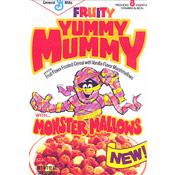 #5 – Yummy Mummy
The last of the monster cereals introduced by General Mills is the first to make our Halloween countdown. This fruit flavored cereal with marshmallows came out in 1998. Its mascot was a colorful, unraveling mummy also called Yummy Mummy.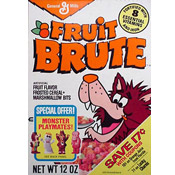 #4 – Fruit Brute
Introduced in 1974 (the same year as Boo Berry), this monster cereal from General Mills was described on the box as a "fruit flavor frosted cereal (with) marshmallow bits." A television ad said that it had "the howling good taste of fruit." A fun piece of trivia: The cereal made cameo appearances in two Quentin Tarantino films, Reservoir Dogs in 1992 and Pulp Fiction in 1994.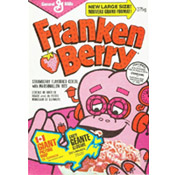 #3 – Franken Berry
Of the five monster cereals created by General Mills, only three are still being produced. They can be purchased all year online, but many store only carry them during the Halloween season. It's these three cereals that round out our Halloween countdown. At number three is Franken Berry (introduced in 1971), the "sweet strawberry flavor cereal (with) marshmallow bits" featuring the cuddly, pink, Frankenstein-esque monster. In television commercials, the character Franken Berry was afraid of…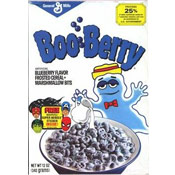 #2 – Boo Berry
When this cereal came out in 1973, a TV ad showed Franken Berry and his chocolate friend (more on him in a moment) being deathly afraid of a little blue ghost in the porkpie hat. The little guy was knocking on their castle door to introduce his new blueberry flavored cereal. "My name is Boo," said the new mascot. To which, the pink and brown monsters seemed to hear only "boo" causing them to jump in terror.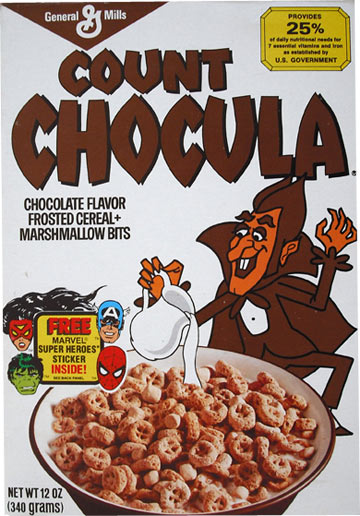 #1 – Count Chocula
Completing the total domination of General Mills' monster cereals in our Halloween countdown is Count Chocula. Introduced the same year as Franken Berry (1971), this cereal was described on the box as "a chocolate flavor frosted cereal (with) marshmallow bits." Of the three monsters in our top three, only Count Chocula had a memorable slogan: "I vant to eat your cereal!" The character Count Chocula is a vampire who prefers chocolate to blood.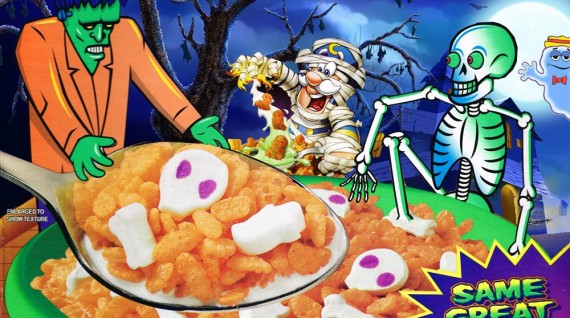 I think the awesome people who voted got it right. Count Chocula happens to be my favorite of the cereals mentioned. If the list was based on my personal favorites, I may have bumped Cap'n Crunch's Halloween Crunch up to the third spot.
Cereal votes at The Cereal Project are cumulative. The results here were the favorites as of October 2012.
To see even more Halloween-themed breakfast cereals, visit The Cereal Project at MrBreakfast.com. There you'll find pages dedicated to Monster Pops, Halloween Brew Waffle Crisp, Halloween Rice Krispies, Post Ghoasties, Jack 'O' Lantern Apple Jacks and many more.
You Might Also Like: