Introduced in 1971
Count Chocula and Franken Berry were both introduced in 1971. Boo Berry Cereal appeared in 1973 followed by Fruit Brute in 1974. Yummy Mummy appeared more than a decade later in 1988 - completing the the group known as the General Mills Monster Cereals.
This cereal was described as a "sweet strawberry flavor cereal + marshmallow bits" on the first box that was produced in 1971.
The following description of Franken Berry is from 2010 marketing material promoting the cereal for Halloween:
"A spoonful of spooky fun in every bowl, Franken Berry is a whimsical way to start the day. Made with whole grain corn, Franken Berry combines strawberry-flavored cereal with colorful marshmallow shapes to create a delicious cereal that kids and adults can enjoy. Each serving of this playful, monster-themed cereal is low in fat with no cholesterol or saturated fat. It's also a good source of calcium, whole grain, and 9 other essential vitamins and minerals."
Fun Facts About Franken Berry:
Franken Berry is a cuddly, pink version of the Frankenstein monster
Franken Berry is afraid of Boo Berry
Franken Berry loves strawberries
Launched second to Count Chocula in October of 1971
Franken Berry co-starred with Count Chocula in commercials
Franken Berry voice was provided by Bob McFadden and was done in imitation of Boris Karloff (Known for the Frankenstein movies)
To this day, Franken Berry still wears the same clothes that he wore when we was first created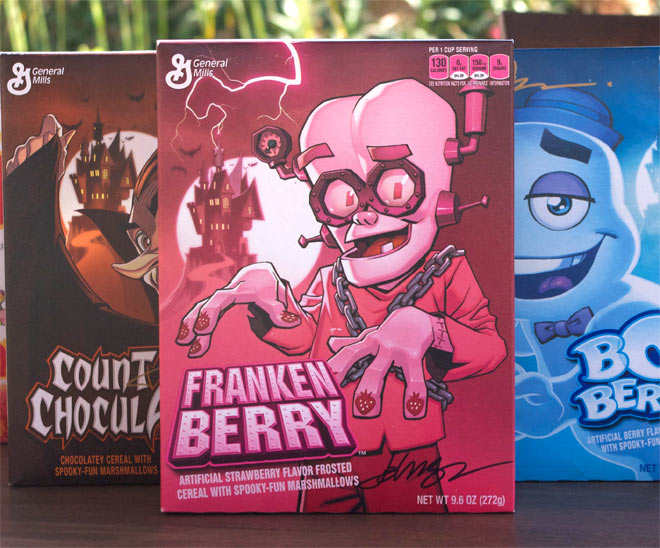 For the 2014 Halloween version of the Franken Berry cereal box, General Mills enlisted comic artist Dave Johnson to give the monster a new look. Artists from DC Comics also reinvigorated Count Chocula and Boo Berry. For more about the 2014 boxes, see
Monster Cereals Get Comic Book Makeover
.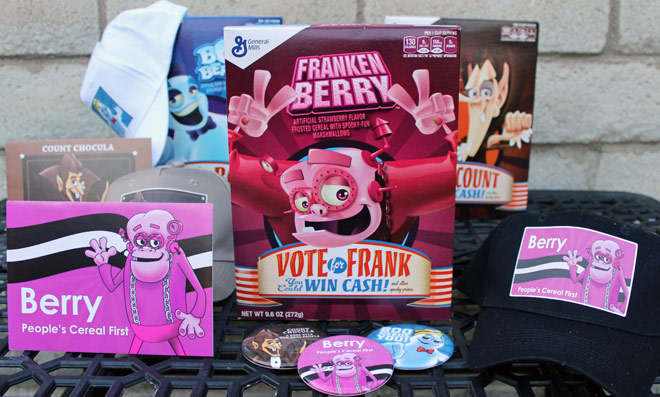 The fall 2016 Franken Berry box gave a wink to the heated Presidential election happening concurrently to the Halloween season. The front of the box urged fans to "Vote for Frank". The back of the box instructed anyone interested to vote for their favorite Monster cereal at MonstersVote2016.com for "a chance to win a grand prize of $5,000 or hundreds of other frightfully fantastic prizes."
Click here
to see all cereals from General Mills.
---
Additional Images
These are the most recent images. Click here to see all pictures for Franken Berry.
There's More Pictures! See all images for Franken Berry cereal
---

Overall Average Rating = 3 (out of 5)

View all 37 comments for this cereal.


By Postman

General Mills - please bring back the oat based cereal for 2019. Original is better.

Comment submitted: 5/13/2019 (#24159)



By Postman


| | |
| --- | --- |
| Cereal Rating (out of 5): | |

It is still not oat based for 2018. Such a shame as it was so much better with oats.

Comment submitted: 9/19/2018 (#23488)



By M.J.S.


| | |
| --- | --- |
| Cereal Rating (out of 5): | |

I hadn't had Frankenberry in 40 years, but it was on sale for $1 at Dollar Tree. This was NOT the cereal I had as a youngster. Less sweet. Weird texture. I remembered Frankenberry head shapes, not ghost shapes (that's Boo Berry's terrain). I won't bother with the Count Chocula. Hey General Mills, people don't buy these cereals for whole grains. If they want Whole Grains, they'll get some Buc Wheats or something. (Hey, what happened to Buc Wheats?) Post ruined Fruity Pebbles as well. I miss Quake and Rice Krinkles. (and no. Quisp is NOT the same as Quake.)

Comment submitted: 2/14/2017 (#21384)



By Postman


| | |
| --- | --- |
| Cereal Rating (out of 5): | |

Still the same flavor as last year. Not sure why they don't make it the oat flavor anymore.

Comment submitted: 10/25/2016 (#20999)



By burnt


| | |
| --- | --- |
| Cereal Rating (out of 5): | |

I loved them until they changed the recipe. Now the texture is nasty. I never would by a box again. I was burnt once. I miss the original Boo Berry too.

Comment submitted: 10/26/2014 (#17909)





By OldMan (Team Breakfast Member)


| | |
| --- | --- |
| Cereal Rating (out of 5): | |

I have to agree with the majority of comments here. The texture of Frankenberry is horrible now. It has a sheen that looks like polyester, and my son is looking at me like, you used to ASK your mom to buy this? The old Frankenberry texture can still be found in Lucky Charms, but of course, without that delicious strawberry flavor.

Comment submitted: 10/25/2014 (#17905)



By Postman


| | |
| --- | --- |
| Cereal Rating (out of 5): | |

My wife bought Boo Berry, Count Chocula and Franeknberry at Target over the weekend. No sight of Frute Brute or Yummy Mummy. The cereal is still the corn based but the boxes are still retro with the masks on the back. Please bring back the oat based cereal.

Comment submitted: 9/15/2014 (#17669)



By Trikygrl


| | |
| --- | --- |
| Cereal Rating (out of 5): | |

Not the same cereal. Marshmallows are different colors and flavors. Also - where they heck are they? I ate half a bowl before getting one! Cereal appearance is also different. Color is not correct and texture is like Cap'n Crunch. General Mills blew it on this one. FAIL!

Comment submitted: 11/12/2013 (#15303)



By chuckp


| | |
| --- | --- |
| Cereal Rating (out of 5): | |

I bought a box of Frankenberry, Boo Berry, Count Chocula, and Fruit Brute. Disgusting. I spent time telling my sons how I absolutely loved these cereals as a child. Got home and ate it. Disgusting. We will never buy again, unless they go back to the oat based puffs and add more marshmallows. Very disappointed.

Comment submitted: 11/5/2013 (#15265)



By Benny


| | |
| --- | --- |
| Cereal Rating (out of 5): | |

My favorite cereal was Frankenberry back in the 80s. It used to have so many small marshmallows and great strawberry taste. Then one day (still back in the 80s), they changed the formula to more cereal, larger (but way fewer) marshmallows and I told my mom to not buy it anymore. In 2013, I gave it another try and they kept the same terrible formula. The fleecing of consumers, but we're no fools with our pocketbooks. Peace.

Comment submitted: 10/27/2013 (#15217)



View all 37 comments for this cereal.