Blueberry Muffin Oatmeal (Fast Food Redux)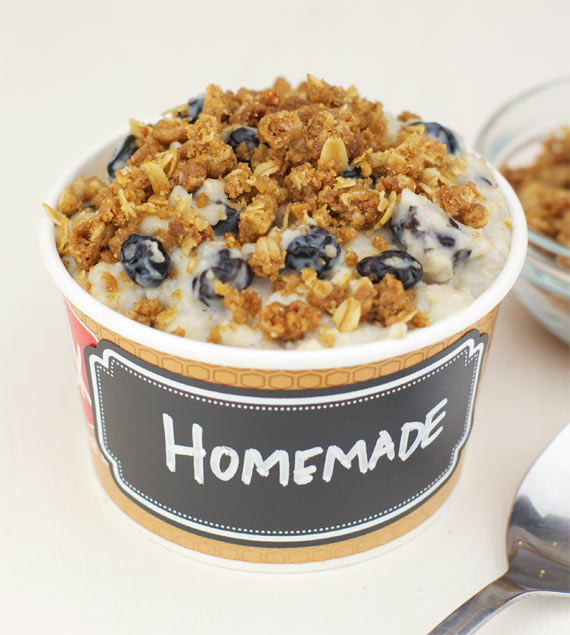 In this post, I'm recreating Blueberry Muffin Oatmeal from Jack In The Box. They charged me $2.49 per serving at the restaurant.  I calculate the price to make it at home to be about $0.60 per serving.  Their version tastes good.  I'm fairly confident that my version tastes better.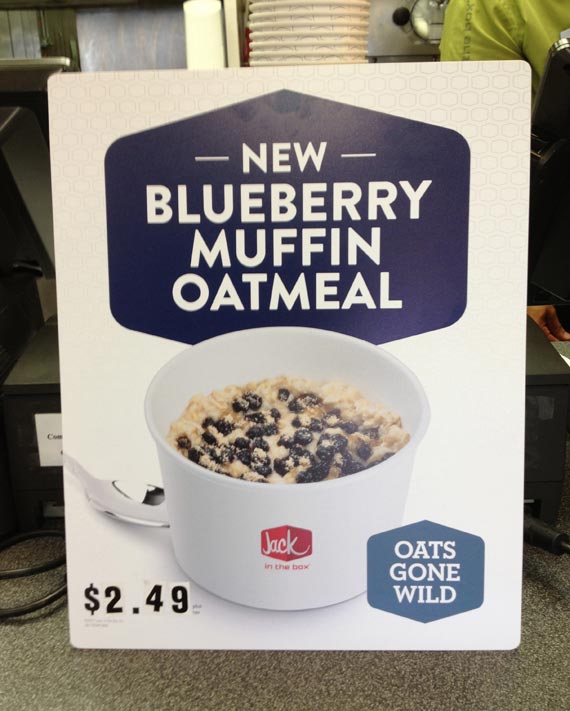 When you order this oatmeal from Jack In The Box, the first thing you'll notice is that it's not so much a serving of oatmeal as it is an oatmeal kit.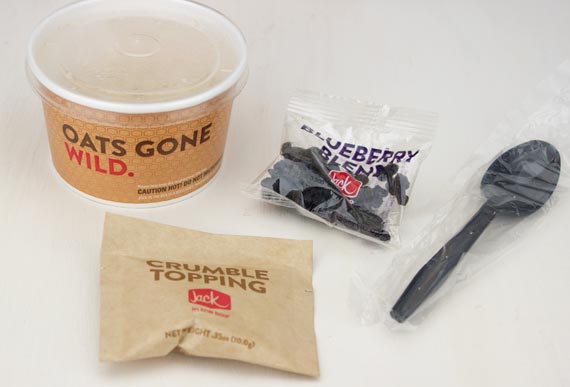 When you open the bowl of oats, you might be dismayed to find that it's barely half full.  It may also be disheartening to discover their "blueberry blend" is a combination of blueberries and raisins.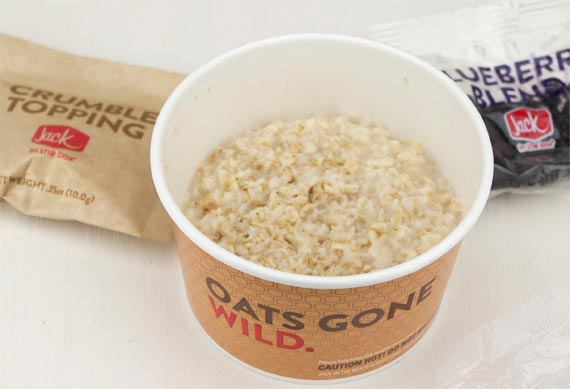 When you assemble the oatmeal, the result is visually pleasing and the taste is actually quite nice. The flavor is vaguely reminiscent of a blueberry muffin. All in all, I liked their oatmeal, but there wasn't much of it and it left me wanting more.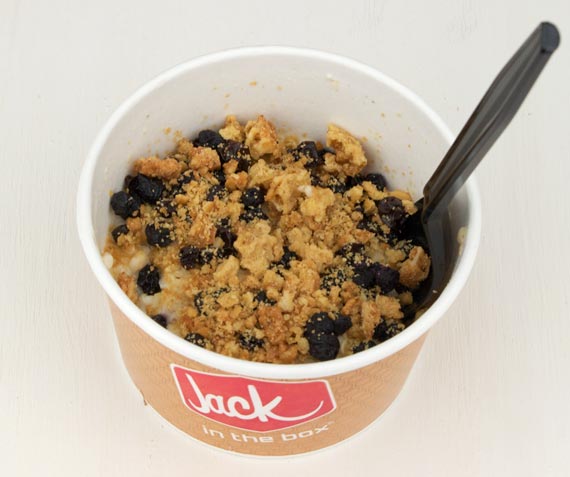 I analyzed the Jack In The Box components in preparation for my recreation (aka improvement).  The oats were unflavored except for sweetener.  They appeared to be quick-cooking oats (compared to larger Old Fashioned oats).  Due to their tiny size, the "blueberries" softened quickly and added a decent amount of flavor.  However, more blueberry flavor would have been preferable.  The crumble topping was the major component of distinction.  It added a welcome crunch and tasted a bit like crumbled oatmeal cookie.
Before I show you the wholesome homemade version, get a load of the ingredients in the fast food version:
Jack In The Box Oatmeal: Water, Whole Grain Rolled Oats and Sugar. Contains
2% or less of: Coconut Oil, Salt, Modified Food Starch, Mono and Diglycerides, Tricalcium Phosphate, Soybean Oil, Natural and Artificial Flavors, Caramel Color.
The Blueberry Blend: Dried Blueberries (Wild Blueberries, Sugar, Sunflower Oil) and Zante Currant Raisins (Raisins, Sunflower Oil).
The Crumble Topping: Brown Sugar, Oats, Butter (Cream, Salt), Enriched Flour (Wheat Flour, Niacin, Reduced Iron, Thiamine Mononitrate, Riboflavin, Folic Acid), Natural Flavor, Salt, Baking Powder (Sodium Acid Pyrophosphate, Sodium Bicarbonate, Cornstarch, Monocalcium Phosphate).
For my version, I opted for all blueberries. (Whoever heard of raisins in a blueberry muffin?) I also thought I'd be best to leave out any ingredients ending with "glycerides" or "phosphate".  I created a crumble topping specifically for this oatmeal, but a quality granola works almost as well. Since store-bought dried blueberries are bigger than those in the fast food packet, I decided to stir them into the oats early in the recipe so they would have a better chance to re-hydrate.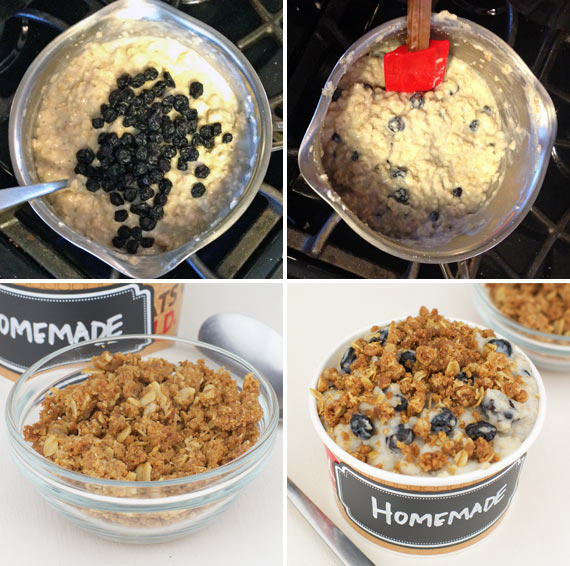 Blueberry Muffin Oatmeal Recipe
2 cups quick-cooking oats
1 and 2/3 cups water
1/4 teaspoon salt,
1/2 teaspoon vanilla
2 Tablespoons sugar
1/4 to 1/3 cup dried blueberries
milk – for consistency
In a medium saucepan, bring the water, oats and salt to a boil.  As soon as it reaches a boil, reduce the heat to a simmer.  Stir in all remaining ingredients and let simmer (stirring occasionally) for 3 or 4 minutes or until dried blueberries have softened.  Stir in milk 1 Tablespoon at a time until you get the perfect consistency.
Top with crushed granola or try this recipe for a crumble topping made specifically for oatmeal.
Makes 4 servings.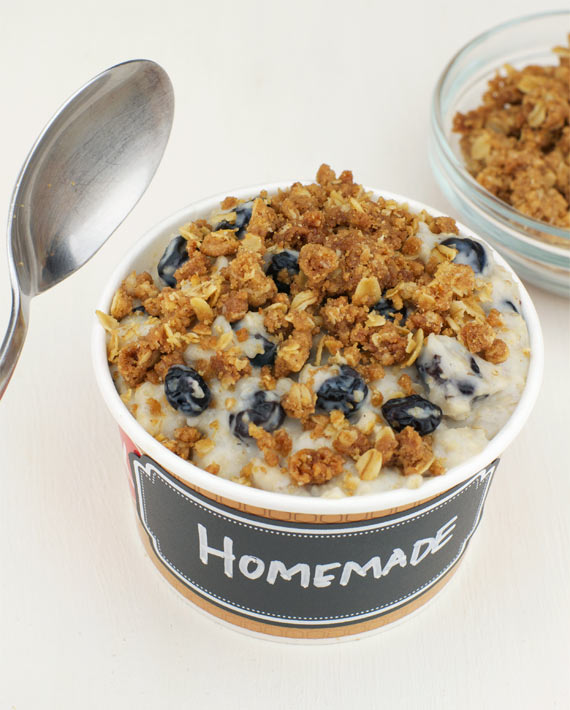 Now that we've successfully recreated the oatmeal, let's make it even better.  Throw a handful of fresh blueberries on top for Double Berry Deluxe Blueberry Muffin Oatmeal.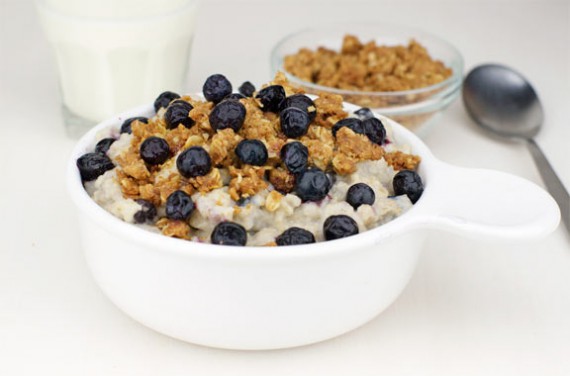 For 155 other homemade oatmeal ideas, visit the Oatmeal Recipes section of MrBreakfast.com: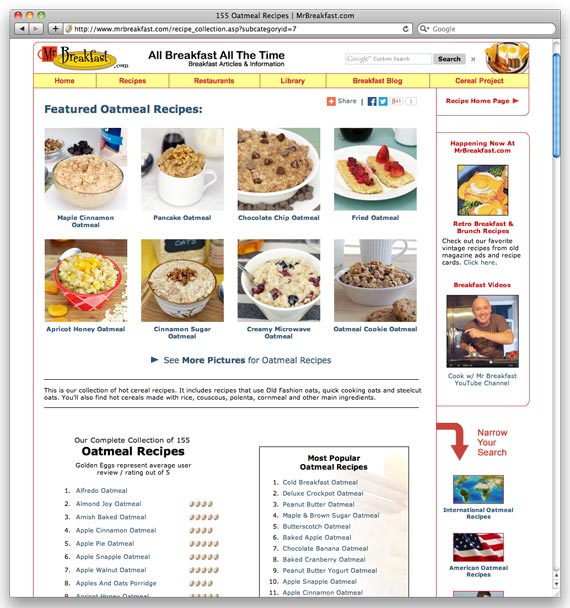 You Might Also Like: