No-Bake? No Problem. Breakfast Bars!
For decades, man has striven for a way to eat their oatmeal, Rice Krispies and chocolate chips in one bite… one mouthwatering, delicious bite.  I stand before you today to proclaim I have achieved the impossible!  Imagine, if you will, a honey-sweetened homemade breakfast bar with the goodness of granola and the delicate crunch of crispy rice.  Imagine no more.  The dream is now a reality.
Okay… maybe I didn't invent it.  I'll share some of the credit with caring moms and grandmothers around the world.  But I did make a darn good one and I'll show you how to do it.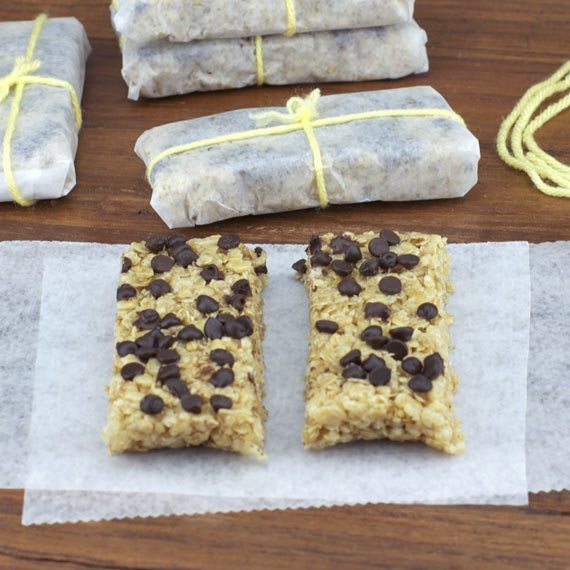 The beauty of this recipe is that it requires no baking.  It's super easy and relatively fast. You just mix some oats with some cereal, heat some good stuff in a sauce pan and mash everything together.  For more detailed directions than mix, heat and mash, please read on…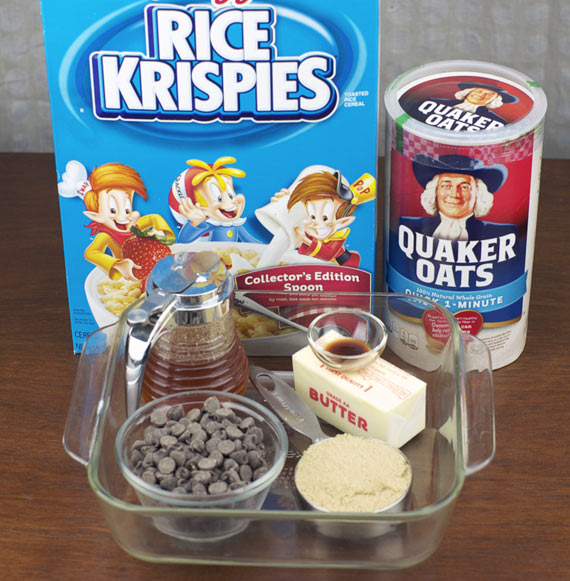 Let's get to not baking…
For the quick and easy, printable recipe, click here.
The ingredients are Rice Krispies (1 and 1/4 cup), quick-cooking oats (1 and 1/3 cup), butter (5 Tablespoons), honey (1/3 cup), brown sugar (1/3 cup), mini chocolate chips (1/3 cup) and vanilla (1/4 teaspoon).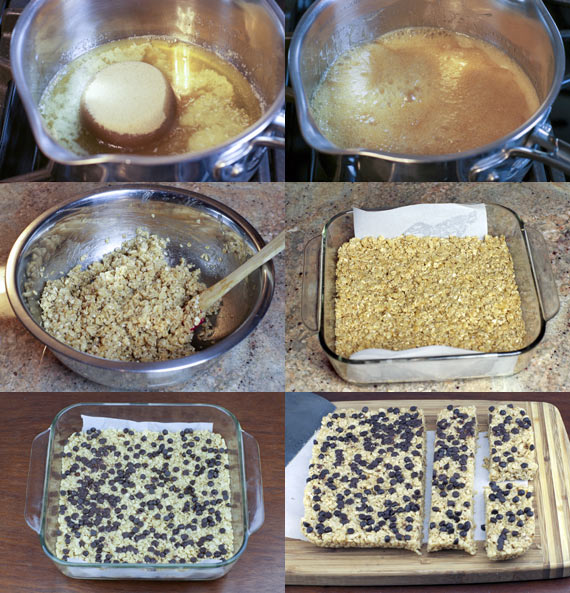 In a small or medium sauce pan over medium-high heat, melt the butter and then stir in the brown sugar and honey.  As soon as that mixture boils, reduce the heat to low and let it cook 2 more minutes – stirring occasionally. It will become bubbly (nearly fluffy) in the pan.  Take it off the heat and stir in the vanilla.
Mix the cereal and oats together in a big bowl.  Add the hot liquid and mix until everything is moistened.  Transfer that to an 8 x 8-inch baking dish.  I like to spray the dish with cooking spray and then put down some parchment so I can remove the uncut bars easily.  Have the parchment run up the sides of the dish so you can use the edges as handles to remove the bars.
Press the mixture down with a spatula to make an even, compact layer.  Let it cool for a couple of minutes.  When still just slightly warm, sprinkle mini chocolate chips over the top.  Press those down lightly with a spatula into the oats and cereal.
Let all this set for 2 hours.  Remove it from the pan and then cut it into whatever size bars you prefer.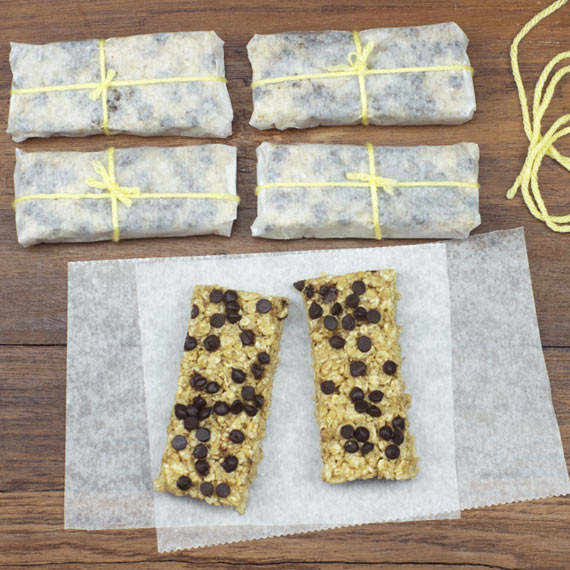 That's all there is to it.  They make a great on-the-go breakfast.  Or try them for an afternoon snack.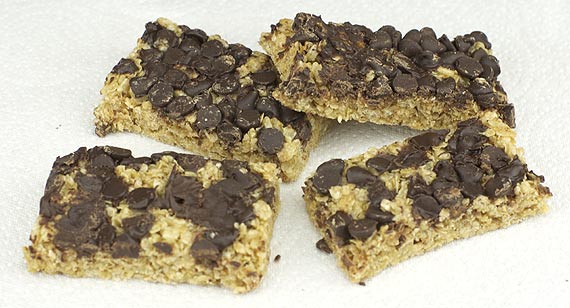 A word of warning:  In the picture above, you can see my first attempt at the recipe.  The chocolate became sort of a glopped on mess.  To avoid that and get prettier bars, be sure to use mini and not regular-sized chocolate chips and let your oat mixture cool a couple of minutes before sprinkling the chips on top.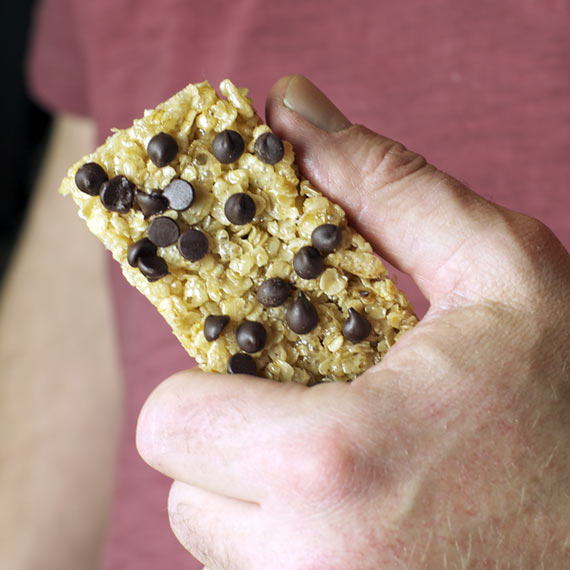 This post is a companion piece to the following recipe on MrBreakfast.com:
No-Bake Chocolate Chip Breakfast Bars
Bonus:
Here's two other breakfast bars you might want to try…
You Might Also Like: