Recreating The Glazed Donut Breakfast Sandwich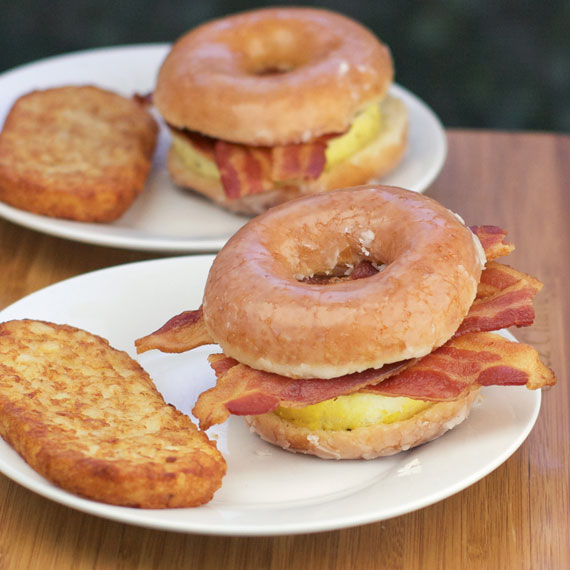 Eggs and bacon sandwiched between a sliced glazed donut… crazy or genius?  I can report that it's insanely easy and it tastes amazing.  Therefore, I'm leaning toward genius.  This recipe is a recreation of the Glazed Donut Breakfast Sandwich that was recently introduced by Dunkin' Donuts.  Above, you can see my version.  Below, you can see the Dunkin' Donuts version as it appeared in their press materials.  Believe it or not, their donut sandwich has only 360 calories.  Mine has a little more bacon.  I hesitate to recommend either version for your weight loss program.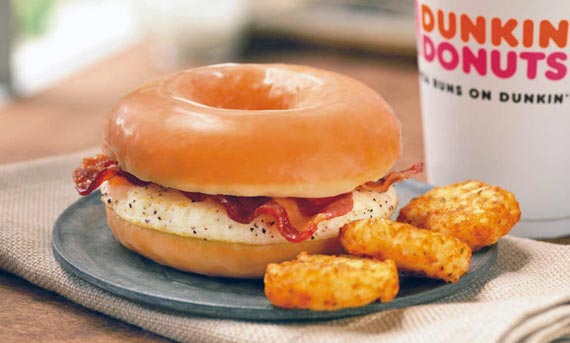 The donut breakfast sandwich concept isn't new. A few smaller donut outlets were doing them well before Dunkin' Donuts put them in the news.  Buddha Belly Donuts in Sarasota, Florida offered a version with sausage.  Unfortunately, that shop is now closed. The Bleeding Heart Bakery in Chicago offered the Make-Your-Own Doughnut Breakfast Sandwich where you could choose any or all of the following ingredients to accompany the fried egg: bacon, ham, sausage, fried green tomatoes and Cheddar or Swiss cheese.  Strangely enough, that shop also closed recently.   Beware Dunkin' Donuts!  There seems to be a trend.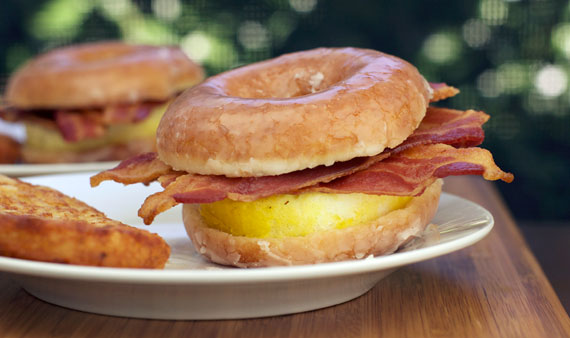 I decided to try something quite controversial… I recreated Dunkin' Donuts Glazed Donut Breakfast Sandwich using glazed donuts from Krispy Kreme.  Let's face it, a Dunkin' Donuts glazed donut is good, but Krispy Kreme is the current non-disputed champion for exceptional glazed donuts.
How To Make A Glazed Donut Breakfast Sandwich
Step One:  Acquire a glazed donut and carefully slice it with a serrated blade, trying not to dimple the beautiful sugar sheen of the glaze.

Step Two: Fry some bacon.
Since I was making multiple sandwiches with lots of bacon, I used the oven.  It's a good tip to remember.  Whenever you want a lot of bacon done at the same time, just spread some slices out on a rimmed baking sheet and bake them at 400 degrees for 14 minutes.  No flipping is required and it comes out just as good and crispy as pan frying.

Step Three:  Fry an egg.
I guarantee that any properly prepared egg will taste great in this sandwich.  You could scramble, fry, poach or even use hard-boiled egg slices and you're still in for a treat.
I decided to use an egg ring to make egg patties just so my sandwich would more closely resemble the Dunkin' Donuts version.
When using an egg ring, beat each egg slightly in a small bowl.  Place a small frying pan over medium heat.  Rub olive oil over the inside of the egg ring with a paper towel.  Place the ring in the pan and then pour about 1/8th of a cup of water in the pan around the ring.  When the water sizzles, pour the egg in the ring.  Cover the pan, so the trapped steam cooks the top of the egg.  After 3 minutes, the egg will be mostly done.  Drain the water from the pan. Loosen the egg from the ring.  Flip the egg and cook one more minute or until completely cooked through.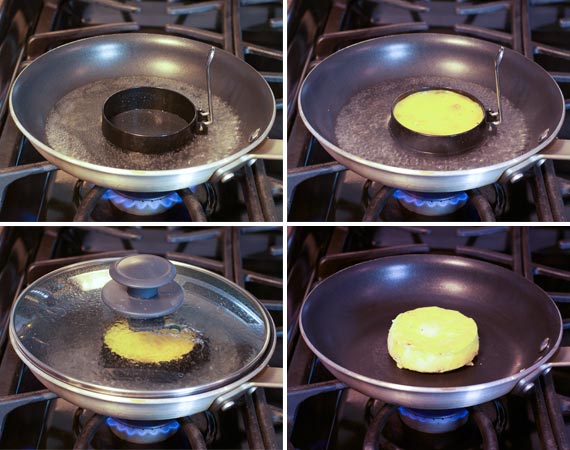 Step Four:  Put the egg and the bacon in the donut and chow down.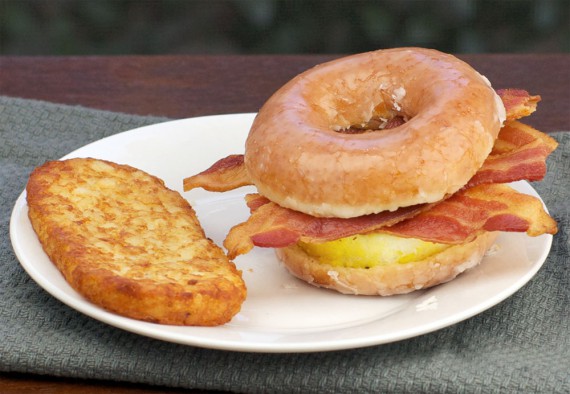 Here's the hardcore truth about Donut Breakfast Sandwiches: They're kind of sloppy.  The glaze starts to melt from the warm fillings and the heat from your hands.  Have some towels ready.  For all the perceived indulgence of it, a nice biscuit or croissant is more complementary to eggs and bacon.  A plain biscuit is like a lonely person.  It's not really complete until it finds a soul mate in the form of an egg, some jam or a piece of sausage. Donuts shine by themselves.  They don't need anything else to be their very best.  But with that said, my final word on the subject is that donuts make awesome buns.
Cooking Note:  When making multiple sandwiches, keep your prepared bacon warm in an oven set to 200 degrees.  As you make each egg patty, you can also keep those warm next to the bacon.  When it's time to serve, everything is good to go and you can have a very quick assembly.
You Might Also Like: