A Is For Apple Breakfast Ideas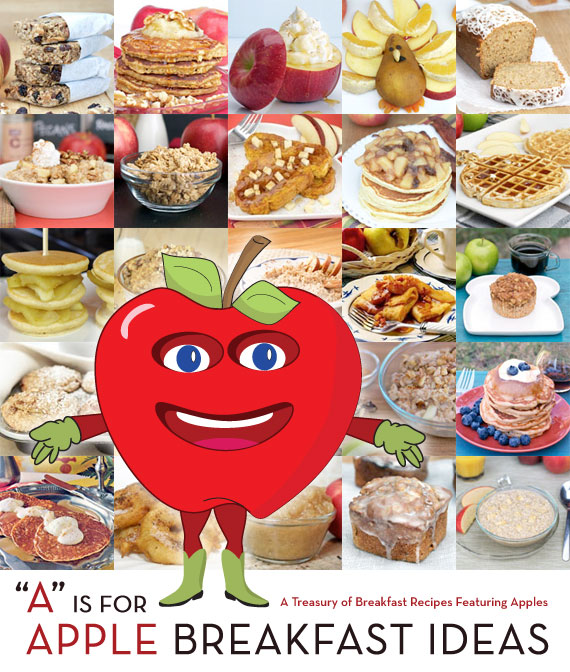 This article presents 35 of my favorite apple breakfast recipes. Most use fresh apples with a handful that require applesauce. We've got apple waffles, apple pancakes, apple oatmeal, apple cereal, apple crepes, apple muffins… think of a breakfast food and put "apple" in front of it and it's probably here.
If an apple a day keeps the doctor away, try these recipes and keep that pesky medic off your back for over a month.
35 Apple Breakfast Recipes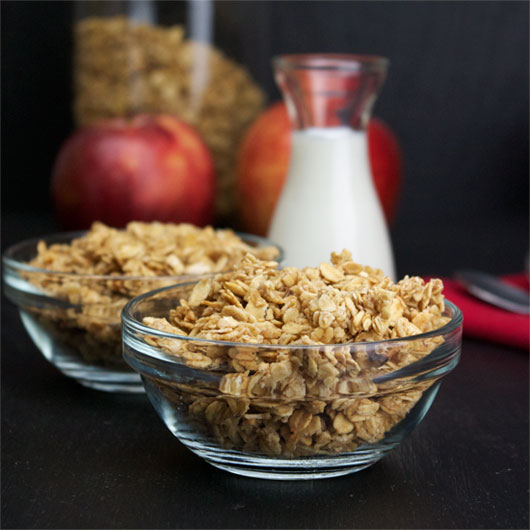 Apple Granola – This flavorful granola includes apples, walnuts, cinnamon, vanilla and maple. Substitute chopped pecans in place of the walnuts for a different taste.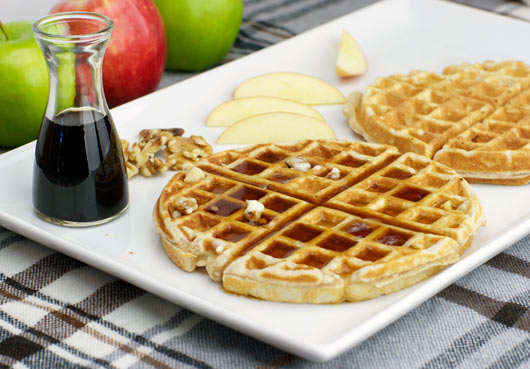 Apple Cinnamon Waffles – Diced apple in the batter makes every bite special. For the best experience, top with real maple syrup and some chopped nuts.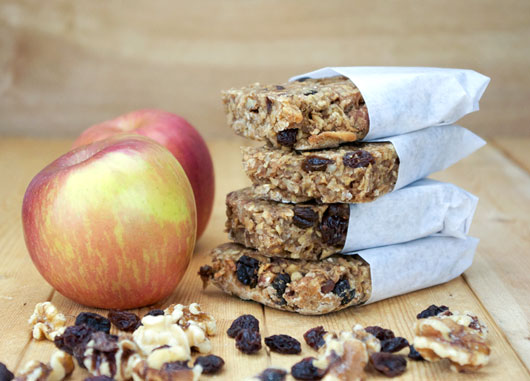 Homemade Apple Bars – These bars are perfect for breakfast on the go. They're comprised of mostly oats and apple, but still somehow taste like an indulgent cookie.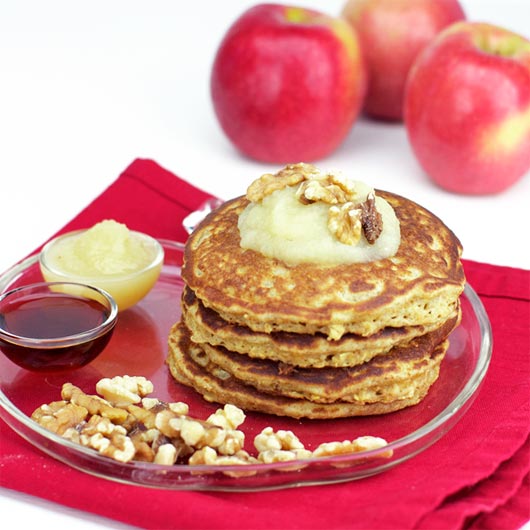 Applesauce Oatmeal Pancakes – The applesauce in the recipe make these pancakes more dense and filling than traditional pancakes. Whole wheat flour and oats add bonus fiber.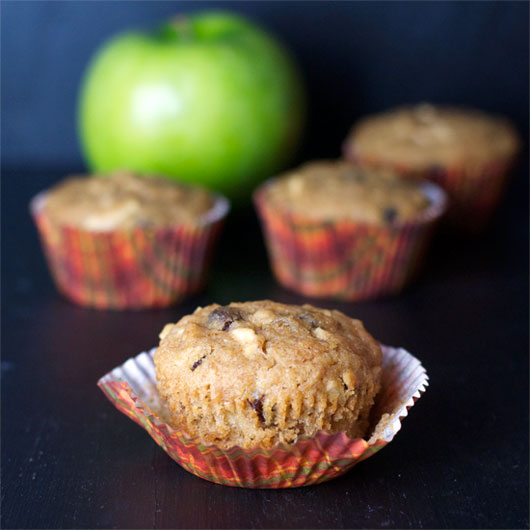 Apple Bran Muffins – Step aside boring bran muffins! An apple, some honey and select spices make these bran muffins tasty and interesting.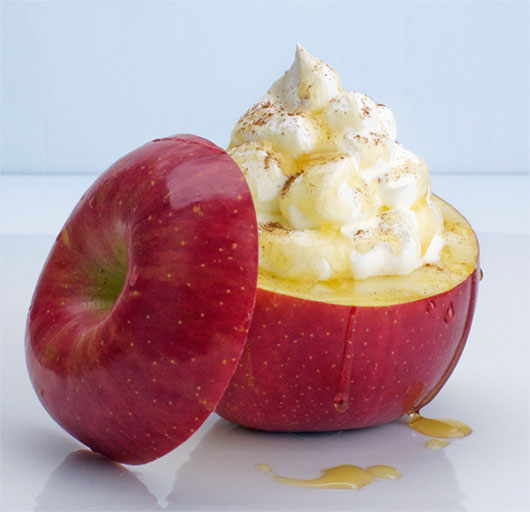 Cinnamon & Honey Apple Breakfast Treat – The simplest recipe on this list, it's just apple, whipped cream, honey and cinnamon. Serve it as slices or core the apple to make a cute apple bowl.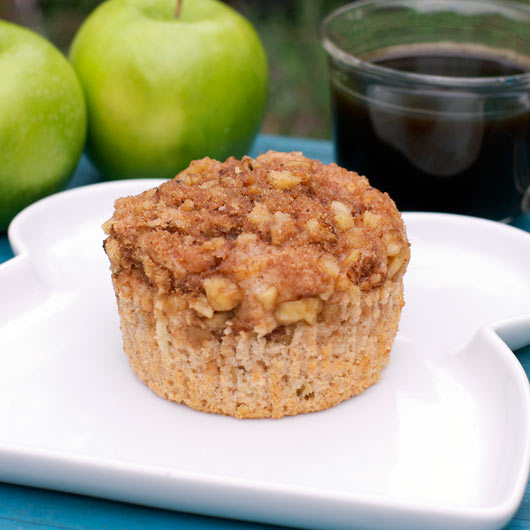 Apple Crunch Muffins – The cake part of these muffins is tender and buttery with small apple pieces and noticeable cinnamon. The crumble topping is made of brown sugar, crunchy chopped nuts and cinnamon.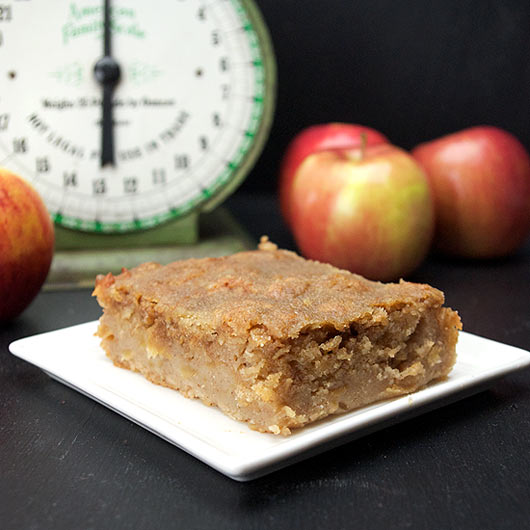 Apple Coffee Cake – The cool thing about this coffee cake is that it uses twice as much apple than flour resulting in an extremely moist texture.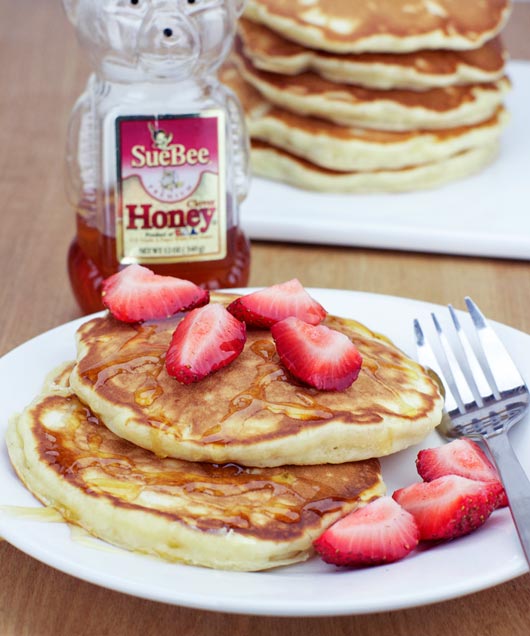 Honey Apple Pancakes – Honey and apple are two flavors that are meant to be together. These fluffy pancakes are proof of that. This recipe requires an apple and apple juice.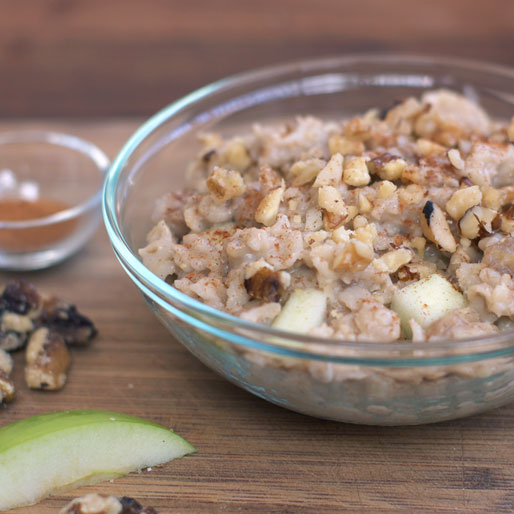 Apple Walnut Oatmeal – Forget about packets of oatmeal with dehydrated apple pieces. Everything here is fresh and made from scratch.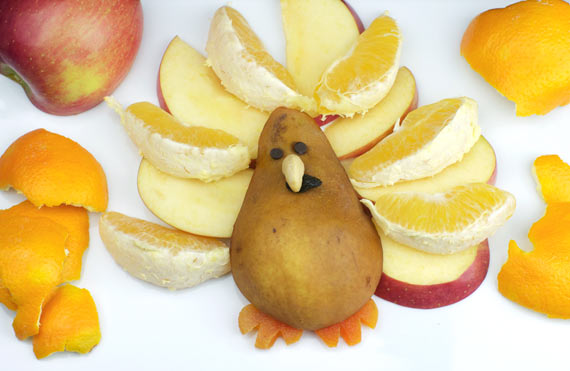 Fruit Turkey – This adorable fellow makes a fun breakfast for kids. I first made it for Thanksgiving, but it's great for any day you want breakfast served with a side of whimsy.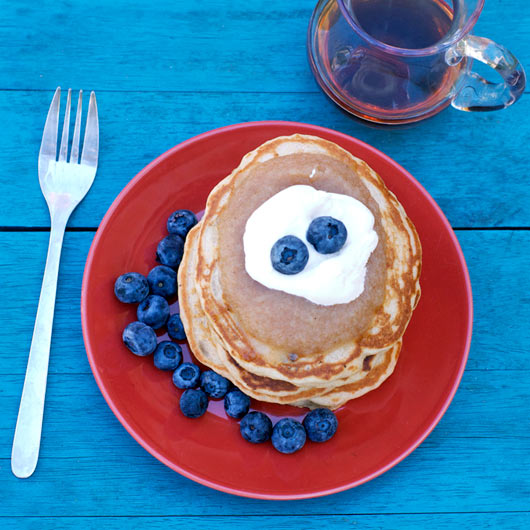 Applesauce Pancakes – These pancakes are so moist you might consider them gooey. They're not for everyone. I found them to be a nice change from ordinary pancakes.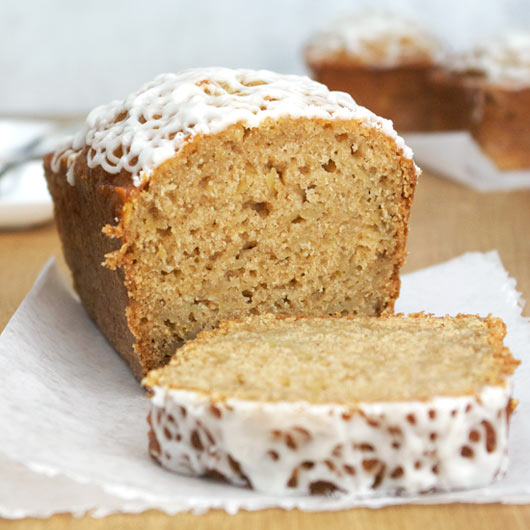 Homemade Apple Bread – You'd be hard pressed to find a better apple bread in any fancy bakery. It's moist and loaded with apple flavor.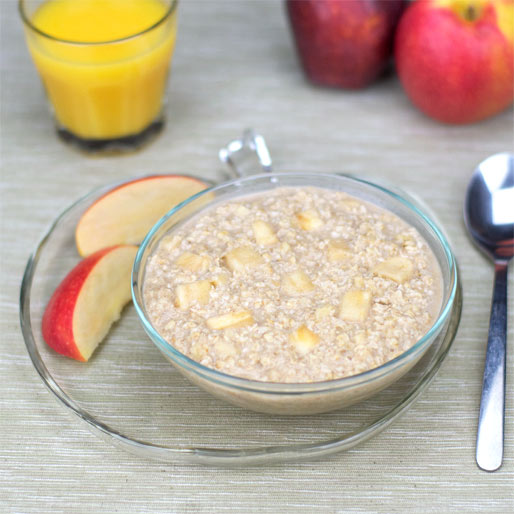 Apple Cinnamon Oatmeal – I'd put this homemade concoction up against name brand oatmeal packets any day of the week. A drizzle of pure maple syrup adds a delightful finishing touch.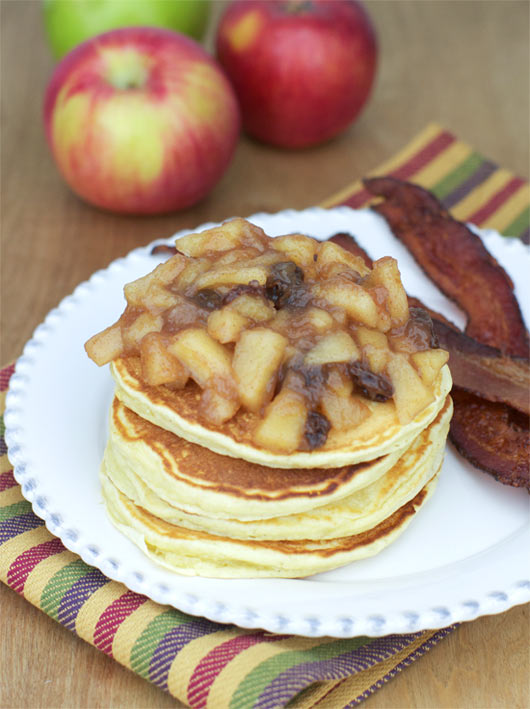 Apple Pancake Topping – You can enjoy this topping on a million things. Pancakes, waffles and French toast are the obvious recipients. But you could also have it in oatmeal, on ice cream, or stirred into yogurt for a breakfast parfait.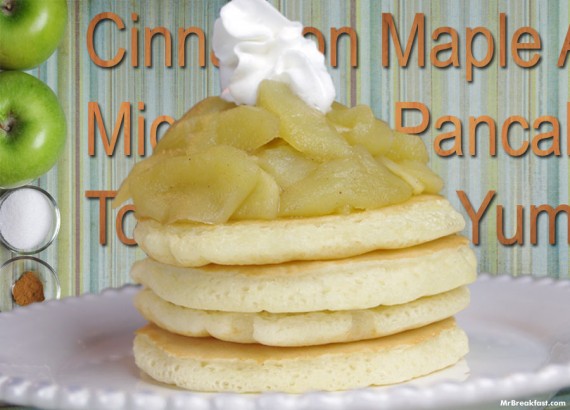 Cinnamon Maple Apple Pancake Topping (Microwave) – This topping isn't as fancy as the one above. It's apples in a very basic form with sugar, cinnamon and maple syrup. It takes less than 10 minutes to prepare.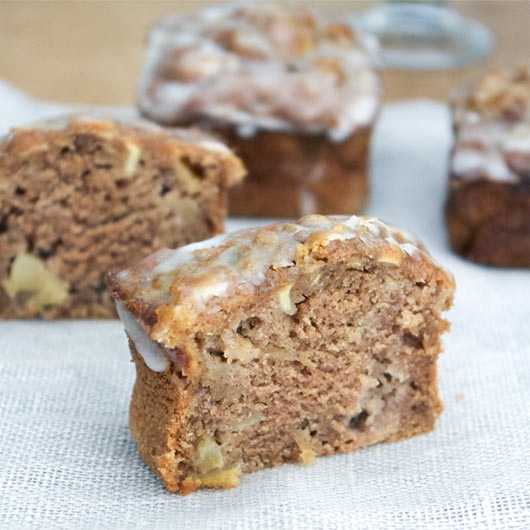 Apple Muffins – If you like a moist muffin, don't miss these muffins. Buttermilk and a healthy dose of cinnamon give it a flavor that's vaguely reminiscent of an apple fritter doughnut.
Baked Apple Pancake Skewers – Next time you make pancakes, make them small and fill them with warm, cooked apple slices. Poke a toothpick or a skewer in the middle and you have a unique pancake treat.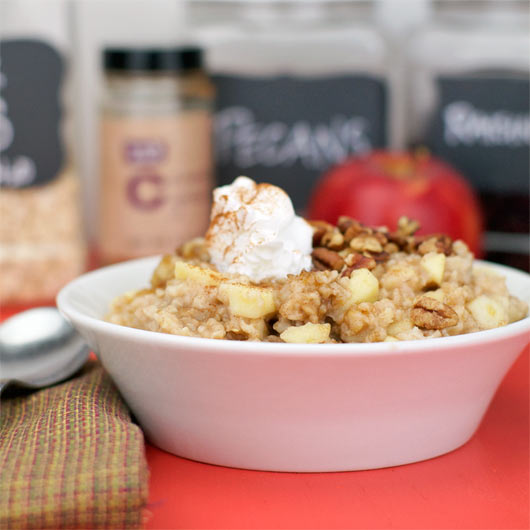 Microwave Apple Oatmeal – If you like apple pie, you're going to like this oatmeal. Add a dab of whipped cream to enhance the pie sensation.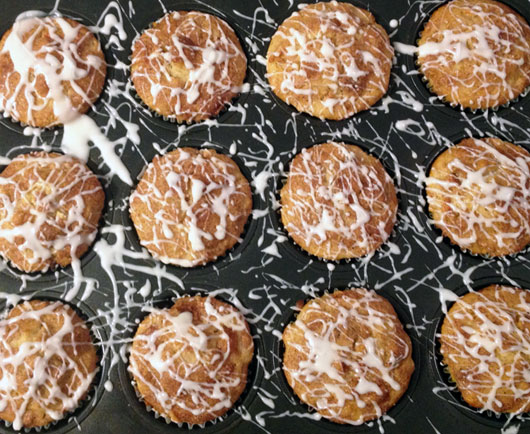 Apple Buttermilk Muffins – Friends will ask, "What amazing bakery did you get these muffins from?" The secret is using fresh Golden Delicious apples and topping them with a playful vanilla icing.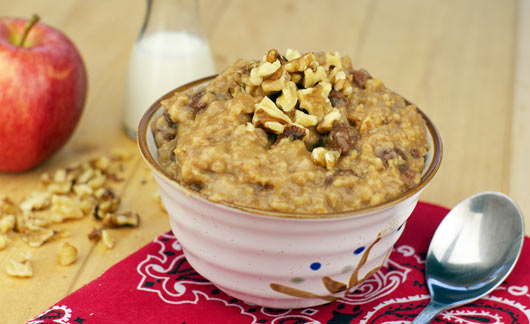 Steel Cut Apple Oatmeal (Crockpot) – Have you heard the expression "as easy as apple pie"? It should be "as easy as apple oatmeal." For this recipe, you throw ingredients in a crock-pot, go to sleep and wake up to a healthy, super tasty breakfast.
More Apple Breakfast Ideas: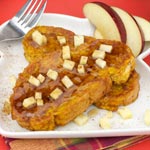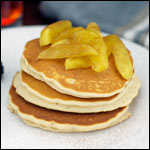 Apple Cinnamon Pancakes (Egg-Free And Dairy-Free)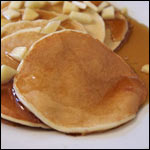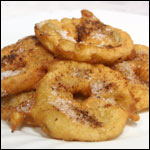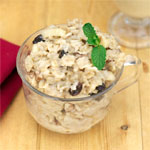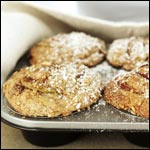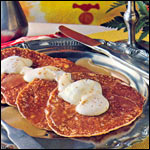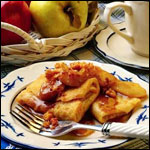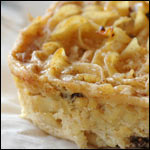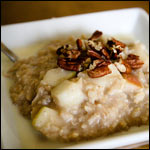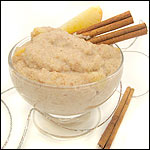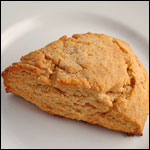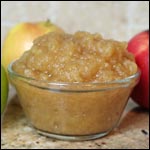 Homemade Applesauce (Topping)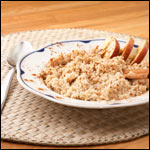 You Might Also Like: